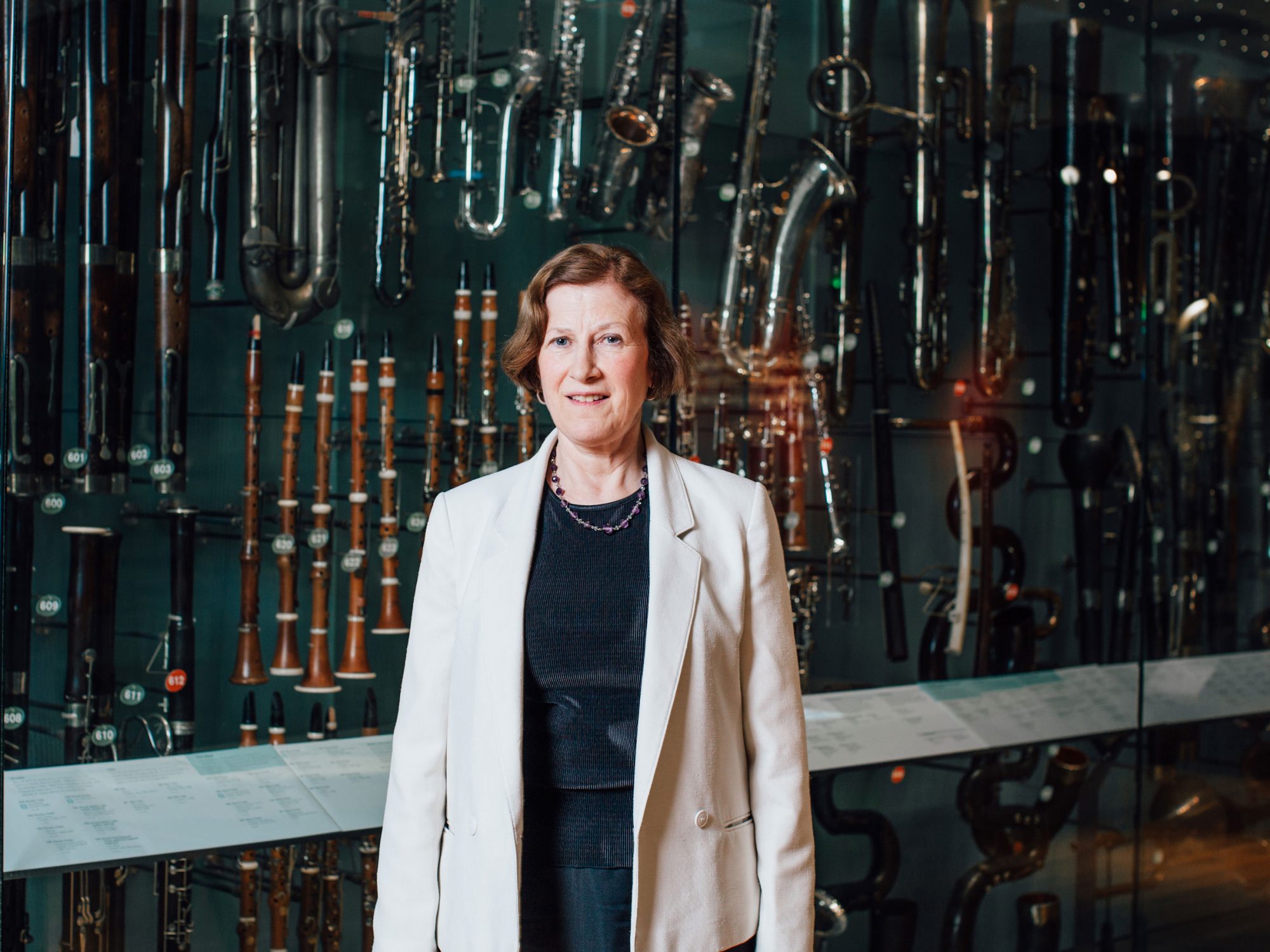 Margaret Birley, as Principal Curator of Musical Collections and Cultures, has responsibility for the development and interpretation of the Horniman's musical instrument collections, which now number over 9,500 objects.
Margaret has played a critical role in the acquisition of a number of musical instrument collections, two of which received generous sponsorship from the National Lottery Heritage Fund: the Wayne collection of concertinas (1996) and related free reed instruments, and the Boosey & Hawkes collection of woodwind and brasswind (2004).
Margaret joined the Horniman in 1984 as Assistant Keeper and set about making an inventory of the majority of the instruments that were not on display but were housed in the Horniman's Study Collections Centre.
She devised films interpreting the historic collections of musical instruments from India and Iran, working collaboratively with musicians from those countries. With training in ethnomusicology, 'the study of music in culture', her research into the Asian musical instrument collection has led her to make collections for the Museum in Iraq, Uzbekistan and India and she has also collected modern examples of traditional musical instruments in Russia and Belarus, filming performance in them there.
As Keeper of Musical Instruments, Margaret was the lead curator responsible for choosing the instruments and devising their interpretation for the Horniman's Music Gallery (inaugurated in 2002) and for a major temporary exhibition of instruments collected from rural areas of India (2008), as well as for a number of the Horniman's smaller exhibitions.
Her fieldwork in Brazil in 2015 led to an exhibition of instruments associated with samba in Rio de Janeiro as one of its outputs, shown in the Horniman's Music Gallery, and linked to the 2016 summer season. She has helped to develop and deliver NLHF-funded projects exploring the heritage of historic instruments from Africa and Asia, working with a number of London-based community groups.
From 2009 to 2011 Margaret chaired a consortium of European Musical Instrument Museums in their work to update the
Hornbostel Sachs classification of musical instruments
, as part of the
MIMO
project that was funded by the European Union. 
From 2015 to 2018 she led the curatorial team in the work of compiling over 2,000 catalogue records of the Horniman's musical instrument collection for export to the
MINIM-UK
website, the largest online
collection of musical instruments in the UK.  As curator in charge of the South Asia strand of the Horniman's
Music in the Making project
she is currently leading the research, cataloguing and publication online of the instrument collection from the region.  She is also involved in planning for the work of making a new collection of instruments and film footage in Kolkata.