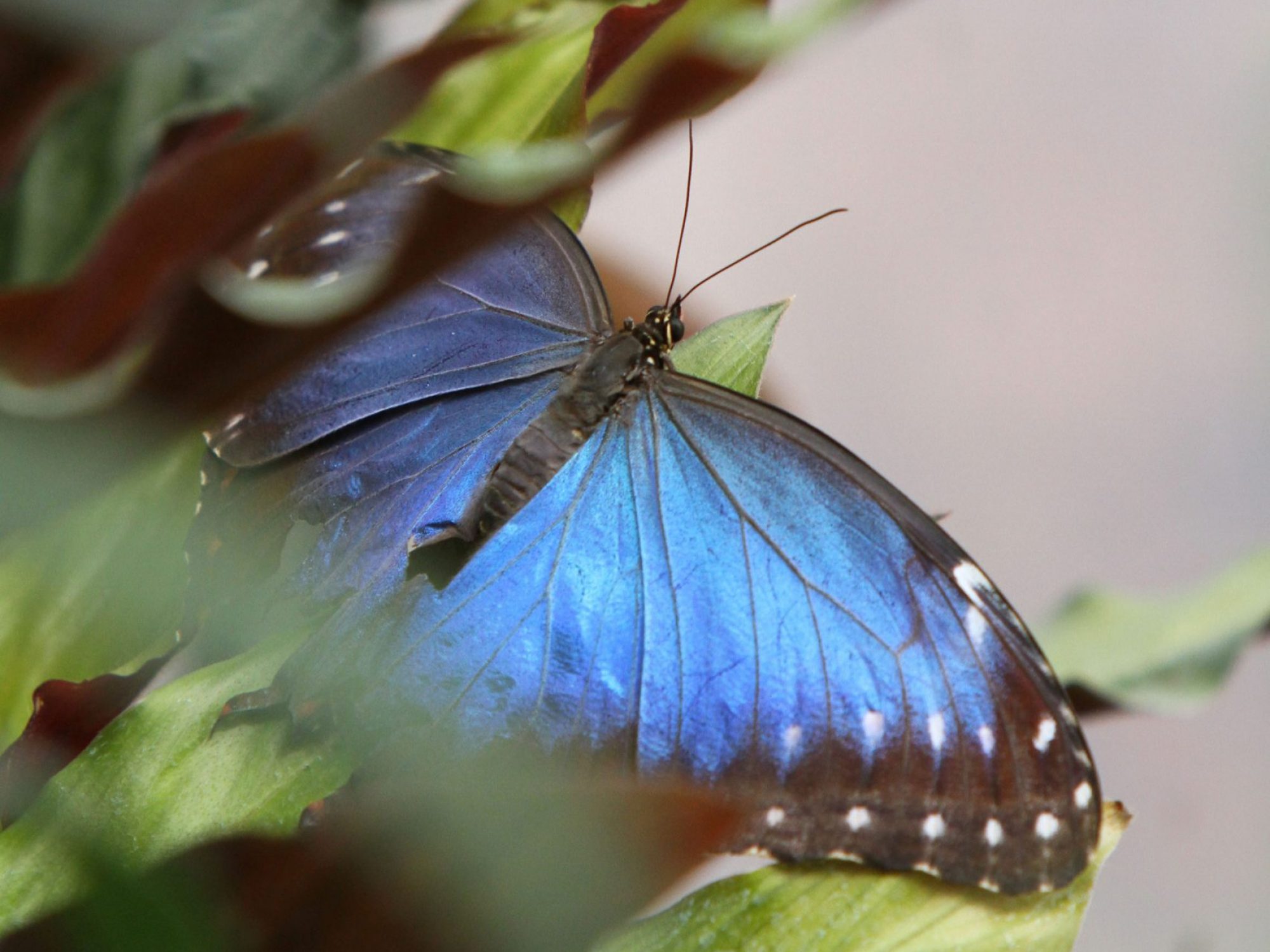 Get up close to hundreds of beautiful butterflies in our tropical indoor garden. Entry to the Butterfly House is by timed ticket, as there is limited capacity inside.
The specially-planted habitat is the perfect place to experience butterflies free-flying all around you and to discover amazing facts about the life-cycle and behaviour of these fascinating creatures.
Please wear a mask or face covering unless you have a good reason not to (children under 11 are exempt).
Tickets and Entry
To control capacity in the Butterfly House, all visitors, including Members, must book a ticket in advance online for admission to the Butterfly House.
Tickets for the Butterfly House are separate to those for the Museum, and you do not need an entry ticket to the Museum to purchase a ticket for the Butterfly House.
Children under three may visit free of charge, and carers accompanying visitors with access requirements get free admission, but you must book into a timeslot. A family ticket is for two adults and two children aged 3-16 years.
Horniman Members and Benefactors go free, but must book a ticket online in advance for a specific time slot by logging into the webshop. You will need to show your membership or benefactor card on entrance.
The conditions of your Membership apply to Member tickets. For example, with the Family Member ticket you can book up to five places, for up to two adults and three children.
Please arrive as close to the start of your time-slot as possible.
You must show your tickets on a mobile or tablet, or a printed version, at the entrance to the Butterfly House. We will do our best to admit you as quickly as possible but you may still need to queue outside.
Tickets will be regularly released so please check the website for availability and updates.
There is space for buggies in our designated buggy park outside the Butterfly House, no buggies are allowed in the space.
For the welfare of the butterflies, we are required to keep the temperature in the Butterfly House above a minimum level. During spells of cold weather, we are usually able to maintain this temperature by closing the air vents inside the Butterfly House. However, with the current Covid-19 pandemic, we are required to always keep some of the vents open to enable effective airflow in the space whilst visitors are present. Therefore in order to safeguard both the butterflies and our visitors, we will not be opening the Butterfly House when the weather is forecast to be below 6 degrees during the winter months.
Tickets for the Butterfly House will be released weekly every Friday for the following Monday to Sunday.
If we are not able to release tickets for the following week due to the forecast, tickets will not be on sale in the webshop and we will update the website.
Please also check the Horniman on Twitter and Facebook for announcements about Butterfly House tickets.
Safety and cleaning
Please wear a mask or face covering unless you have a good reason not to (children under 11 are exempt).
If you are feeling unwell, please do not visit and follow NHS guidance.
Additional cleaning of doors and touch points will take place regularly throughout the day using products that are safe for the butterflies.
Our team will wear face coverings and we are doing everything we can to keep you safe. Thank you for being kind and patient at this time.
Please follow social distancing guidelines throughout your visit, including when speaking to our staff.
Requirements for Test & Trace
Due to current Government guidelines on Test & Trace, we have to ask for the contact details of everyone visiting the Horniman who is over the age of 16.
When you visit the Museum, Butterfly House or Cafe, everyone over the age of 16 in your party will need to check-in to the NHS app using the QR codes onsite. Alternatively, you and your party can provide contact details to a member of Horniman staff who will check you in via an app called Spout.
Your details collected by the NHS app are not accessible to the Horniman. Details taken via Sprout are for Test & Trace only and will be deleted automatically 21 days after your visit.
All personal data will be held securely and managed in accordance with the General Data Protection Regulation. Full details are available in our privacy policy.
Advice for enjoying your visit
Please be aware that the butterflies may land on you, on the path or close to you, as they are free-flying.
Please do not touch any caterpillars or plants during your visit.
You are not allowed to eat or drink inside the Butterfly House, as it may attract butterflies to you – this increases the chance of them leaving with you! It can also attract more harmful pests.
Please make sure you take care to watch where you step, so as not to crush the butterflies.
Please do not try to remove them from your clothing, as they are very delicate and may die in the process. Ask a member of staff if you need assistance.
Please close any bags and pockets (if possible) before entering, as you may discover a butterfly has hidden inside when you get home.
Please note that pets are not allowed into the Butterfly House, but Guide Dogs or other assistance animals are welcome.
When you are about to leave, please check your clothes for any butterflies that may have landed on you. We have mirrors by the exit so that you can check your back too.
There is no fixed seating available inside the Butterfly House, but please ask staff for foldable stools if you'd like to rest for a while.
You are welcome to take photographs with hand-held cameras. Please refer to our guidance on filming and photography in our Plan Your Visit pages for further details. Please be mindful of other visitors and social distancing guidelines when taking photographs.
The Butterfly House shop will not be in operation.
After your visit
You may be contacted up to 21 days after your visit, using the contact details from your booking, in the event of an outbreak of Covid-19 that may affect you.
Data will be handled according to GDPR, security and ethical standards at every stage of the process – from its collection and storage by us to its transfer and use by NHS Test and Trace. NHS Test and Trace will handle all data according to the highest ethical and security standards and it will be used only for NHS care, management, evaluation and research. Full details of our privacy policy are available on our website.
This information will change in response to guidance from the Government and Public Health England. Please check back before your visit. Thank you for your understanding as we adapt to the situation.
Hugely recommend the new Butterfly House at Horniman Museum in south London - great learning place for kids in summer hols & very warm!