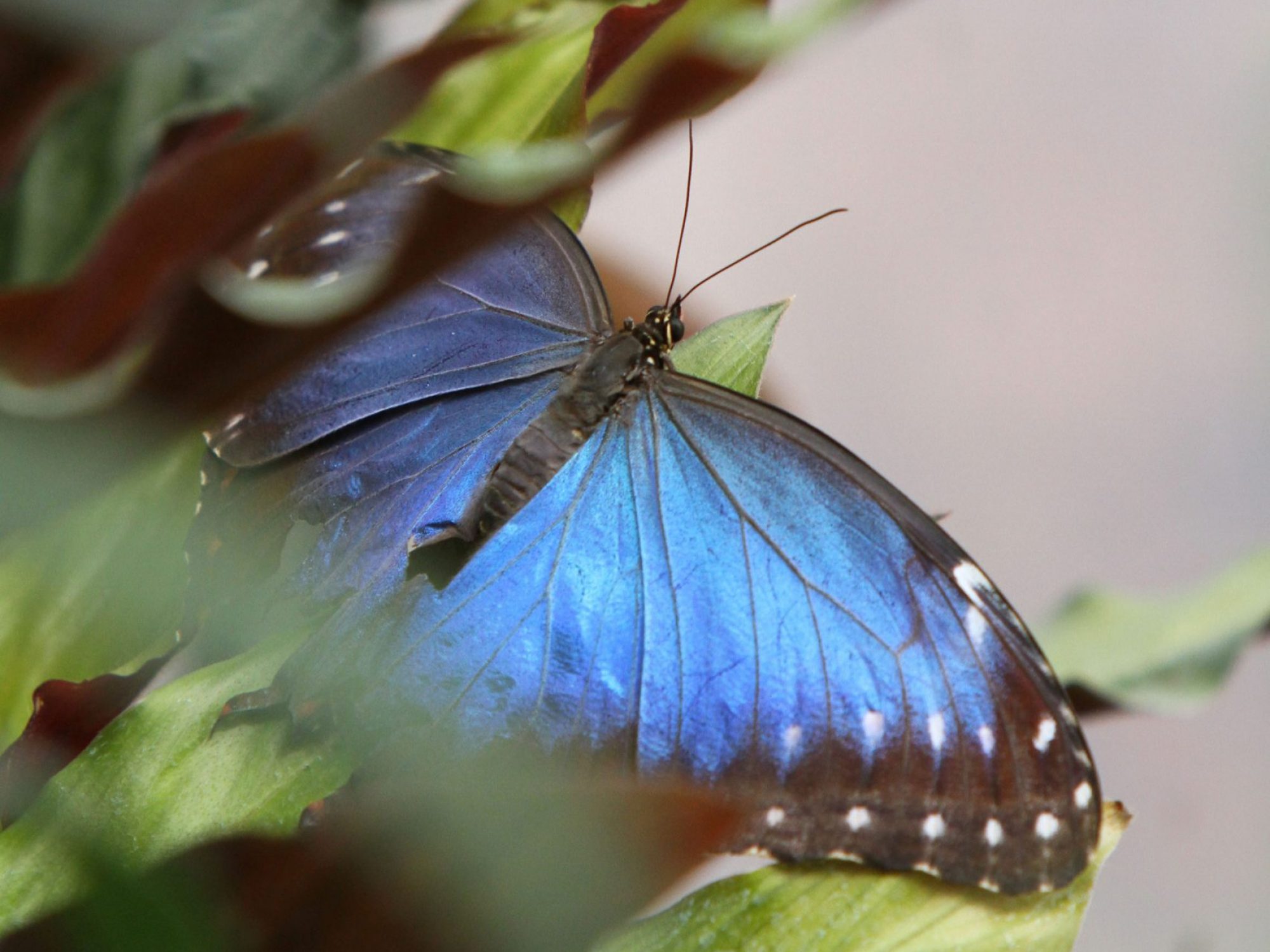 The Butterfly House is closed. Get up close to hundreds of beautiful butterflies in our tropical indoor garden. Entry to the Butterfly House is by timed ticket, as there is limited capacity inside.
The Butterfly House will not be opening on 30 July.
The specially-planted habitat is the perfect place to experience butterflies free flying all around you and to discover amazing facts about the life-cycle and behaviour of these fascinating creatures.
Spot different species from across the world, and visit the shop for a range of butterfly and nature-inspired gifts for all ages.
Tickets and Entry
Advance booking is required, although every day a limited number of tickets will be made available on the door for all entry times on a first come, first served basis.
Children under three may visit free of charge and carers accompanying visitors with access requirements get free admission, but you must book into a timeslot. A family ticket is for two adults and two children aged 3-16 years.
Horniman Members and Benefactors go free, but will need to book a ticket for their chosen time slot. You will need to show your membership or benefactor card on entrance.
The conditions of your Membership apply to Member tickets. For example, with the Family Member ticket you can book up to five places, for up to two adults and three children.
You will receive your etickets which you will need to show on the day (either on your mobile device or printed). Members and Benefactors will need to show their members or benefactor card.
You may need to queue during busy time slots while a member of staff checks your ticket.
There is space for buggies in our designated buggy park outside the Butterfly House to the right.
Advice for enjoying your visit
Please be aware that the butterflies may land on you, on the path or close to you, as they are free-flying.

Please do not touch any caterpillars or plants during your visit.

The Butterfly House is a warm and humid place, so you may not wish to wear bulky coats or jumpers inside. We have lockers inside the Museum.

You aren't allowed to eat or drink inside the Butterfly House, as it may attract them to you and increase the chance of them leaving with you! It can also attract more harmful pests.

Please make sure you take care to watch where you step, so as not to crush the butterflies.

Please do not try to remove them from your clothing, as they are very delicate and may die in the process. Ask a member of staff if you need assistance.

Please close any bags and pockets (if possible) before entering, as you may discover a butterfly has hidden inside when you get home.

Please note that pets are not allowed into the Butterfly House, however, Guide Dogs or other assistance animals are welcome.

When you are about to leave, please check your clothes for any butterflies that may have landed on you. We have mirrors by the exit so that you can check your back too.

Please leave your buggy in the buggy park, so you don't leave with an extra (winged) passenger.

There is no fixed seating available inside the Butterfly House, but please ask staff for foldable stools if you'd like to rest for a while.

You are welcome to take photographs with hand-held cameras. Please refer to our guidance on

filming and photography

for further details.
Hugely recommend the new Butterfly House at Horniman Museum in south London - great learning place for kids in summer hols & very warm!