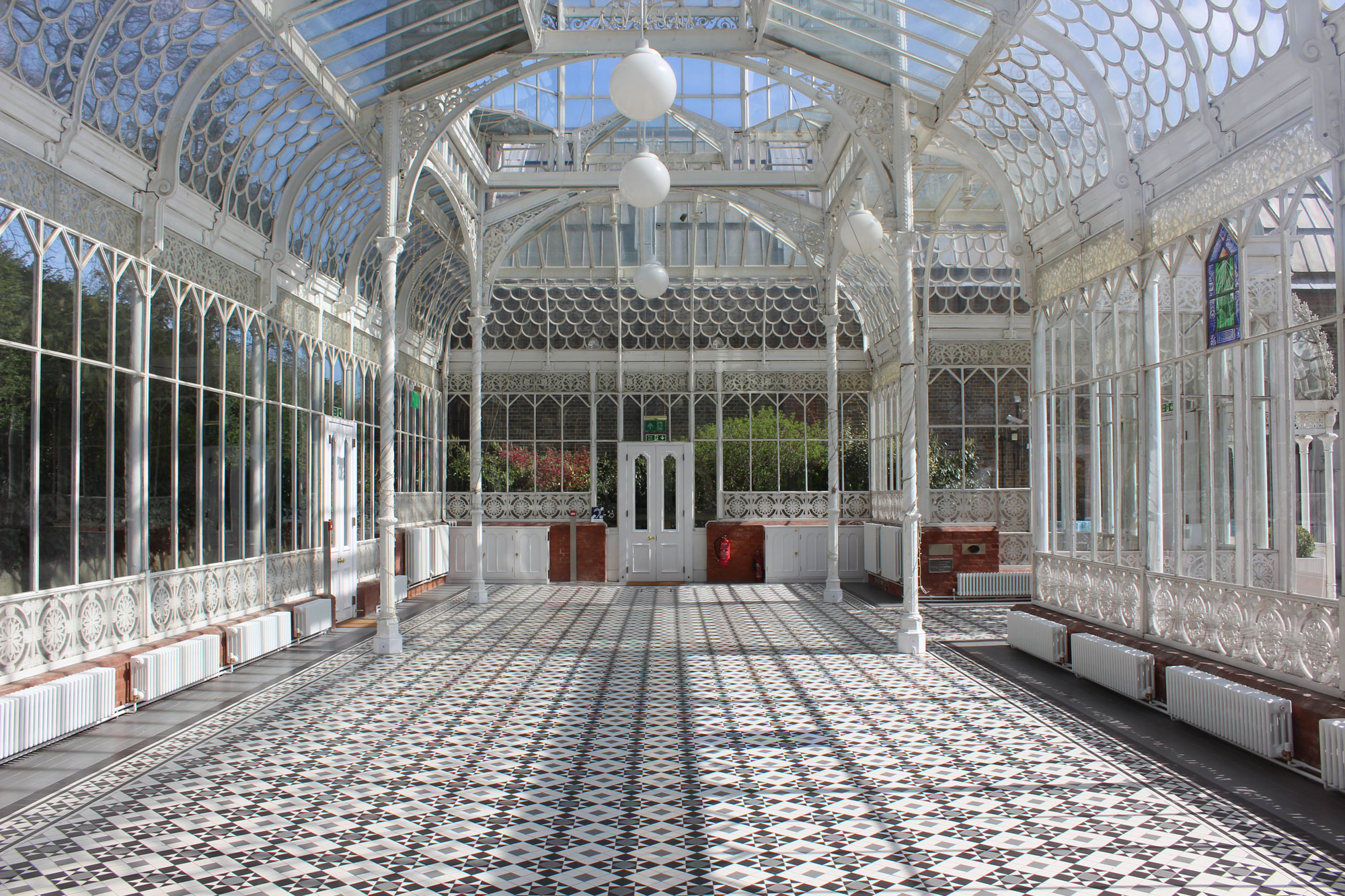 Other Horniman Sights to See
What else can you see around the Horniman? Our stunning Conservatory, our historic Bandstand and our Totem Pole to name a few.
Clocktower
The Horniman Clocktower is made of Doulting stone, the shelly granular limestone also used in Wells Cathedral and Glastonbury Abbey. It was designed by Charles Harrison Townsend.
The Clocktower is meant to evoke the natural world, with the rounded edges and the tree of life motifs. It reflects Frederick Horniman's desire that the Horniman's collections, Gardens and buildings be unified in one theme.
Most importantly though, its unique style has made the Horniman a landmark in South London.
Conservatory
The Grade II listed Victorian Conservatory was originally built at the home of Frederick Horniman's parents at Coombe Cliffe, Croydon, in 1894. The Conservatory was ordered from the catalogue of Walter McFarlane's Saracen Foundry in Glasgow.
By 1982, it had fallen into disrepair. The structure was dismantled and moved to its current site where it was beautifully restored with the help of English Heritage. It re-opened in 1989 and is used for performances, can be hired for events, and is sometimes used by the Cafe.
Find out more about the Conservatory in our stories or find out about the current refurbishment works.
Totem Pole
The totem pole facing out onto London Road was London's first Alaskan totem pole. It was carved by Nathan Jackson, a Tlingit from Alaska, at the Museum of Mankind from 15 May to 15 June 1985.
The 20-foot high structure of carved red cedar, painted with specially imported 'ranch paint', was unveiled in its present position on 29 June 1985.
An eagle, Nathan Jackson's main clan crest, is at the top of the pole. Beneath is a girl with a bag and a grizzly bear, illustrating a legend from the North West Coast of America of a girl who married a bear.
Bandstand
Enjoy a breath-taking vista of London from our Bandstand, which was built in 1903 from a design by Charles Harrison Townsend. It is a focal point for our outdoor events, and regular visitors may have seen concerts or performances there. The surrounding terrace provides a large picnic area with stunning views.
In 2012, the Bandstand was extensively renovated with new oak floorboards and its original weather vane was restored. Screens which blocked the windows for decades were replaced with glass, giving wonderful views over London.
The Bandstand is also available for hire. Visit the Venue Hire pages for more information.
Mosaic
Robert Anning Bell designed the mosaic on the original London Road building. A team of mostly young women created it over 210 days during the construction period (1898-1901).
The neo-classical design is called 'Humanity in the house of circumstance'. It symbolises personal limitations, and the fruit and flowers glimpsed beyond it, personal aspirations. The gates at either end are birth and death. The figures represent Arts, Poetry, Music, Endurance, Humanity, Love, Hope, Charity, Wisdom, Meditation, and Resignation.
There are more than 17,000 tiles in the panel which is 10 feet high and 32 feet long.
Dutch Barn
Brought back from Holland by Frederick Horniman, the Dutch Barn dates from around 1895. It now provides a useful indoor shelter for picnics in inclement weather.