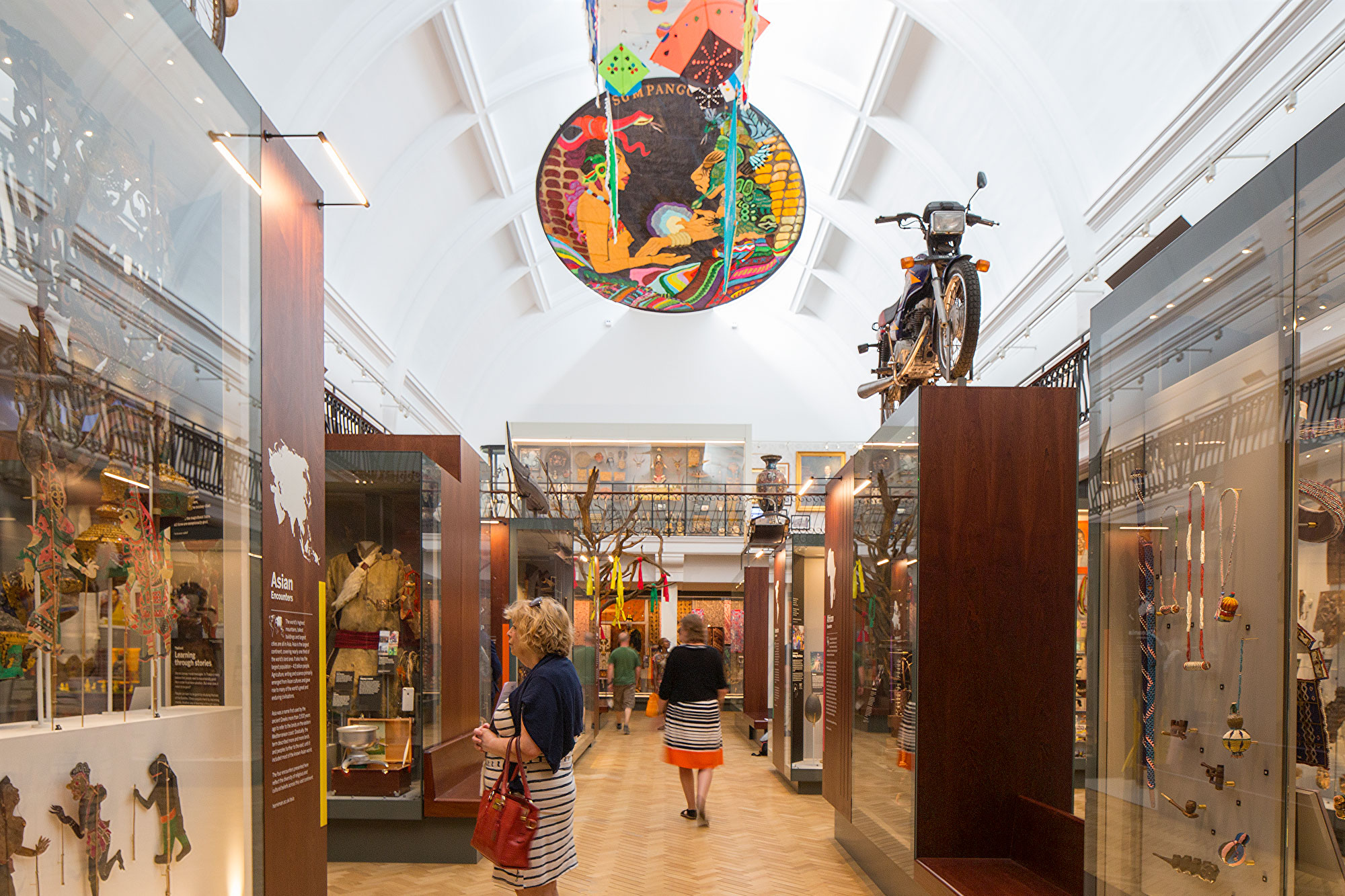 The World Gallery celebrates human creativity, imagination and adaptability, displaying more than 3,000 objects from our internationally-important anthropology collection.
Come and encounter cultures from across the continents in the World Gallery.
More than 3,000 objects from around the world give you a glimpse into other ways of life and a greater understanding of other peoples, places and cultures. 
You can touch intricately tooled Tuareg metalwork, arctic seal and reindeer skin, or discover a digital coral reef at your feet.
Smell aromatic herbs used by Bhutanese ritual healers in the Himalayas, listen to epic First Nations' stories from the Pacific Northwest Coast, and even play in a Lagos market stall.
What Can You Expect
The World Gallery shows some of the ways that ordinary people live their lives, and make their way in the world we all share.
You can find stories about contemporary issues such as climate change, migration and displacement, alongside artwork and objects from ancient civilisations.
More than 200 people from our community networks worked with our curators and other Horniman staff, on the display. These included local groups, arts organisations, community leaders, international museums, academic partners and representatives of some of those who made or used the objects in the collections.
The World Gallery is arranged in four interlinked spaces:
an Introductory area – welcoming visitors into the gallery and exploring the sentiments and memories we can associate with objects; ​
Encounters –​ ​rich displays showing examples of ways of living from every continent and different times and places;
Perspectives –​ an area that reflects on how and why we categorise, describe and understand the world; and
Horniman's Vision – an overview of the Horniman's history, on the balcony.
Above the gallery is a beautiful display of kites and banners hanging in the ceiling vault.​ Collected and commissioned from Guatemala, China, London and beyond, these emblems signify our human instinct to come together in celebration, play or protest.
Highlights include kites by Ahmadzia Bakhtyari, a London-based kite-maker from Kunduz, northern Afghanistan, and a banner created by South East London artist Ed Hall with Horniman volunteers, inspired by the long tradition of Trade Union banners.
Introduction
The entrance to the World Gallery introduces the ways in which objects connect people, and the powerful emotions they can evoke.
Watch a series of videos featuring people from the Horniman's community groups, volunteers, spiritual leaders, collectors and anthropologists talking about objects of personal meaning to them. There is British Sign Language/BSL interpretation for the videos as well as subtitling.
These films, presented alongside a display of objects selected for their emotional resonance, encourage visitors to reflect on objects that hold meaning in their own lives. The films were created in partnership with our Youth Panel.
Encounters
The different encounters present examples of ways of living from Africa, the Americas, Asia, Oceania and Europe, representing some of the Horniman's strongest collections. They explore what it means to live a human life in different times and places.
The African encounters display objects relating to people living in bustling cities, vast deserts and dense rainforests. They explore aspects of life in Nigeria and South Africa, as well as the Mbendjele people of the Congo basin and the Tuareg people of North Africa.
The American encounters look at indigenous peoples of the North American Plains, the Arctic, the First Nations of the Pacific Northwest Coast and Wai Wai people of Guyana and Brazil. They highlight a shared indigenous American understanding of generosity and respect as the basis for all social relations.
The Asian encounters focus on the cultures of China, the Himalayas, Nagaland and Thailand, revealing the diversity of religious belief and cultural practice in the world's largest continent.
The Oceania encounters explore ways of thinking and living in Australia, Papua New Guinea, Fiji and other islands of the Pacific Ocean. They reflect on the shared respect people have with land and sea, and how objects can create and reaffirm family and ancestral ties.
The European encounters reveal a strong connection between contemporary life and the distant past. Travel, trade and its consequences are explored with a focus on England, Poland, Sweden, Italy and the Mediterranean.
Perspectives
The Perspectives​ area ​presents objects grouped in a variety of categories, posing questions about how we classify the world around us.
This area of the World Gallery examines what anthropology is and explores fieldwork undertaken by anthropologists who collected or donated material to the Horniman.
In this area, you can also see a display by our Access Advisory Group to co-curate a display of objects linked to representations of disability and mental illness and a display from our Youth Panel about sustainability and fast fashion.