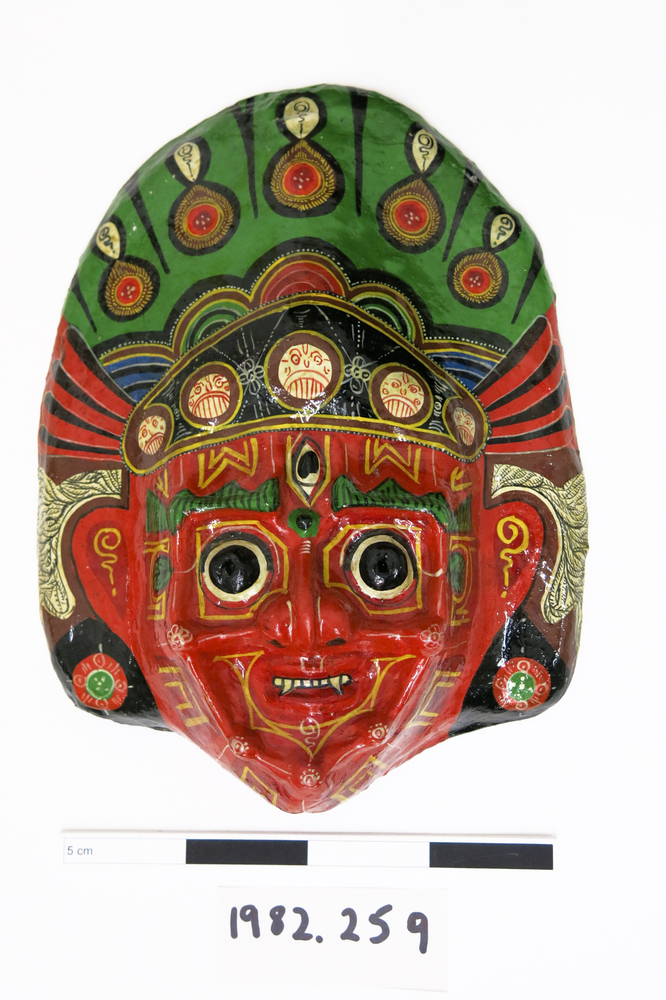 Mask of Kali, made of painted clay and papier-mâché. It has a surreal 'robotic' face, with a ridged angular frame around the chin, cheeks and eyebrows. The mask has a red complexion, with a white floral motif on the brow ridge. The eyes protrude. They have black pupils with a white surround, a black rim above, and a red rim below. It has black nostrils, green eyebrows with black bars, and an open mouth with white teeth, two fangs outlined in black. There is a third eye in the centre of the forehead. It is vertical, with a black pupil, white eyeball, and a yellow, angular outline.

There are geometric yellow-band patterns on the forehead and around the face, and a green 'leaf' shaped motif beside each eye. It has protruding ears, painted dark red, with a yellow 'question mark' motif. The earrings are painted red discs with green centres, dot motifs and lines in yellow, on a black ground. Surrounding the ears are two panels: ivory with black feathery decoration in a curved shape. The headband contains five faces with red outlines, round eyes and curls on the cheeks, bordered in brown and yellow, all on a black ground with florals in yellow lines.

The crown is decorated with five motifs of stylised flowers, composed of red circles with a central five-dot panel, bordered in yellow on a brown flame-shaped band with a 'question-mark' on a white tear drop motif above, bordered in black and each separated from the others by a black tapering band. The base of the crown, above the forehead band, consists of five striped semi-circular panels, with a red and black striped triangle to either side.

The rear surface is plain and moulded.