We spoke to Anna-Liisa Pirhonen about her photograph, 'Eurasian blue tit'.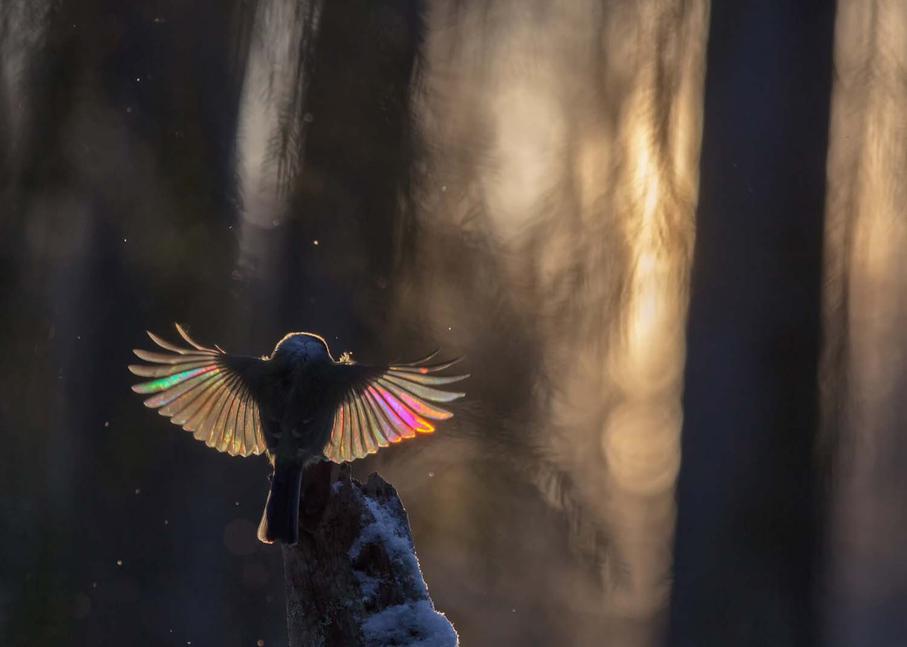 Tell us the story behind your photograph 'Eurasian blue tit'.
The winter in Finland is very cold, the sunlight hours are very short in winter and we have lots of snow and ice. These are the reasons why many people in Finland feed the birds in winter.
Winter feeding provided by humans helps many overwintering birds survive into the spring. For example, the blue tit has to eat several times its own weight in food in order to survive the frosty night.
I have my own feeding place in the woods to help birds survive the winter in South Karelia, where I live. This winter I bought two hundred pounds of sunflower seeds and about ten pounds of fat and nuts for the birds.
I visited almost every day in the woods with my camera and took the photos. When I took this photo it was a sunny day but also snowing a little.
How long did you have to wait for this shot?
About five years. Suddenly everything was right. The light was beautiful, I saw the colours of the rainbow in the bird's wings and it was snowing.
What would you like people to think about when they see your work?
All the beautiful nature is very close to us. You can see examples of beauty in the birds, flowers and insects in your backyard or in the nearest park. Nature is all around us.
What would you advise someone wanting to start taking photos of wildlife in their local environment?
Go to the nearest woods and start taking photos of your local birds, squirrels and flowers. And then continue to experiment your photography with other animals.
I love to take pictures in my home area in South Karelia, south-east of Finland. I live very near to the Russian border. Interesting animals always appear across the border, for example, yesterday the Siberian accentor (Prunella montanella), which is a small passerine bird in northern Siberia, arrived in South Karelia.
What have you been up to since the European Wildlife Photographer of the Year 2015 competition?
I graduated from Helsinki University where I studied Geography and now I am a freelance journalist. I write nature articles for magazines and take the pictures to accompany my articles.
Visit Anna-Liisa's website to see more of her work.