We caught up with internationally-exhibited sculptor and artist Claire Morgan about her body of artwork, As I Live and Breathe.
Hello Claire, Can you tell us about yourself as an artist? How did you become an artist?
It might be a cliché, but as early as I can remember, I always wanted to be an artist when I grew up.
At some point during school I was gently told that you can't actually work as an artist, so I started looking at fashion design, but everything kept going back to sculpture. I studied sculpture at Northumbria Uni, and as soon as I graduated I started applying for absolutely any opportunity I could find, regardless of the fact that I had no CV.
Basically, I just kept working every waking second, and eventually I got one or two temporary commissions, and it started to grow from there. About 10 years ago I was approached by Karsten Greve, and around that time drawing started to become more significant for me.
Now my practice spans a lot of different media, and the explorations in one area feed into the other areas. Day-to-day, the hands-on side of my practice usually involves drawing, painting, planning sculptures on paper, and doing taxidermy.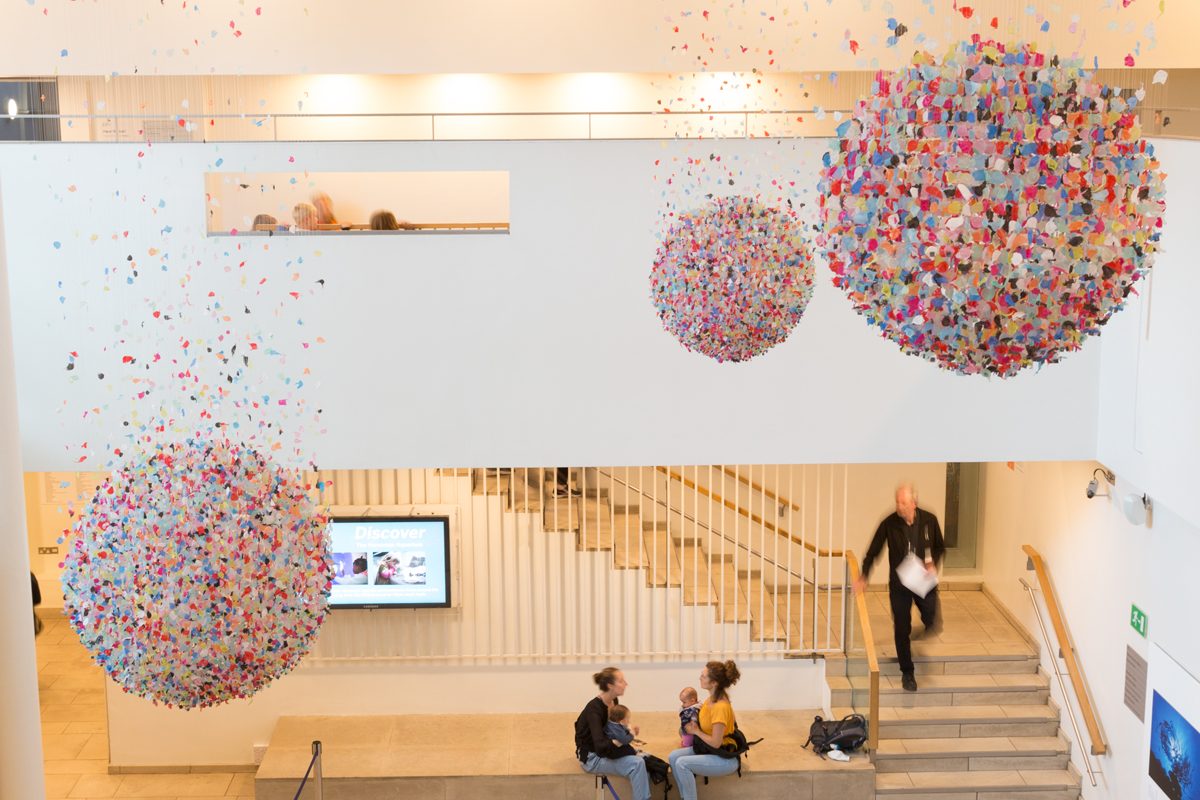 What would you like visitors to think about when they see As I Live and Breathe?
I would like them to think, and I feel like sometimes a written explanation limits the potential for that.
It is too easy to explain an artwork away to nothing, and I like my work to retain an element of ambiguity, so I don't think it is helpful to spell out exactly what I want someone to think.
Aside from that, my work isn't the result of a linear process – it isn't a case of me figuring out how to make people think a certain thing, it is more that I think about certain things and the work comes out as a result of that. It's more a process of me asking myself questions and exploring the unexpected possibilities that arise from that process of questioning.
That said, I can certainly tell you what I am thinking about, which leads to my ideas.
I am terrified by the aggressively selfish attitude we as a society have towards everything around us. We just keep consuming and consuming, and even now do little more than pay lip service to actually dealing with the mess we have made of the planet and the disastrous direction we are moving in.
I'm not for a minute suggesting that I am not complicit in this. I suppose that is part of what scares me. It is so easy to lead a double life – to be genuinely concerned about our impact, but to knowingly placate yourself by doing good yet relatively ineffectual things like refusing plastic straws, while still taking transatlantic flights and eating meat and dairy.
We hurt ourselves, mentally and physically, and we hurt what sustains us. And yet, amid all of this, there is the overwhelming beauty and frailty of life.
What is your favourite medium to work with and why?
At the moment I have been working with pastels and pigments, and the bodies of dead animals. So a bit of a broad range there!
I like having the freedom to move between different materials and techniques. The thing I enjoy most is learning. That often means I put myself in the position of doing things I find very difficult, and therefore the process can be infuriating and slow.
What is the creative process of making your sculptures and artwork?
Whether the end result is a drawing or painting or sculpture or all of those things, all my ideas tend to start in the same way.
I need to move away from my everyday working environment. That can mean going outside and walking, travelling, visiting museums, cinema, gigs and reading books. Anything that can transport me either physically or mentally.
Generally, the most productive thing is to go elsewhere. Then ideas begin to appear in the form of words or shapes. I then start to sketch these things very roughly and discover connections between them.
What drew you to using taxidermy?
When I was younger I was not interested in taxidermy at all, and perhaps I even disliked it a bit because I had jumped to conclusions and never really thought about it properly.
But I've always used organic matter in my work. Animals are just a part of that.
Early on I was just using bits of animals, feathers and unpreserved dead things, but as my work developed I moved away from simply exploring decay, and became preoccupied with the specific roles of the lifeforms in my work.
I wanted to be able to manipulate the specific positions of animals, and to control them visually, and to halt their decay. I found that in order to do that I needed taxidermy, and as I started to learn the various processes, my understanding of it changed entirely, and the process of touching and exploring the dead beings has become a central part of my practice.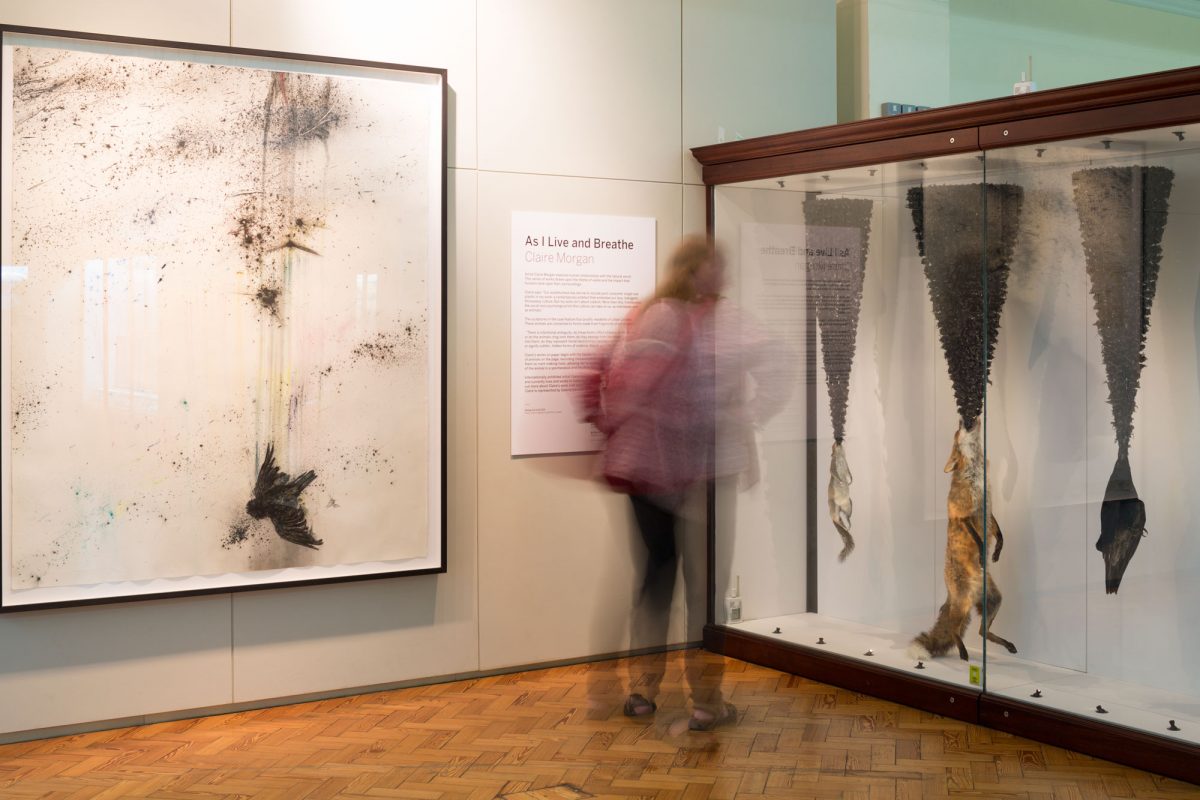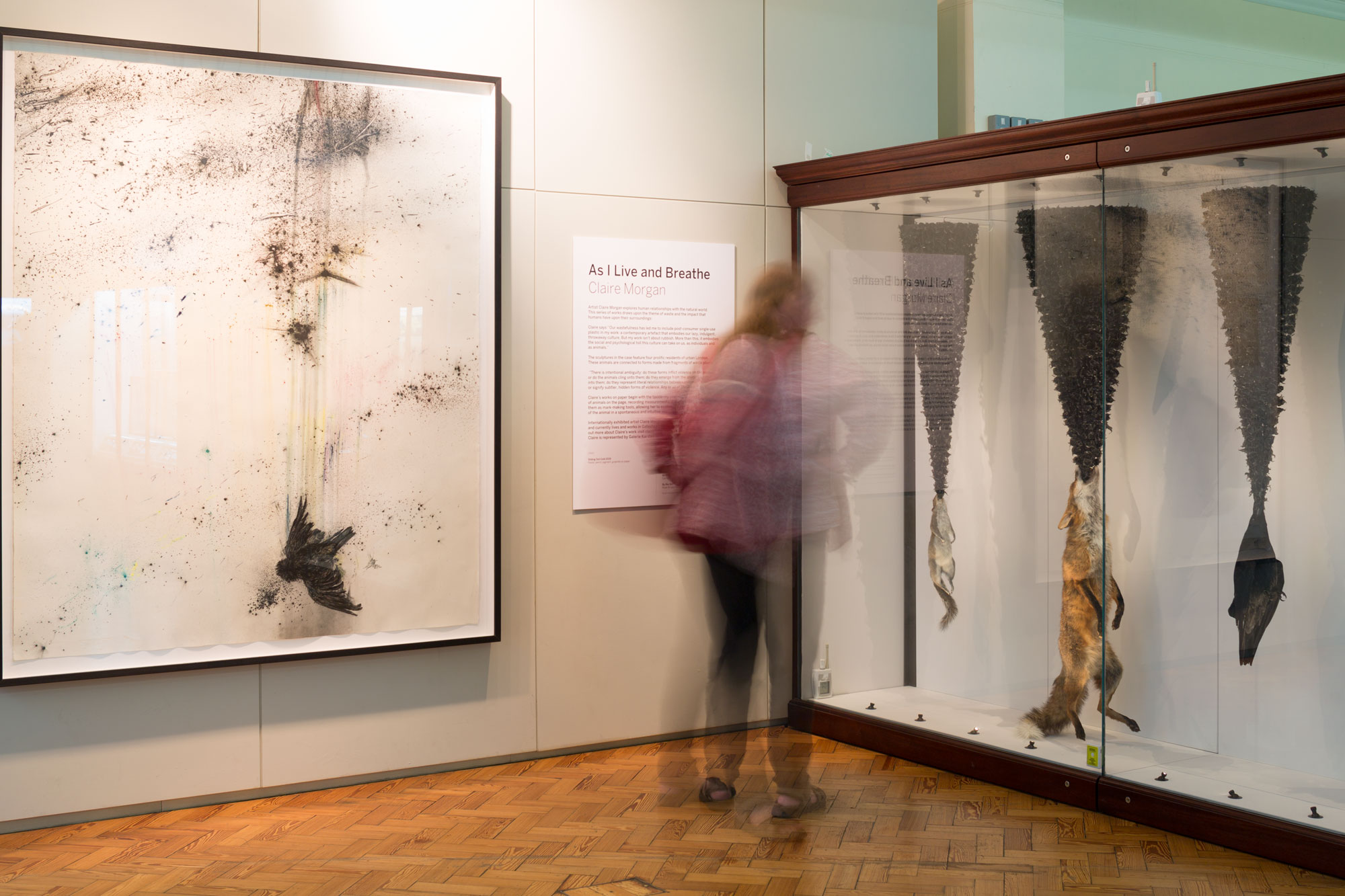 What motivates and influences you as an artist? What other artists are you drawn to?
I don't think I'm motivated primarily by other artists, perhaps more by their approach, their way of thinking, and their single-mindedness and determination.
Back when I was studying, like 20 years ago, I was really influenced by people like Anya Gallaccio, Rebecca Horn and Kiki Smith. Now I'm perhaps more influenced by people working in other artforms.
The writing of David Foster Wallace has directly inspired new ideas many times.
Music is a vital part of my process when I'm working on the more expressionistic parts of drawings and paintings, and when thinking of new ideas. At the moment I use Aphex Twin, Bjork, Jon Hopkins, Fuck Buttons, Nathan Fake, Nick Cave, and various other electronic/techno stuff. It's not just reading and listening to tunes – I cannot make work without this.
Your artwork has been a residence in some beautiful places, such as the Musse Jean Lucrat. Where has been your favourite place to display so far? Or where is your dream location to display your work?
Working at Chateau d'Oiron was pretty amazing. The location, the historical details of the chateau, and the permanent collection of contemporary art there are all very inspiring. I was offered the attic of the chateau, and there was evidence of many animals living in that room currently – or at least using it – not just insects, pigeons and rodents, but barn owls, bats, and pine martens. There was an important renaissance fresco in the room directly below, and I developed my work in response to all these things.
Dream locations… Well an obvious one in the UK is the Turbine Hall. I'd be excited by any opportunity to work on a very large scale temporary commission in a culturally or historically significant location. That seems to be the kind of situation where I work best.
Your artworks seem to play with concepts of time and fantasy, what other narratives do you feel your artwork has?
Fantasy isn't something I really think about in relation to my work. Everything I make stems from observations and concerns about what I see around me, consciousness and our perception of reality, and the physical world.
I'm interested in the passing of time, and our complete lack of control in the face of the change that brings. That affects every other aspect of our lives, and I think it does have a considerable role in the way we try to distance ourselves from other animals and from nature, because at the end of the day nature embodies change and mortality, and that is what scares us most.
What do you have coming up?
I'm currently working towards a solo exhibition at Galerie Karsten Greve Paris in 2020.
Some projects just culminated – my exhibition at the Horniman, and a new body of work for the Fondation Daniel & Florence Guerlain Drawing Prize.
Generally I am quite drained and need to start from scratch when I've finished a project, so now I'm really trying to focus on my studio practice, researching and experimenting a bit, and starting to develop new ideas for the solo show.
At the moment I also have work in some group exhibitions in Germany and France.
Two suspended installations and two paintings can be seen at Biennale Ephémères, Château de Monbazillac, France, until 30 September, and other works can also be seen at Bêtes de scène, Villa Datris, France until 3 Nov 2019, and ARTENREICH – Insekten in der Kunst, Museum Sinclair-Haus, Germany, until 13 October.
All my current and forthcoming projects (and my studio and cats!) can be followed @clairemorganstudio on Instagram and Facebook, and on the news page of my website.