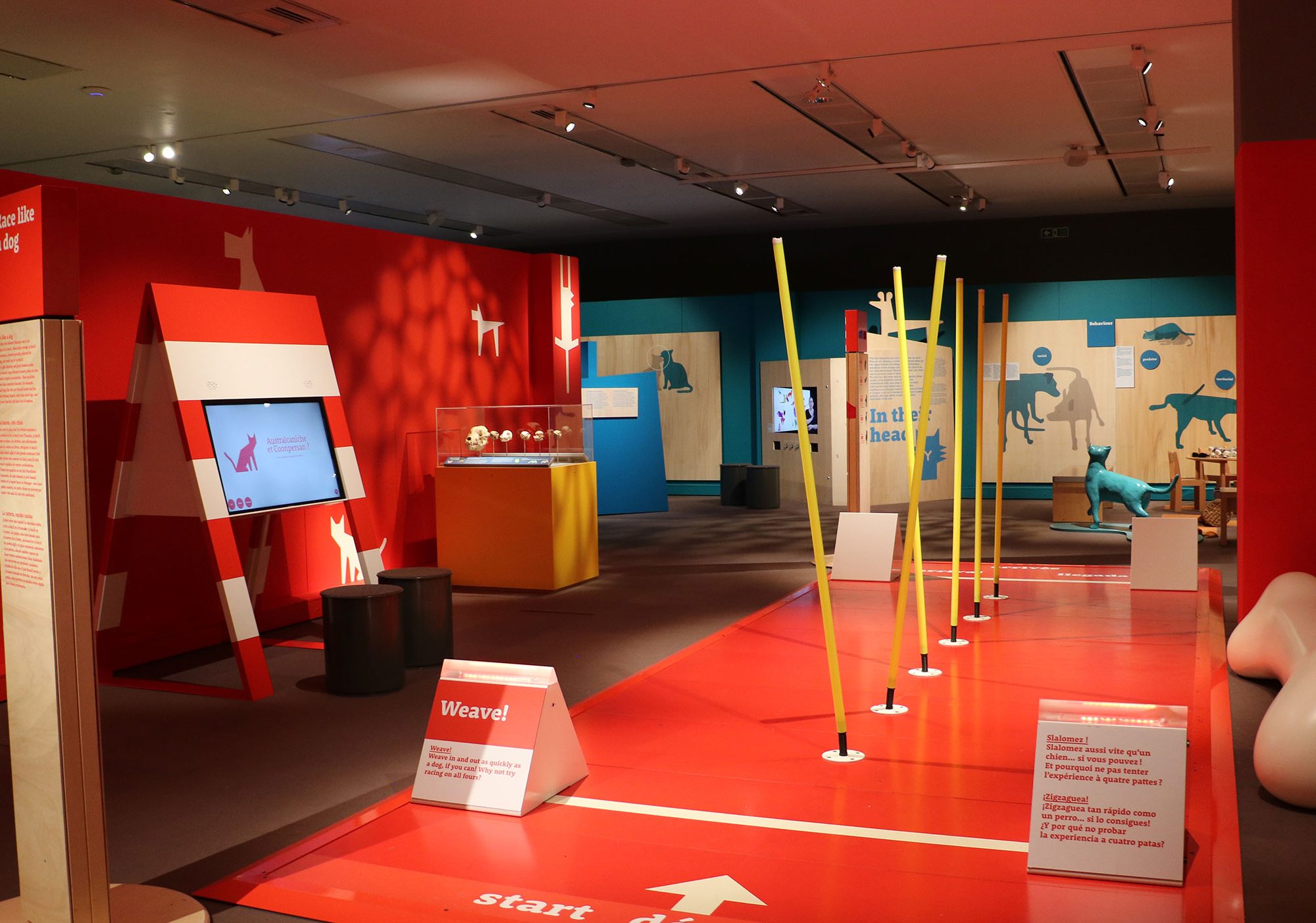 Bright and Early: Exhibitions
A special early viewing for families who are unable to visit when the Horniman is busy, including children with autism spectrum conditions or neurodiverse families.
Enjoy our current exhibitions ELMER and Friends plus Cats and Dogs during this accessible, relaxed event. Cats and Dogs closes soon – so this is a last chance to see.
The main doors open at 9am. In case you arrive a little early, our Gardens are open from 7.15am.
Please note that the rest of the Museum will open at the regular time of 10am, however, a chill-out space and the Café will also be open from 9am.
More detailed information is available in the Social Story.
If you have any questions, please contact communitylearning@horniman.ac.uk
ELMER and Friends: The Colourful World of David McKee
Step into David McKee's colourful world in this first ever major retrospective of his striking illustrations and celebrate over 30 years of Elmer the Patchwork Elephant.
Elmer remains one of the most widely read children's book series of all time, selling over ten million copies worldwide since it was first published by Andersen Press in 1989. Visitors will also meet many of McKee's other classic characters in the exhibition, including Not Now Bernard, King Rollo and Mr. Benn.
Cats and Dogs
There are an estimated 10.5 million cats and 12.5 million dogs in the UK. But how well do we really know our pets?
Every day, cats and dogs demonstrate their skills, awareness and intelligence. This immersive exhibition explores the scientific, social and cultural role that cats and dogs play in our world, and invites visitors to go on an exciting, sensory journey, exploring what it's like to be a cat or a dog.
From studying animal behaviour to examining human relationships with our feline friends and devoted doggos, visitors can enjoy games and simulations that put them in each animal's paws to better understand them and their ways.
Booking
To make a booking and to find out more, please contact communitylearning@horniman.ac.uk or call 020 8291 8690.
Tickets are free, but we welcome donations. You can donate when you book your free ticket, before checkout or on the day, once – we hope – you've had a lovely time, at one of our contactless donation points.
Please note, companions of disabled visitors, Under 3s, Members and Benefactors always go free.
Information for parents and carers in advance
Welcome to the Horniman. Here is some more information about today's relaxed opening event called Bright and Early.
 Which spaces will be open?
This is a special opening for the ELMER and Friends and the Cats and Dogs exhibitions, both located on the Lower Ground Floor.
If you'd like a bit of a rest at any point, there is a Chill Out space, located in the Education Centre. The Gardens are also a nice place for some peace and quiet.
There are toilets on the Ground Floor, past the Shop. There are more toilets downstairs in Gallery Square, near the exhibitions. Please note, some cleaning might still take place when you first arrive.
The toilets in the Gardens are open before 9.00am and are open to everyone.
The Café is open to everyone from 9.00am.
We will also open the Music Gallery (next to the other two exhibitions) from 9.00am. All other galleries will be closed until the Museum opens to the public at 10.00am.
What time is the event?
The main entrance, the ELMER and Friends exhibition and the Cats and Dogs exhibition, the Music Gallery, the Chill Out space and the museum toilets all open at the earlier time of 9.00am. The Museum's shop will open at 9.30am.
At 10am the Museum opens to the public. You are more than welcome to stay, but please be aware that it can get quite busy once we open the doors.
The Chill Out space is only available to Bright and Early visitors, and will be open until 10.30am.  Although there is no eating or drinking allowed in the Galleries you can eat and drink in the Chill Out space.
There is also a quiet room at the rear of the Music Gallery which will only be available to Bright and Early visitors, and will be open until 11am.  Unfortunately eating and drinking is not allowed in this space.
How do I get there?
Please take a look for directions on our website. There are also some handy videos online that give more details about arriving on site and finding your way around.
If there is anything else we can help you with in advance, please get in touch at communitylearning@horniman.ac.uk or on 020 8291 8690 – we are very happy to help.
Please note, we often get deliveries in the morning, so you might notice big vehicles on the Horniman site when you arrive.
Feedback
It would be great to get your feedback. Please talk to a member of staff or fill in the e-mail survey which we will send you shortly after the event.
Suggested Donations
We really hope you'll enjoy your visit. Standard ticket prices for Cats and Dogs are £8.50 for adults and £4.50 for children – if you can make a contribution via one of our donation boxes on the day that would be wonderful.
Thank you for coming.