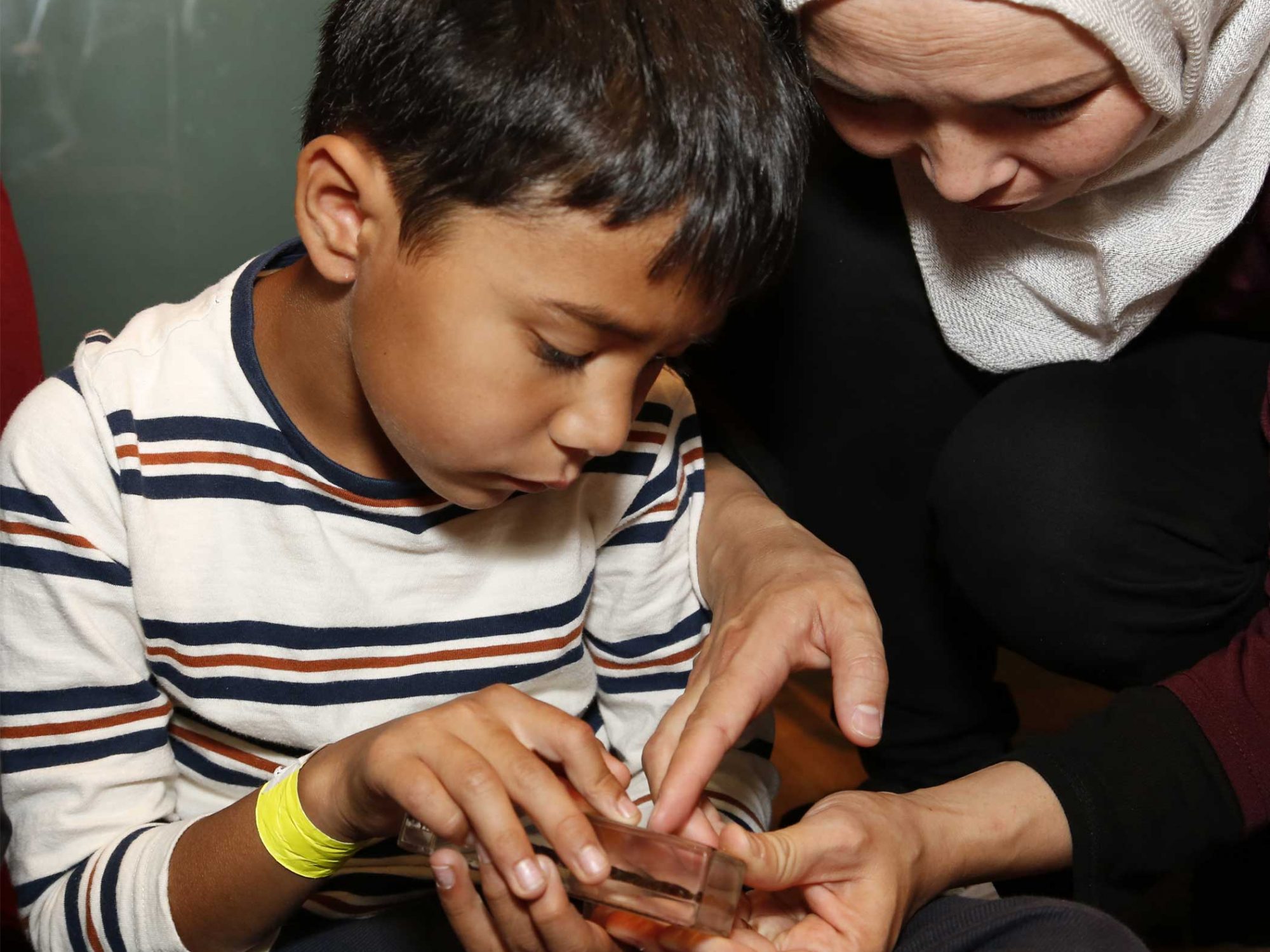 Join us for exciting, interactive object handling workshops for home educated children this autumn.
Prehistoric Britain
Become an archaeologist and handle artefacts from the Stone and Bronze Ages. Discover differences between life in the Palaeolithic and Neolithic. Hold a 300,000 year old hand axe, examine a real mammoth tooth, and learn about flint knapping.
After a short introduction to the Stone Age, children will pass around artefacts and use them to figure out how people would have survived. The facilitator will demonstrate and explain how the objects would have been used. We will finish by considering how our lives are different and what we can learn from the Prehistoric life.
Date and time: 23 September, 1.5pm – 2.15pm
Age: 7—11
Topic: Anthropology
Around Africa
Discover the diversity of Africa in this exciting hands-on workshop. Visit the largest market in Ghana's capital Accra, try on clothes, play a 'talking' drum and buy local food. Play with African toys and try to spot the recycled materials used to make them. Explore Maasai people's traditional way of life, their home and the animals that live there.
After a short introduction to vastness of the African continent, all children will explore three stations: roleplay at Makola market; engage with African toys through play; explore Maasai objects and savanna animals. We will finish by discussing what we learned through hands-on object handling at each station.
Date and time: 10 October, 1.30pm – 2.30pm
Age: 5 – 8
Topic: Anthropology
Textiles
This session will introduce participants to different textile techniques used around the world. From resist dye methods such as batik which originated in Asia to printing methods like those used to create adinkra cloth in West Africa.
Participants will then have the opportunity explore and, in some cases, try on a range of textiles used for everyday purposes, special occasions and performances. Having learnt more about these items of clothing and their cultural significance, pupils will have time to sketch the objects they are most interested in.
To finish, we will discuss textiles as a way of expressing cultural identity and how this can be effected by colonialism and globalisation.
Date and time: 8 November, 1.15pm – 2.15pm
Age: 11—17
Topic: Art & Anthropology
Animal Classification
In this session, participants will be given the incredible opportunity to handle taxidermy and explore unique parts of animals. They will closely observe different animal specimens and discover how scientists use animal features to classify them.
A short introduction to classification will be followed by children exploring three different stations of vertebrates, invertebrates and mystery objects. They will practice using a classification key to sort invertebrates and identify the features of different vertebrates. We will finish by discussing current threats animals are facing and what we can do to help.
Date and time: 8 December, 1.15pm – 2.15pm
Age: 8 – 12
Topic: Science
Ticket information
Tickets are non-refundable.
To help ensure that our learners get the most from their taught sessions, and as spaces are limited, only children booked onto them may attend (with their accompanying adult). Babes in arms are permitted, but we politely ask that you leave the session should they become disruptive.