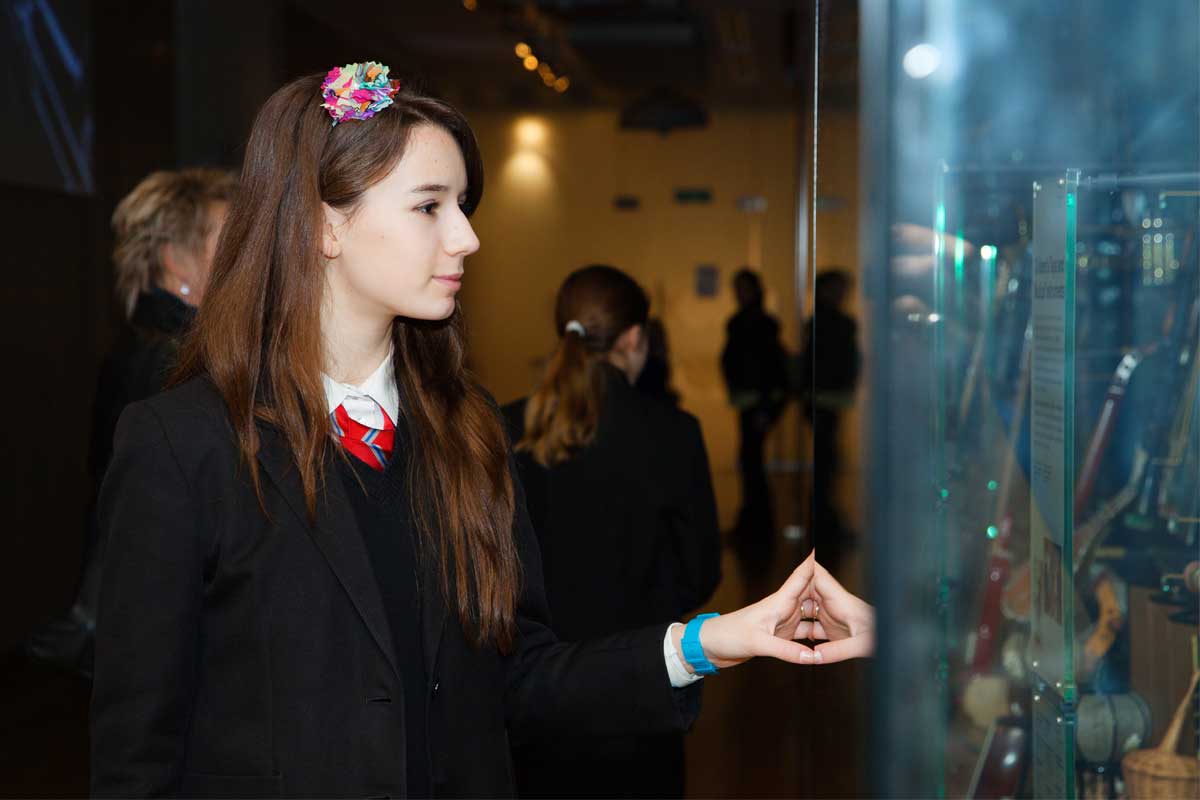 Webinar: Museums Supporting Young People's Music Education
Join this free half-day webinar about how museums can support education on 19 March. Supported by Art Fund.
How can we help young people to access and use museum musical instrument collections? How can we engage young people with such 'behind glass' collections?
How can museums build successful partnerships with schools and arts organisations? And how can museums and facilitators create music making experiences for hard to reach, disadvantaged young people?
This half-day webinar will bring together speakers from a range of museums, arts organisations and formal learning providers, to showcase successful music programmes, all designed with and for young people.
Our speakers will explore the importance of partnerships in developing appealing, accessible music programmes that support young people's music education, creative ambitions or career goals. They will present case studies that show how young people's ideas and programmes can ensure that musical instrument collections remain relevant, and have a life beyond the display case.
This webinar aims to inspire museums, schools, arts organisations and music facilitators to explore new ways of supporting young people's engagement with music.
This event is generously supported by Art Fund, and is part of Music in the Making, the Horniman's four-year programme to increase engagement with musical instrument collections and to maximise their potential through creative programming, learning, and performance.
The speakers will include those listed below, who will be presenting in different panel sessions, with time for questions afterwards. The webinar will be held on Zoom. All spoken and written content will be recorded, and by taking part in the seminar participants will agree to this. After the event, the speakers' abstracts will be published together with a summary of the event, with approaches on how to use museum collections of musical instruments to enhance learning in different settings.
Admission to the webinar is free but places are limited, so you are advised to book early.
Speakers and Presentations
12.40pm – 12.55pm | Jane Da Costa, Deputy Head Tri-borough Music Hub, London
Student centred learning, student centred decision making: developing and embedding Youth Voice in Music Education
This presentation will take you on a journey with the Tri-borough music hub, learning about the challenges and successes of embedding Youth Voice, setting up a diverse Youth Voice Council and creating a student led opportunities aiming to break down barriers to music making. We will explore the power of partnerships and the strategic impact that collaboration has on outcomes as a hub, developing opportunities for more young people to have their voice heard. We will hear from young people and the impact that being part of the Youth Voice council has had on their personal and musical development and what music means to them.
___________________________________________________________________
1pm – 1.20pm | Jennifer Raven, Deputy Director, Sound Connections, London
Hear our Story
Based on Jennifer's experience of two collaborations between creative projects and heritage organisations, she will explore how young people use museum collections and local history as a starting point to tell stories relevant to them, on their terms, through music. Her two examples have youth voice at the very heart: 'Olympia' from South East London-based charity Fairbeats Music and 'Reverberate', which is part of English Heritage's national Shout Out Loud programme. Lastly, Jennifer will make recommendations about building and funding collaborations like these between music organisations and museums.
___________________________________________________________________
1.25pm – 1.40pm | Ruth Mazur, Head of Music, Sacred Heart Catholic School, Southwark, London, Lucy Maycock, Schools Learning Officer, Horniman Museum and Gardens, London
Supporting the curriculum together: the museum and classroom in collaboration
In this session, Lucy and Ruth will share their experiences of building a successful partnership between The Sacred Heart Catholic School's Music Department and the Horniman Museum. Hear how they used collections to create school workshops that link to the secondary Music Curriculum and GCSE specification, and to support learning in the classroom. This presentation will also explore ways to engage pupils with behind-glass collections, and to encourage independent relationships with the Museum.
___________________________________________________________________
2.10pm – 2.25pm | Rudi Schmidt, Youth Engagement and Volunteering Coordinator, Horniman Museum and Gardens, London
Thinking Ahead: Programming with Careers in Mind
In this presentation, Rudi will talk about the Horniman's Arts Award music production course, run in partnership with Goldsmiths. Rudi will also introduce a new Promoters Programme, funded by Youth Music and coordinated with Spiral and Jobcentre Plus. This programme creates a platform for young people's ideas, whilst giving them an opportunity to develop professional music industry experience.
___________________________________________________________________
2.30pm – 2.45pm | Mikey Kirkpatrick, Associate Lecturer in Music and Education and Founding Director of Alchemy, Goldsmiths, University of London
Through the Looking Glass: Remixing our Roots
Mikey Kirkpatrick discusses the potential for engagement with 'behind the glass' exhibits through digital audio sampling. Mikey argues that by having direct and immediate access to recordings of the historical instruments that we see displayed, in effect reaching through the glass and playing those instruments and adding other sounds and voices through music software, we can engage more deeply with the exhibit, our sonic histories and technologies, create high quality and original new music, and inspire young people to think differently about what a museum space can be. Mikey's presentation will include input from some young Alchemy artists (a Saturday creative music lab and mentoring project for 14-18 year olds), and musical examples.
___________________________________________________________________
3.15pm – 3.30pm | Tine Geunis, Programme Leader Education, AfricaMuseum, Tervuren, Belgium
Music on the move @ the AfricaMuseum
During this presentation, I will briefly introduce the music workshops that are part of the AfricaMuseum's educational offer, and the hands-on opportunities in the Language & Music gallery that allow both children and adults to engage actively and directly with the historic objects, customs, musical theories, and stories on display. I'll also explore the AfricaMuseum's ongoing effort to digitise the Royal Museum for Central Africa's musical heritage collections and share with the participants some examples of ongoing and future collaborations with music educators and education providers.
___________________________________________________________________
3.35pm – 3.50pm | Isabelle Carré, Education and Outreach Officer, Bate Collection, Faculty of Music, University of Oxford
Hands-on Music at the Bate Collection
The Bate Collection offers hands-on music workshops to school children from Key Stage 2 (8-11 years old) to Key Stage 5 (17-18 years old), with an opportunity to play musical instruments from a range of historical periods as well as the Javanese gamelan. I will present a couple of special projects targeting pupils from disadvantaged backgrounds and outline some of our key partnerships.
___________________________________________________________________
3.55pm – 4.10pm | Katherine Palmer, Curator of Education, Musical Instrument Museum, Arizona, USA
Realizing Instrument Collections: Making Music Tangible
The Musical Instrument Museum (MIM) in Phoenix, Arizona, is the world's largest collection of global musical instruments, and education programming is central to the museum's mission of "fostering appreciation of the world's diverse cultures" through music. This presentation will explain how MIM's collection is brought to life through MIM field trips and sequential educational programs, called MIMkids. Katherine will highlight the intersections between object-based learning and music education that help promote musical exploration and creativity in youth.