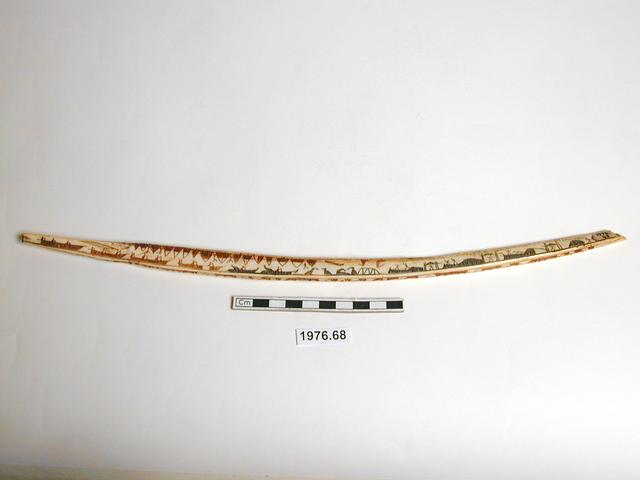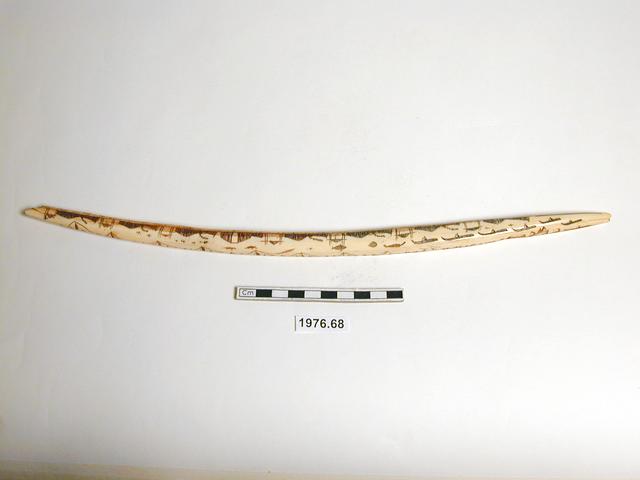 1976.68
The bow drill was, for thousands of years, a crucial part of the equipment of a nomadic Inuit family, moving between regular camp sites following seasonal animal migrations for food. The bow drill allowed for the generation of friction and had two main purposes; lighting fires and carving detail. This walrus ivory object demonstrates both roles; it is the "bow" part of the drill, and would at one time have had a hide strap connecting either end. This strap could be wrapped around a wooden pole, which would then be attached to a mouthpiece. Using the wielder's body as part of the tool, the tip of the pole could be placed into a piece of dry driftwood, packed with dry moss. By rapidly and rhythmically sawing the bow back and forth the pole turned in the driftwood and the friction ignited the moss.
The second use to which bow drills were put was for incising decoration. In this capacity the pole would be tipped with a metal spike. The spike could be placed against a piece of bone or ivory and by moving their head the wielder could draw the spike across the ivory smoothly, generating patterns. This is precisely the manner in which the scenes on the bow, which depict an Inuit seal hunt across an ice floe. Inuit stories are not fixed in time, the same image producing scenes across the span of the hunt, from departure to the successful kill.
Over time the bow drill fell out of use, replaced by tinderboxes and then matches and lighters for fire-lighting and chisels and hand-drills for decorative artwork. In recent years, as part of the cultural resurgence of the Inuit peoples there has been a rediscovery of the bow drill and its essential part of Inuit life.