Have you noticed red yarn hanging from a tree? It's a sign that spring is here.
Many of us look forward to the first signs of spring outside, after the long dark months of winter. In Bulgaria, they mark this time with a holiday and Martenitsa.
People make or buy martenitsa, which are simple thread bows, dolls, tassels or pom-poms, made from red and white yarn. These are given as gifts to loved ones, and are then worn from Baba Marta (Granny March) Day on 1 March, until the first signs of spring appear.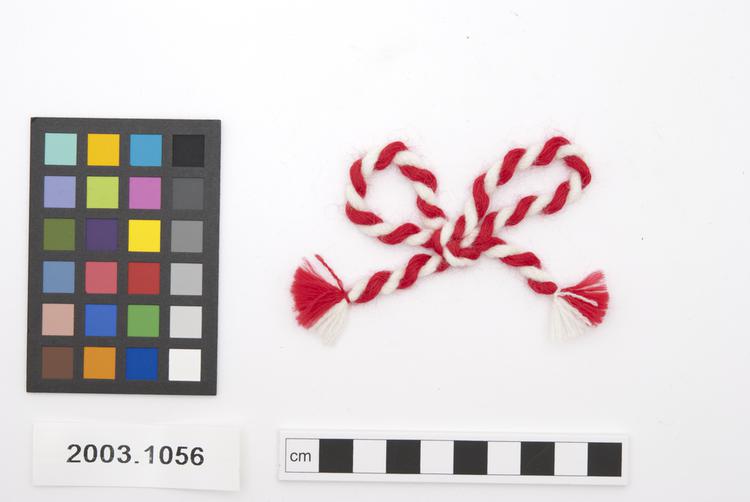 charm; martenitsa
Anthropology
Prosperity charm consisting of red and white yarns plied together and tied into a bow.
See full collection record
The threads are worn as a symbol of luck for good health, as a bracelet or pinned as a brooch. The different colours are thought to represent the male (white) and female (red).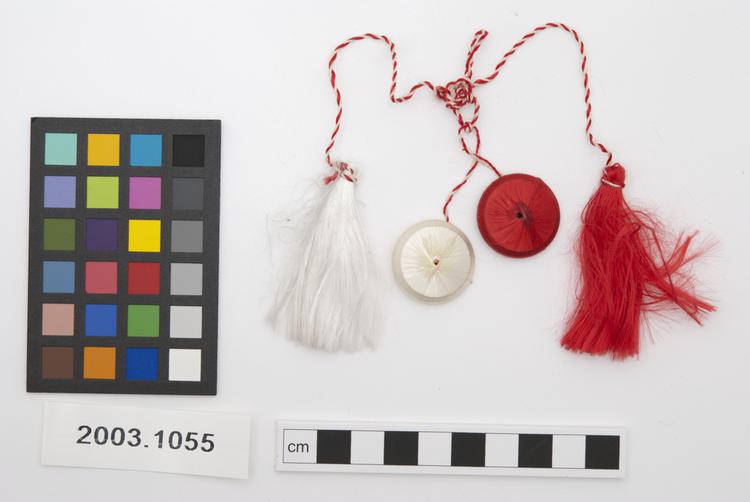 charm; martenitsa
Anthropology
Prosperity charm of two discs, one covered in red silk, the other in white silk, each attached to a length of twined red and white thread. The end of each thread is decorated with a tassel in the corresponding colour.
See full collection record
Baba Marta is considered a temperamental woman.
She does her spring cleaning to shake off winter which can make the weather changeable, wet and windy, but her smile makes the sunshine come out.
The signs of spring can be seeing a tree start to blossom, or seeing a stork or a swallow. Once this sign of spring is spotted, the martenitsa is tied to a budding tree along with a wish, and the luck passes from the martenitsa to the tree.
Others leave their martenitsa under a stone, with the belief that the creature closest to it will determine their health and luck for the year – a worm or ant will mean a healthy, successful year, but a spider can mean trouble.
charm; martenitsa
Anthropology
A prosperity charm consisting of two small, soft balls of wool with an irregular pattern in red and white, joined with red and white plied yarn. The thread of the charm is attached to a piece of card.
See full collection record
Similar traditions take place in Romania and Moldova with mărțișor, and martinka in North Macedonia, and the practise of making, giving and wearing martenitsa has been recognised by UNESCO as part of the Intangible Cultural Heritage of Humanity.