Oluseyi Awolesi has written this piece inspired by photographs from the Nancy Stanfield collection, and his experiences as a child in a school in Lagos.
È jẹ kín rí etí gbó ọrọ jàre… (Allow my ears to hear)

Abeg make I hear word…

You are speaking vernacular!

All the while, there was a plan… to change our narratives and disrupt through distorted scams depicting theirs as the divine hand

Ìdí ère láti má mó òtítọ́… (It is while we play that we find out the truth)

You are speaking vernacular!

How we've slept, how our ancestors must weep as they witness how easily discrimination has crept and reconstituted our youngest mind sets

Ayi tete mú olè, olè n mú ọ loko… (If you don't catch the thief, the thief will catch you)

You are speaking vernacular!

Wading through our understandings to redress and impress a civility that is infinitely less in its absolution of ingress while we are left in distress

Ma lanu bí àpẹrẹ, mi ò lè pé nù mì dé… (I will open my mouth wide, I cannot keep my mouth shut)

You are speaking vernacular!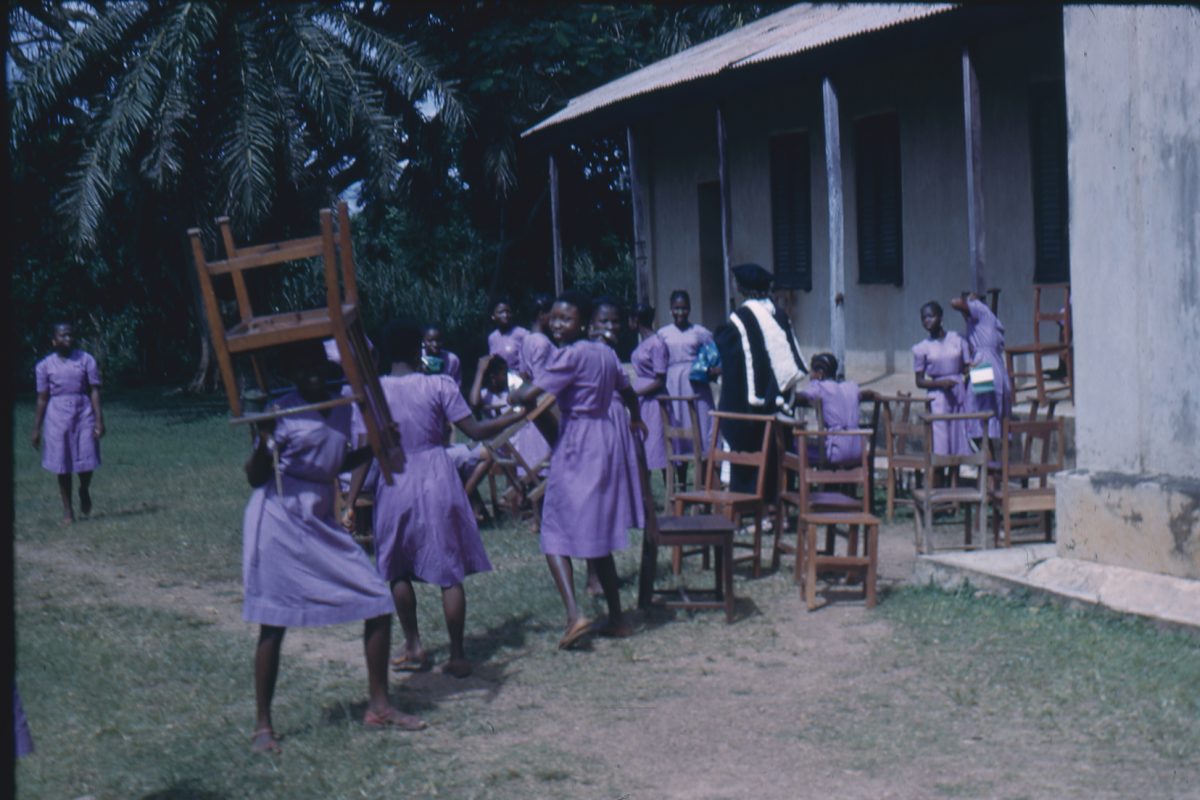 Why wait till the diluted hate languishes in the semitic endemic expression of the selves that we really don't appreciate

Na condition dey make crayfish bend…

You are speaking vernacular!

Here, where we stood and traded in uncommon good, we were bold and felt the oud of cultural id till we awakened the depth of our bough

Àlá tí ọmọdé bá ti ojú ọrùn ké, á yà obì é ní wéré… (If a parent sees what make a child wakes up crying from a nightmare crying, it will drive the parent mad)

You are speaking vernacular!

Regurgitation of fractured narratives expressed with banal disadvantages leaving our ages in diluted heritages as our echoes sound from and for an age

You dey speak vernacular…

You are speaking vernacular!

Our excellence and excellency's re-appropriated for and by a facade that fades with each passing day, yet we hold on to the myopic instead of claiming the gigantic.

Ti a bà torí ìṣù jẹ epò á torí epò jẹ ìṣù… (If we don't eat yam because of palm oil, we will eat palm oil because of yam)

You are speaking vernacular!

Speak not of your young tongue, as we hold on to ours… we where we were… and are destined to be without barriers created by thee who wish to not see our defined ability

Inú ìkókó dúdú ní èkó fún fún tí ń jáde… (It is out of a Black pot that white meal comes out of)

You are speaking vernacular!

Èdè wá gbọ́dọ̀ yẹ ara wá (Our languages must be understood by ourselves)

Let us understand our vernacular

Oluwaseyi Oluwagbemiga Adetokunbo Olanrewaju Awolesi… kò ní bàjé fún wá #CerebralSoul #CerbreralCausality #SeyiAwolesi
Oluseyi Awolesi is a Design Architect, Job Runner, Project Coordinator and Manager with a varied project portfolio of over 23 years' experience within the residential, commercial, healthcare, laboratory, education, leisure, hospitality, master plan and urban design sectors.
Seyi is also a consultant working with brands to achieve their targeted objectives and providing design-led intelligent solutions to projects in Europe, the Middle East and Africa.
As an Events Creator, Curator, Artist manager and Director with 14 years' experience within the music, art, poetry, artist development, music video and photography and creative sectors, Seyi has worked on numerous events providing exciting and interesting narratives that bring commentary and empower change.