Yomi Sode, Nigerian British writer, performer and facilitator, has written this poem in response to a photograph from the Nancy Stanfield collection.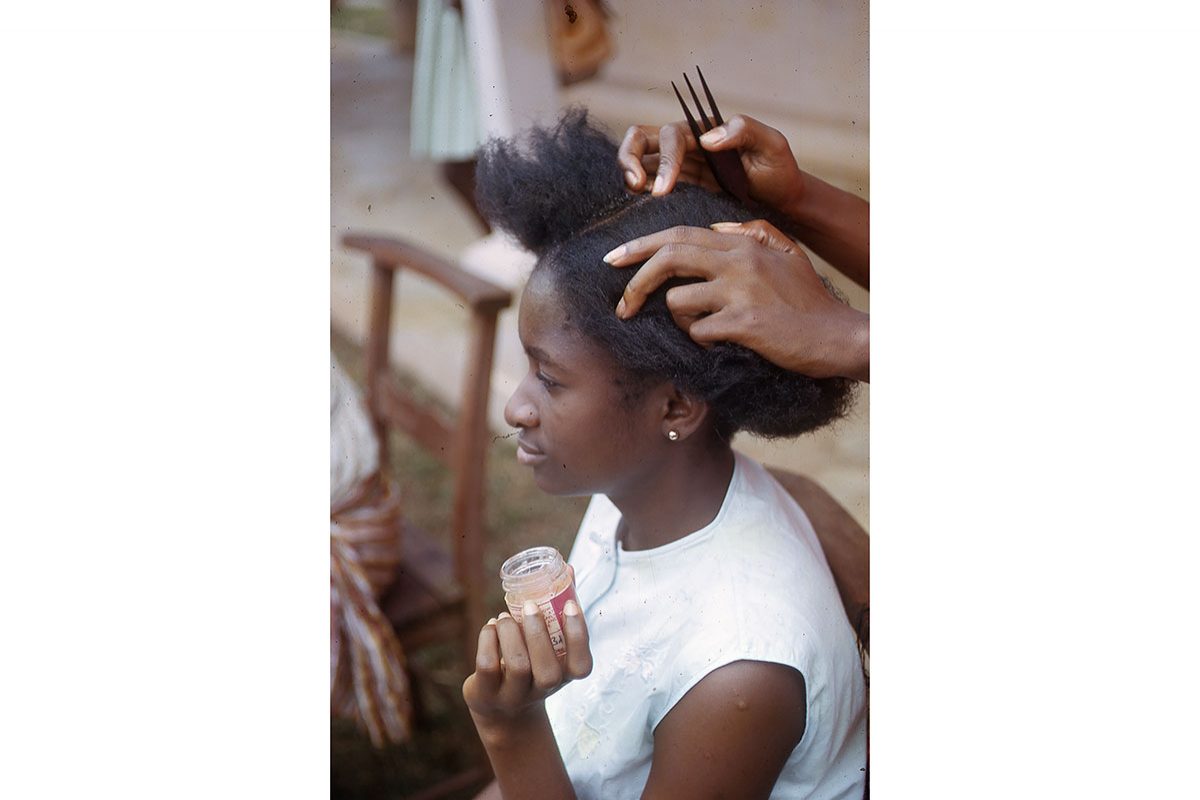 Preparation

An elder parts a young lady's hair in preparation of the plaiting. She lines the young lady's scalp through the middle, deep enough to make rivals of each other. Both sides of hair nervously staring across this parting of seas.

All this hair on me now. The tangle to untwist & comb out, the itch to wash and the mourning of strands too weak to hold onto scalp. The joy in hearing it breathe, the rigour of oiling as though one is kneading dough with their hands.

My grandmother once told me that locs ran through my family. Naively, my younger self assumed this to be a Caribbean custom, something Nigerians wouldn't have considered in their households. Laying on her hip, she continued the story of these locs, like vines that spread across generations of George women.

All this hair on me now. I think about my grandmother. Sitting beside her - beneath the moon, on her compound – watching children run aimlessly through the night, holding lanterns in the event the light from above loses them. Not a day goes by where I am not seeing Black bodies fall like autumn leaves. Rendering a physical me useless, and the rest going anywhere, but here.

Today, I am missing my grandmother, & in missing her, I'm wondering what she would do with all this hair now. What stories would she choose in her jukebox of memory, while combing, lining & twisting. Probably stories of how best to live to her age, and beyond.
Yomi Sode is a Nigerian British writer, performer, and facilitator. He is a recipient of the Jerwood Compton Poetry fellowship 2019.
He has read his poems internationally at various festivals, as well as performed his debut solo show (COAT) to sold-out audiences. Yomi has been published in Rialto Magazine, The Poetry Review, the Bare Lit Anthology and Ten: Poets of the New Generation, as well an essay contribution in SAFE: On Black British Men reclaiming space.