A large taxidermy polar bear stood proudly in our family-friendly Extremes exhibition. Its arrival here caused quite a flurry, but it wasn't the first time a polar bear had been on display at the Horniman.
In the early 1890s, Frederick Horniman bought a polar bear from a man called James Henry Hubbard. The polar bear was first displayed in the Canadian Section of the 1886 Colonial and Indian Exhibition in London, along with many other Canadian animals including our famous walrus.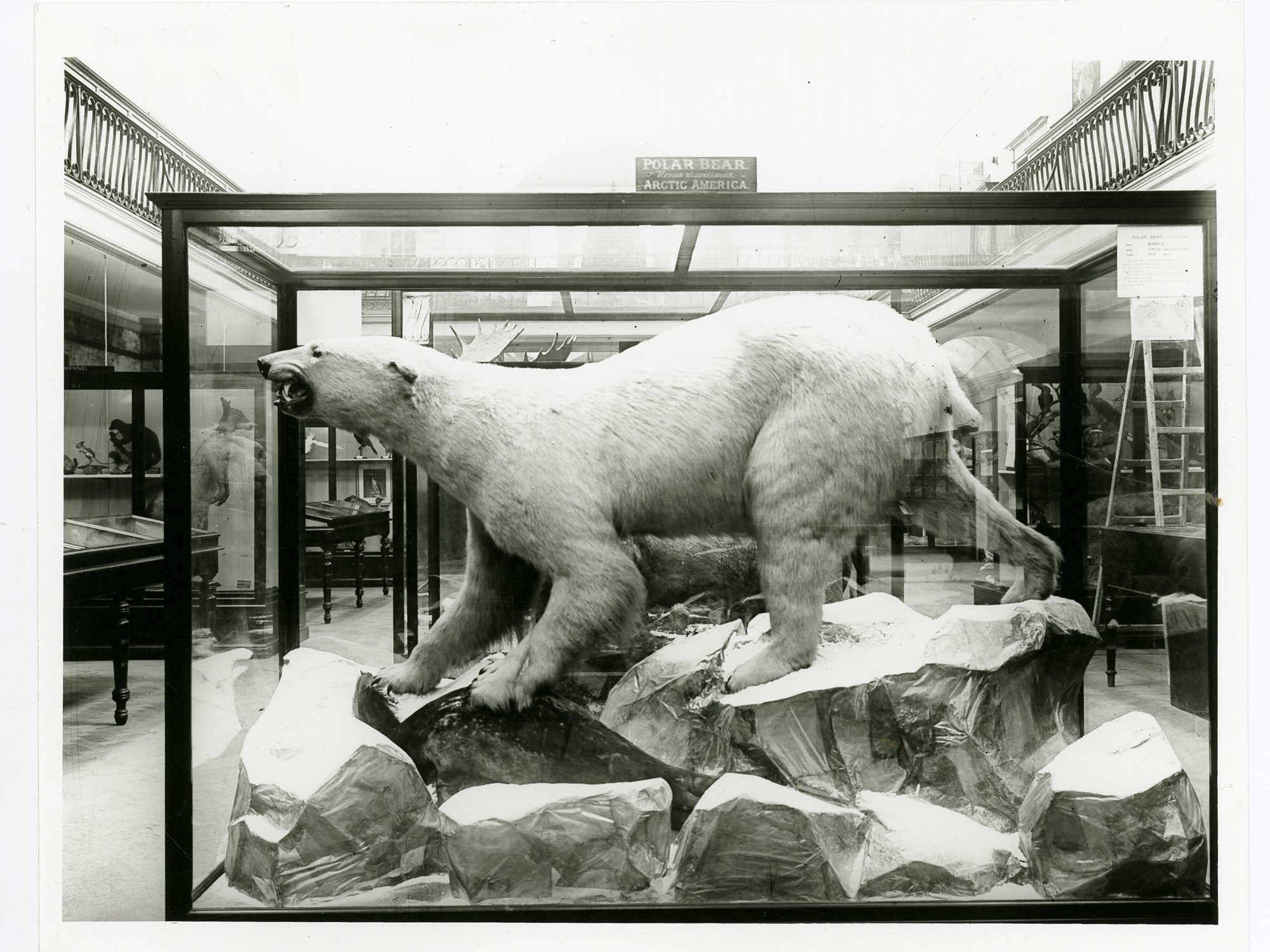 The polar bear is first mentioned in local newspaper articles as 'a polar bear realistically attacking a seal'.
It was one of the big stars of the Museum for over 60 years and was very popular with museum visitors. Over the years, the polar bear and other animals were moved several times. It was stated that it took five men to move each one.
However, in the late 1940s, the polar bear was sold.
There were many reasons for this: the fur of the polar bear may have become dirty and the mount itself may no longer have been in good condition; staff in the museum began to research new themes for display based on the latest scientific ideas and developments and there would have been very little space to store large animals at that time. Also, by the 1940s tastes and attitudes towards taxidermy had changed significantly and it became increasingly unfashionable to display large animals in museums.
The polar bear was sold on 17 September 1948, to a Mr T Allen, a local 'scrap' merchant. The polar bear's fate is a mystery.
At one time, there were rumours that the polar bear had been bought and put on display in Selfridges, but this has never been confirmed.
In 2006, we set upon a search to find out if the polar bear still exists somewhere out in the wider world, but were not able to find anything concrete. We learned that it had been sold on by Mr Allen in the 1950s to a photographic studio in Southend-on-Sea, but unfortunately have not found any evidence of what happened to it after that.
Do you live in Southend-on-Sea or have visited in the past and remember having your photograph taken with a polar bear? We'd love to hear from you.