Many of the instruments in our collection come from interesting and unusual places. One clavichord in particular has interesting ties to LGBTQ+ history.
Lewes House is a Grade II listed building in Lewes, East Sussex. It is now owned by the local government but from 1888 to 1928 it was owned by Edward Perry Warden, known as Ned. Ned was an American millionaire, a collector and dealer of antiquities, and a gay man living in England at the turn of the Twentieth Century.
Who was Edward Perry Warren?
Born in Boston Massachusetts in 1860, Ned was one of five children of Samuel D Warren, who founded the Cumberland Paper Mills in Maine.
Ned attended Harvard College and then achieved his Master of Philosophy in Classics at Oxford University.
It was during his time at Oxford that he met John Marshall. Ned and John began a long term relationship which lasted throughout their lives, and the pair lived together at Lewes House for many years.
John had been planning to train for the Anglican priesthood but abandoned these plans after meeting Ned. He was an archaeologist and assisted Ned in much of his dealing and collecting.
In their later life they reportedly referred to each other as 'puppy'.
Ned has been described as having 'a taste for pornography' and being a 'pioneer' in collecting it. He wrote books including 'A Defence of Uranian Love', which proposes a culture of same sex relationships similar to those in ancient Greece, with an older man acting as a guide and a lover to a younger man.
Lewes House Brotherhood
Ned established the Lewes House Brotherhood within Lewes House. The Brotherhood consisted of a group of like-minded men who assisted Ned with the cataloguing, cleaning and restoring of the antiquities that he collected. The young men were interested in art and culture, and would most likely have been gay. One account reported that Warren was creating a 'Greek and virile' way of living.
In the evenings the occupants of the house would eat dinner under the watch of the German Renaissance painting 'Adam and Eve' by Lucas Cranach. They would spend time after dinner talking, or playing instruments like the piano and clavichord. The painting was a gift from Harold W Parson and is now in the Courtauld.
One of the clavichords which sat in Lewes House is now in the Horniman collection.
The reputation of Lewes House was marred in later years after the abuse perpetrated by Eric Gill came to light. Gill was a regular visitor to Lewes House.
Mary Bliss
At the start of the twentieth century, Ned was spending a lot of time in America, dealing with issues surrounding his family trust. Whilst he was away, John began a platonic relationship with Mary Bliss, who also happened to be Ned's cousin. Mary became invaluable on the business side of things, working with John on antiquity dealing and collecting whilst Ned was away.
Eventually Mary told John that she would only continue to work with him if he married her. John agreed to marry her under the proviso that it would be a 'white marriage' – it would go unconsummated. They married in 1907.
When Ned returned from the US Mary, John and Ned all lived together at Lewes House. They also had spent time at their houses in Rome, Italy and Maine, USA.
All three are buried together.
Death and burial
Mary passed away in 1925. After this John spent most of his time at Lewes House until his death three years later in 1928. Later that same year Ned died. Ned's ashes were buried in a non-Catholic cemetery in Bagni di Lucca, Italy. This town was known as a spa in Etruscan and Roman times.
Mary and John are buried in the same tomb, which bears an epigraph written by Ned.
Here lies Edward Perry Warren friend to John Marshall… the finest judge of Greek and Roman antiquities.
The Warren Cup and notable artworks
Much of the work that Ned, John and Mary collected was donated to the Metropolitan Museum of Art in New York, and the Boston Fine Arts Museum. More than 80% of the antiquities that were donated by Ned and John are still on display today.
The best known object collected by Ned is a silver cup, known as the Warren Cup. This is now in the British Museum. Ned never sold the cup during his lifetime, due to its explicit depictions of homoerotic scenes – the cup depicts two scenes of homosexual sex and is thought to have been created between 15BC and AD15.
Ned commissioned a version of The Kiss from Auguste Rodin who frequently visited Lewes House. At one point Ned donated this to Lewes council, who displayed it for two years before returning it as 'unsuitable'. It is now in the Tate collection.
The clavichord in the Horniman collection was often played by Ned after dinners at Lewes House. There is a French motto inscribed on its lid which reads 'Plus fait doucer que violence'.
This translates to 'more is achieved by gentleness than violence'.
The objects collected by Ned Warren, and indeed by John Marshall and Mary Bliss too, are important artefacts of LGBTQ+ history.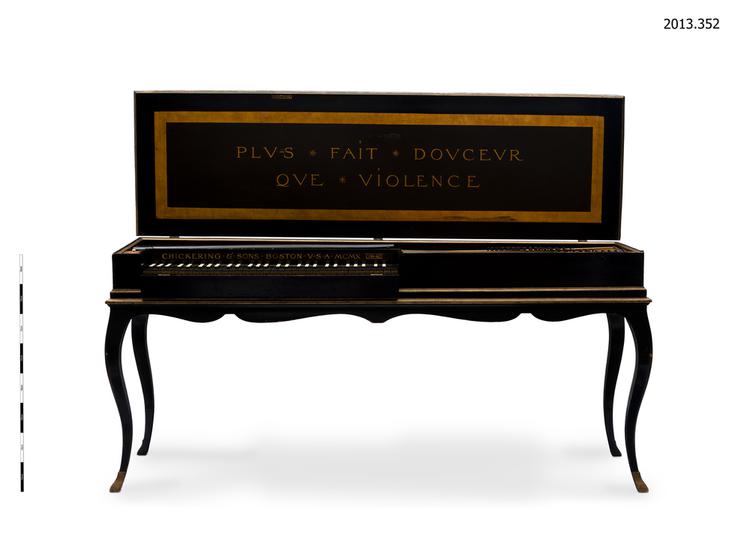 314.122-4-8 True board zithers with resonator box (box zither) sounded by hammers or beaters
Musical Instruments
Unfretted clavichord, double strung throughout. Five octaves chromatic F1-F6 (FF-f3) 60 notes. Two round gilt roses, the carving within the roundel in the shape of a rose. Made in Boston, USA, by Chickering under the direction of Arnold Dolmetsch, No. 4 with a detachable cabriole stand. Although the exterior is black with gold mouldings, the instrument was previously painted green and this colour remains on various interior surfaces including the nameboard. The lid has the French motto common to many later Dolmetsch clavichords: Plus fait douceur que violence (More is achieved by gentleness than violence).
See full collection record