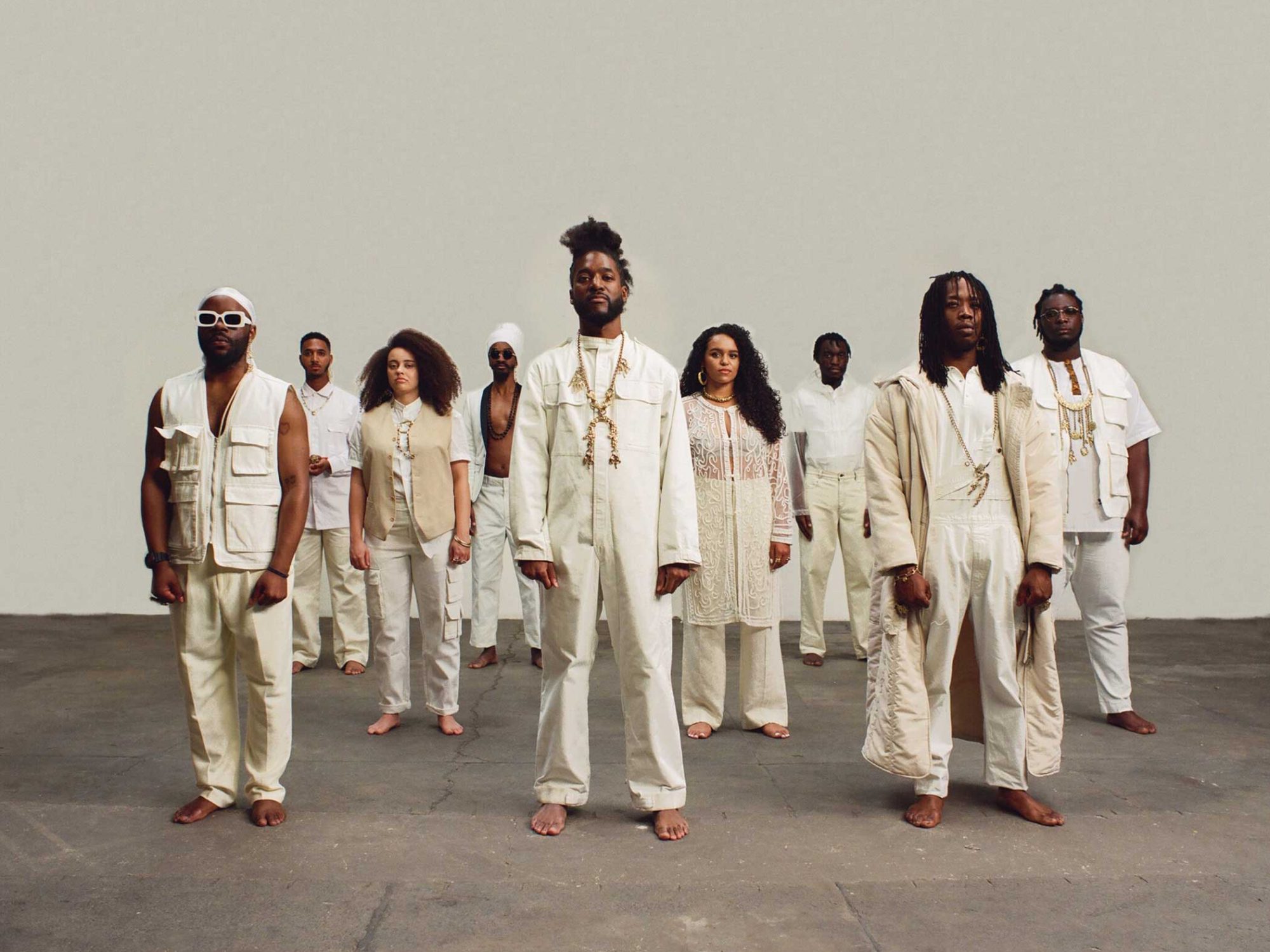 Balamii present their Summer Series featuring some of south London's most exciting artists, as part of the 696 Festival at the Horniman.
Tickets for the Balamii summer series will be available soon, dependent on government guidance. Please note tickets will be limited to two per person. 
Chill out with your friends and enjoy incredible live music and spectacular views of London at these weekly gigs on the Horniman Bandstand.
Tickets will be available shortly before each gig.
5 August – tickets available from Monday 26 July
12 August -tickets available from Monday 9 August
19 August – tickets available from Monday 16 August
26 August – tickets available from Monday 23 August
Steam Down and RADA
Thursday 5 August
Steam Down
Steam Down is an artist collective, weekly event and music community based in Deptford, South-East London.
Founded by multi-instrumentalist, composer and producer Ahnansé in May 2017, the initial event was created to connect London based musicians and producers. Since then it has evolved into a weekly event where Steam Down artists and its extended musical family generate spontaneous sonic soundscapes reflecting their lives in the city.
Steam Down have sold out shows at the Jazz Cafe, The Albany, Village Underground and performed at festivals including Maiden Voyage, Gilles Peterson's We Out Here Festival, Love Supreme, Glastonbury's Park Stage and Bogotá's renowned Jazz Al Parque Festival. The collective have also supported Sampa The Great on Jools Holland and headlined Boiler Room's Festival alongside Afronaut Zu, Nubya Garcia, and Charlotte Dos Santos. They have released two singles 'Free My Skin' and 'Etcetera'.
Steam Down are the recipients of two Jazz FM awards including The Innovation Award sponsored by Mishcon de Reya and Live Experience of the Year Award sponsored by Yamaha UK featuring Kamasi Washington.
RADA
More info coming soon.
Lex Amor and Demae
Thursday 12 August
Lex Amor
Lex Amor is a Rapper, Producer, Sound Designer, Engineer and DJ from North London. 
Amor first surfaced in 2016 with her characterful slant on descriptive hip hop, the calm yet powerful cadence of her delivery has since cultivated a cult following all over the world. Over the span of 4 years Lex has worked in and around UK music as an Artist, youth mentor and community organiser.
In September 2020, Lex released her debut mixtape Government Tropicana (GT) – GT has since garnered close to 1 million streams across all platforms, with vinyl runs selling out twice to date. Independently, Amor has been featured and playlisted on radio stations across the UK including: Radio 1, Radio 6 Music, 1xtra and Kiss.
Lex has been featured on esteemed platforms such as COLORS and Boiler Room and has had editorial support from platforms such as PAM, Afropunk, OkayPlayer, Clash, Pitchfork, Line Of Best Fit, Lyrical Lemonade and Complex with the aforementioned listing her as the Rapper to look out for in 2021.
Lex's collaborators, peers and creative colleagues include; Giles Peterson, Ghostpoet, Alfa Mist, Barney Artist, Kojey Radical, Caleb Femi, 808INK, Jesse James Solomon, Knucks, Joe Armon Jones, Maxwell Owin, Ego Ella May, Nubya Garcia, Jay Prince and Andhim – amongst many others.
Demae
Demae is the stage name of British-Nigerian/Jamaican singer, songwriter and producer, Demae Chioma Wodu.
In 2010, Demae met brothers Eman and Sam to form the basis of experimental hip-hop trio, Hawk House. They released two projects entitled A Little More Elbow Room (2013) and A Handshake To The Brain (2014), quickly becoming one of the UK's most exciting emerging sounds and earning fans from Mac Miller and Ghostpoet to Wretch 32, Georgia Anne Muldrow and Jill Scott.
Now focusing on her own solo efforts and teaming up with longtime production partner, Eun, she has crafted her debut project, Life Works Out…Usually out on digital and vinyl via burgeoning London-based label, Touching Bass.
Goya Gumbani and The Colours That Rise
Thursday 19 August
Goya Gumbani
Rapper Goya Gumbani's work is firmly rooted in NYC hip hop storytelling. In 2020, Crack Magazine remarked of his work that he is 'firmly a New York MC, helping to revive and reimagine the city's boom-bap legacy'.
Goya's work as an artist and producer include his debut self-produced EP 'Morta & More Doves' – a dedication to his sister who passed away in 2018, three mixtapes – 'Children of the Ra' produced by Rago Foot, 'The Lesser-Known' produced by Kiina and 'HGR Presents: Thousand Months' produced by Hallowed Ground Recording and; two EPS – 'Vessel Mentality' produced by Rago Foot and Ryan Hawaii and 'GG & Bori Steps Across the Pond' produced by Bori from NY.
The Colours That Rise
Comprised of producer duo Simeon Jones and Nathanael Williams, The Colours That Rise have previously turned heads with 2017's "2020" EP released on Breaker Breaker (the label credited with breaking Ross From Friends).
In 2020, they released their album 'Grey Doubt'  a beautifully crafted afrofuturist voyage, featuring acclaimed guests such as Yazmin Lacey, Yussef Dayes and Andrew Ashong. Combining live instrumentation and analogue synths, intricate, intertwining textures and melodies that run deep, the band explained '…. we're just 2 guys with a broken tape machine and some information about a different world. Expect lo-fi electronic jams, 70's funk, hip-hop and music to dance to.'
In 2021, The Colours That Rise released a special offering, 'Mixtape 1' – comprising of one brand new studio production and two new compositions recorded live from the mothership in 2020 AD.
Joe Armon-Jones and Lynda Dawn
Thursday 26 August
Joe Armon-Jones
Joe Armon-Jones is an English producer, composer and keyboard player who creates in an uncompromising, free-flowing, experimental way, combining jazz, dub, hip-hop, funk and soul.
Between his highly acclaimed solo work and his work with the influential Ezra Collective, Joe Armon-Jones is at the epicentre of the London underground scene and has recently collaborated with the late Tony Allen, Mahalia, Nubya Garcia, Greentea Peng, Poppy Ajudha, Moses Boyd and Ego Ella May.
Armon-Jones' second album, 'Turn to Clear View', was hailed as 'an instant classic' and named by TIME Magazine as one of the 'Top 10 Albums of 2019'. He is a two-time nominee for 'Best Jazz Act' at the Jazz FM Awards as well as the MOBO Awards.
On May 4, 2021, Joe launched his own label, Aquarii Records, with his new solo single, 'Pray'.
Lynda Dawn
Lynda Dawn is a vocalist, producer and songwriter from London. Exploring the sonic spectrum between soul, funk and jazz, she draws upon her musically inclined upbringing to deliver a distinctive style of storytelling.
In 2018, Dawn's debut single 'Move' was featured on Gilles Peterson's 13th Brownswood Bubblers Compilation.
In 2019, Dawn's debut EP 'At First Light' (2019) in collaboration with Al Dobson Jr,  garnered worldwide support and landed the number 1 spot on Jamz Supernova's Top 5 EP's in the world on BBC Radio 1Xtra. With more music on the horizon, this enigmatic songstress has quietly positioned herself as one of the UK's brightest new artists.