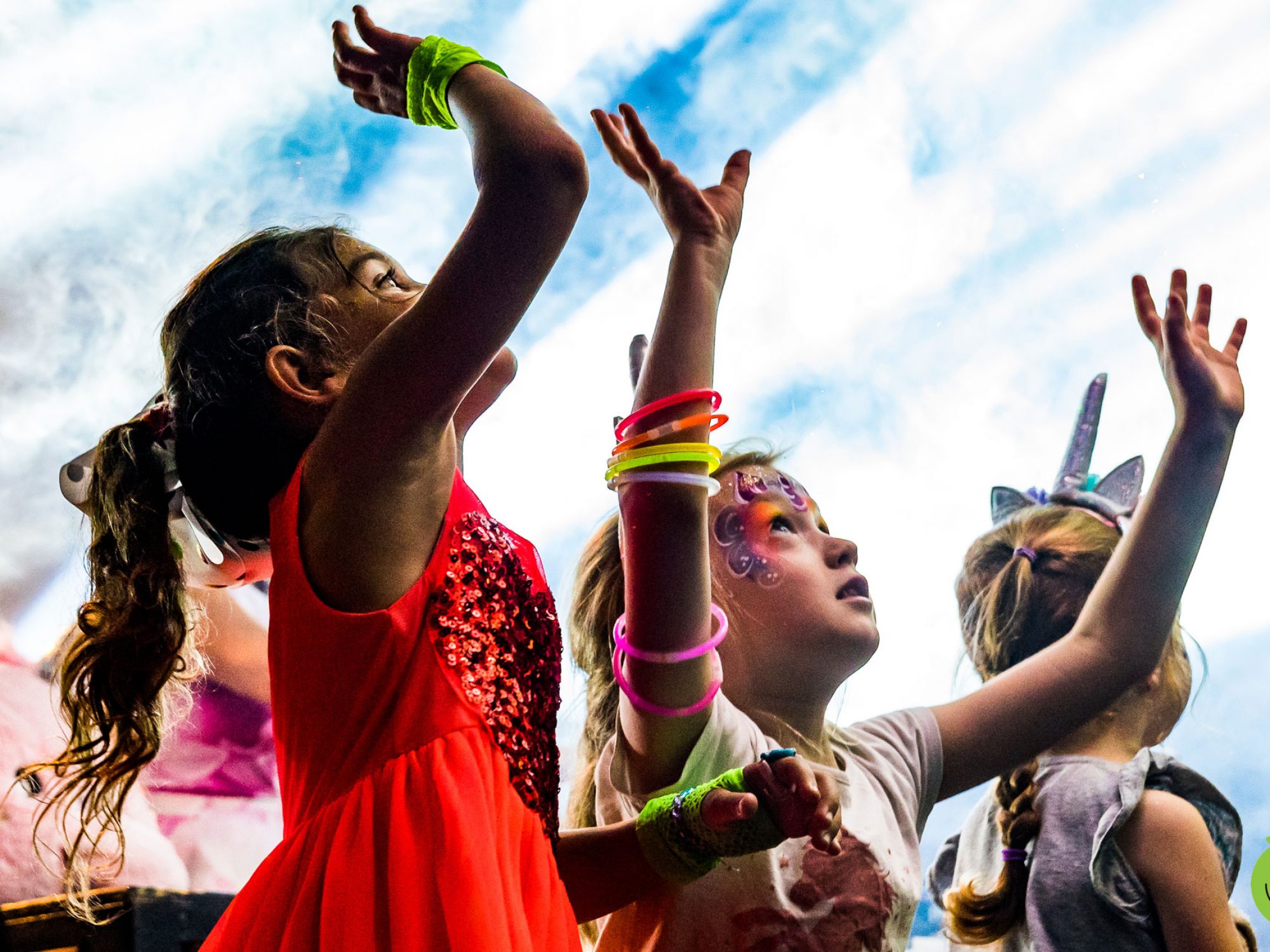 Flower Power Family Rave with BFLF
Dance in the Horniman Gardens with your family at the Flower Power Family Rave with Big Fish Little Fish, surrounded by butterflies, bees, beats and bubbles.
Come have summer fun with award-winning Big Fish Little Fish (BFLF) family rave crew as they take over the Horniman Gardens with famed London DJs.
Prime Cuts
Chris Inperspective
Louise + 1 B2B Hughesee
It's not just music and dancing, there's food, bars, craft activities, storytelling, bubbles, balloons and foam!
Programme
Line up
Dance the day away with the absolute best in acid house, hip hop, techno, drum n bass and more.
Note: timings subject to change
2pm – 3.30pm: Louise + 1 B2B Hughesee
3.30pm – 4.45pm: Chris Inperspective
4.45pm – 6pm: Prime Cuts
For a journey into sound from acid house to hip hop to drum and bass. Come throw some shapes in the Garden of dance this July.
Prime Cuts – a South London local for 25 years, Prime Cuts has been tearing up turntables across the globe playing an exciting mix of Hip Hop, Electronic, Dancehall and contemporary UK music for decades. Three times World DJ Champion, long standing fabric resident and member of the Scratch Perverts crew, you can expect an all vinyl set of pure excellence.
Chris Inperspective – Lewisham born and bred! Starting out from Peckham as a DnB DJ pushing the DnB envelop, he created Inperspective Records in 1997. Over three decades Chris has continued to play, produce and promote excellent music from radio shows, to legendary nights, to film soundtracks, to Hospital records label manager and most recently A&R for R&S records. He has remained at the forefront of innovation and creativity in dance music and in 2020 formed the Black Junglist Alliance to help bring racial equality back to Jungle D&B.
Louise + 1 B2B Hughesee – Louise has built a reputation as a cutting edge underground DJ artist in London and the UK playing a selection of Acid House, Old Skool Hardcore, Techno and Jungle. She'll be doing all vinyl back-to-back with her partner and co-founder of the cool party night Distant Planet – DJ Hughesee.
---
Timings and locations within the Gardens for all activities will be signposted on the day.
Craft Activities
Nifty Natty Crafts will be making colourful, flowered, feathered rave crowns plus giant colouring in murals, playdough tables and transfer tattoos.
Park Quizzes
General knowledge for all the family (that includes little ones too)
A quiz with a twist aimed at school-aged children
The London themed quiz where you might even recognise some local landmarks!
Bring Your Baby will be running Park Quizzes, to get your minds moving. The quizzes are drop in sessions in the gardens, lasting 20 minutes.
Storytelling
Listen to some storytelling in the Gardens with Tea Dance for Little People.
Join storyteller, Paul Rubenstein, for an interactive story about a young bee called Bruce who, on his first day leaving the hive, discovers he has no sense of smell! Come and enjoy Bruce's adventure as he discovers his place in the hive as a non-smelling bee.
Author reading
Author Uju Asika will be reading and signing copies of her acclaimed books: 'Bringing Up Race: How to Raise a Kind Child in a Prejudiced World' and her new one for pre-and-just-schoolers 'A World For Me and You'.
Butterfly House
We also have a special ravers price to visit the Butterfly House during the event: £2.50 per person and tickets can be purchased from the Butterfly House on the day.
Face Painting
Have your face painted by fabulous Doxa Faces. There is an additional cost for face painting: £6 per child / £8 per adult.
Info about the day
Please note this event is outside so come along, embrace the festival atmosphere and dress appropriately for the weather on the day.
The Gardens and Animal Walk will be accessible to ticket holders only. Reduced cost tickets for the Butterfly House will also be available on the day for event attendees.
The event will take place whatever the weather and refunds will not be offered in the case of bad weather.
Tickets must be purchased online ahead of the event, tickets will not be available on the door.
The best thing we do together as a family
Accessibility
If you have access requirements, please call 020 8699 1872 or email venuehire@horniman.ac.uk
If you are a Blue Badge holder and would like to park onsite, please see our Access page for more details.
Crowds and Seating
There will not be a dedicated quiet area at the Family Rave event. For a quieter space please try the South Downs part of the Gardens.
The South Downs has a few benches and is a grassy area with limited concrete paths. This area of the Gardens also has a sloping ground and during wet weather it may not be suitable for wheelchair users or anyone who is unstable on their feet.
Please see the Terms and Conditions section below for more information.
How do I get into the rave on the day?
The rave will take place in the Gardens by the Bandstand. Please enter the site via the main entrance on London Road – walk up the Avenue and you will find the ticket gate directly ahead of you. This will be the only access point for ticket holders
Are there ID or minimum age requirements to enter the event?
All ages welcome but the activities are designed for families to enjoy together. Music is played at safe levels for everyone.
Please be aware that BFLF is designed to provide a family friendly, authentic dance music/festival experience and is not a traditional children's party or disco. Music is proper club music from acid house onwards, there is no kids music, nor DJ shout outs. The effect is to give families unity on the dancefloor – dancing together.
How loud will it be?
BFLF sets and monitors the volume using World Health Organisation guidelines. That it is at a safe level for everyone, even the youngest of babies, over the four hour duration of the event.
Though quieter than at adult events, it is still loud enough to feel like you are at a club. Most parents do not use ear defenders on their children but if yours are particularly sensitive to noise or if you want them to nap then you might want to consider it.
Terms and Conditions
Parents remain responsible for their children at all times. Children must be accompanied by an adult.
For families with younger children (8s and under) though all ages are welcome.
Adult only groups are not admitted. A max of 3 children per adult in a family. If attending as a large party please ensure one adult to two children minimum.
If there are more than 4 adults per child in your group please email info@bigfishlittlefishevents.co.uk for pre-approval before buying tickets.
Tickets are non-refundable. Tickets cannot be exchanged for other Horniman activities.
Each member of your group must have a ticket. Pre-walking infants go free (but must also have a ticket).
The event will be busy with hundreds of people attending. The dance floor is for adults and children to dance together.
There will be foam bubble spray as part of the event and this will be announced beforehand.
Please be aware that events are standing / dancing with limited seating, although of course you can sit on the ground. Please give those with access needs priority to seating.
Each event is stewarded and risk assessed in advance.
As the event is outdoors buggies are allowed, however there is no buggy park. We suggest you leave your buggies at home where possible.
A licensed bar will be open during the event but no glass is permitted.
This is a licensed event so please do not bring a picnic or alcohol with you. There will be food and drinks vendors available with vegetarian and vegan options. You are welcome to bring baby food with you.
We may photograph or film small parts of the event and by entering you are giving your permission for these to be used for BFLF or Horniman promotion purposes.
This event is outside so dress appropriately for the weather on the day. The event will take place whatever the weather and refunds will not be offered in the case of bad weather.