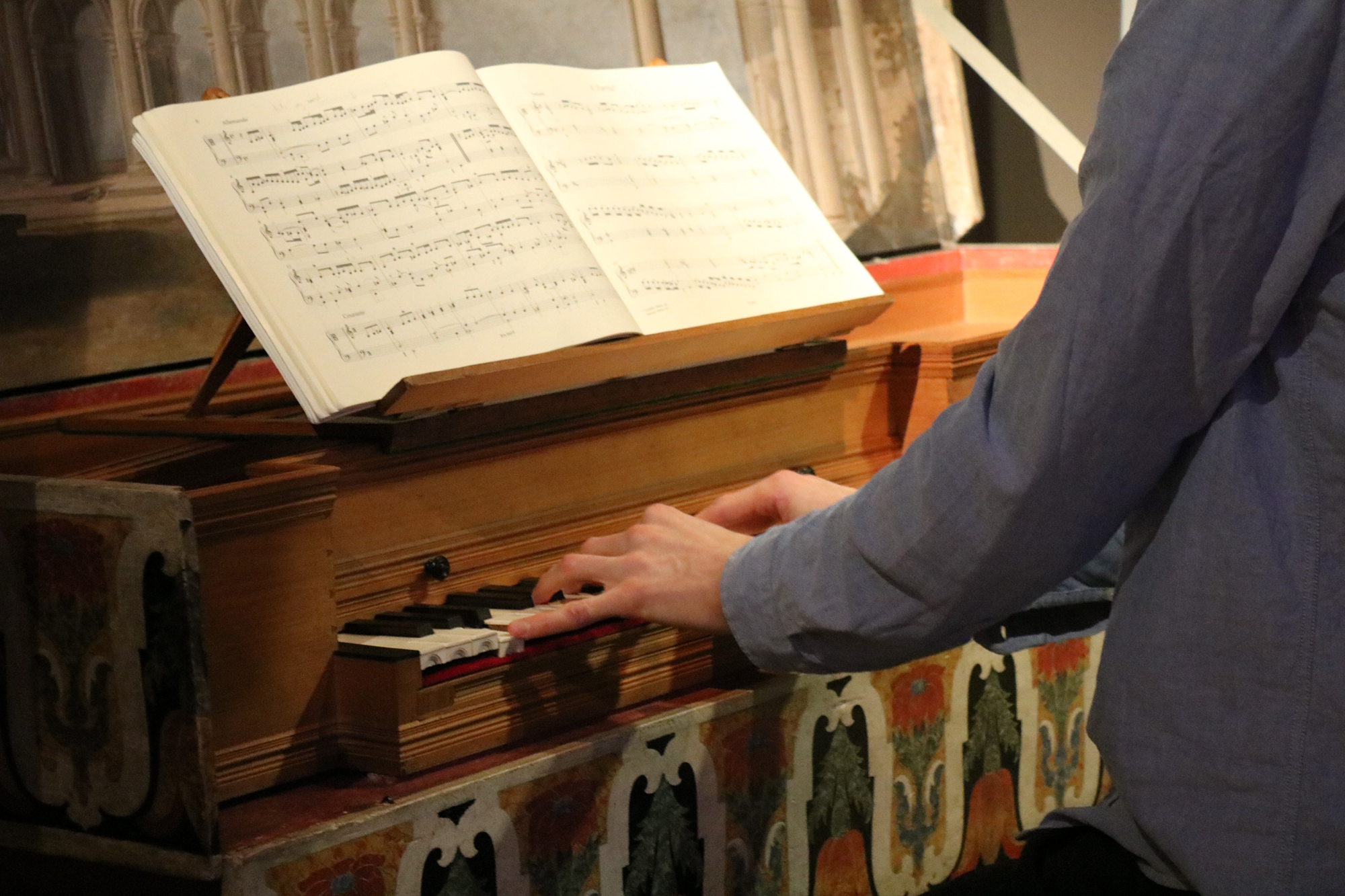 Musical Instrument Collections Inspiring New Work
Join this free one-day seminar on Friday 29 January. Supported by the
Art Fund
.
Many museums are responding to the current imperative to diversify their audiences by providing wider engagement with their collections in new ways. Music in the Making is the Horniman Museum's four-year programme to improve the understanding of musical instrument collections and to maximise their potential through creative programming and performance.  One of the objectives for the programme is that of offering makers, musicians, composers and performers more opportunities to explore the musical instrument collections as the starting point for developing new work.
This seminar, generously supported by the Art Fund, will present the Horniman's initiatives to this end, together with those of other music-related organisations and individuals across the sector. The Horniman's speakers will include the Curator and Resident Artists involved in our innovative 696 project for music artists at the cutting edge of south London's music scene. Musicians and museum users from the world of instrument making will also be discussing their projects. Curators of instrument collections and archives based in museums and universities will be giving presentations on their work relating to the seminar's theme, including the transformation of the  Royal College of Music Museum and its new display.
Speakers will include those listed below, together with summaries of their presentations. A plenary Question and Answer session will follow the morning's panel sessions. The seminar will be held virtually via Zoom. Admission to the seminar is free but places are limited so you are advised to book early.
After the seminar, the speakers' abstracts will be published together with a summary of the event, which will include a set of approaches on how to use 'historic' musical instruments to enhance engagement in different settings, based on the steps that the Horniman and other organisations with musical instrument collections are taking towards working with musicians, makers, composers and performers for the purposes of inspiring new work, and on some of the recommendations made by the audience during the question and answer sessions of the seminar. All spoken and written content will be recorded, and by taking part in the seminar participants will agree to this.
Speakers and Presentations
Dr James Bulley – Research Associate, Goldsmiths, University of London
Sounding the Archive
In this talk, I will discuss three archival projects I have been involved with in recent years.  Each of these practice research projects, exploring the work of Daphne Oram, Hugh Davies and Jem Finer's Longplayer, has drawn material from archives to present instruments and compositions of these artists in a new light, to new audiences.
___________________________________________________________________
Isabelle Carré and Dr Alice Little –  Bate Collection, University of Oxford
Sounding Out the Bate Collection
An overview of projects past, present and future enabling access to the collection in the University of Oxford's Faculty of Music. We will present performance, recording and video projects using historic instruments from the collection and the playing of compositions from the Anthony Baines archive, as well as free sound fonts for composers and an iPhone app.
___________________________________________________________________
Professor Jane Chapman – Royal College of Music, London
The real thing
Every original keyboard instrument has its own voice and history which fascinates both performer and audience. Through collaboration with young composers and an imaginative approach to existing repertoire, Jane will describe some of the projects she has taken part in at the Horniman Museum, Royal College of Music and for the National Trust.  From 21st century works for the Horniman's Guarracino virginal of 1668 to transcriptions of Indian music published in 1789 and played on their Kirckman harpsichord made in 1772, she aims to bring these instruments to life and discover new potential.
___________________________________________________________________
Dr Mathew Dart –  London Metropolitan University and Freelance Bassoon maker
Looking inside the tube – how woodwind makers seek to access the treasury of information in museum instrument collections
Museum collections are an indispensable resource of information and inspiration for makers of historical woodwind instruments. Those makers have various techniques for obtaining the data they need, much of which is not visible through the display case, but they must tailor these to fit with museums' duties of preservation and curatorship.
___________________________________________________________________
Adem Holness, (Music Curator),  and Horniman Museum 696 Project Resident Artists – Horniman Museum and Gardens, London
696: Keeping collections at the cutting edge of south London's scene
696 focuses on championing music genres (and the people working in them) that have been disproportionately affected by bias in legislation. Opening up access to the Horniman's spaces & collection of musical instruments, 696 aims to strengthen links with the locally made and internationally loved music on our doorstep. This session will take you through our strategy to better engage our local music community as we explore the relationships between space, resources and development opportunities for Black British music.  It will include Qs & As with some of the Horniman's Resident Artists who are taking part in the 696 project.
___________________________________________________________________
Professor Gabriele Rossi Rognoni – Curator of the Royal College of Music Museum, London
The New Royal College of Music Museum: Building on the Past to Explore the Future
Over the past four years, the Royal College of Music Museum has undergone a complete transformation which included the construction of a new gallery and reinterpretation of its collections.
The new display focuses on the role of objects in music creation, craft and performance, exploring the connection between sound, makers and musicians in the history of Western music. A central feature of the new narrative hinges on contemporaneity and continuity between the past and present. This has been conveyed through several commissions to contemporary artists as well as programmes to stimulate the involvement of composers as well as visitors in the creation of new musical or music-inspired works.
The paper will offer an overview of the ideas and processes underpinning these initiatives and a critical discussion of the opportunities and challenges that they presented.
___________________________________________________________________
Rebecca Denby and Kerry Redfern – Trinity Laban Conservatoire of Music and Dance
Object in Focus: A unique catalyst for creativity in a community dance context
Each Spring Trinity Laban proudly receives an Object in Focus on loan from the Horniman Museum and Gardens. Our community dance and music groups draw inspiration from each object and use this as a catalyst to create a unique performance piece or experience. Project Manager Rebecca Denby will speak about the pathways and possibilities that unfold throughout this unique creative experience, with particular focus on 2017's Object in Focus, a Narsinga Horn.
___________________________________________________________________
Mimi Waitzman, Deputy Keeper of Musical Instruments and Beatrice Booker, Programming and Administrative Assistant – Horniman Museum and Gardens, London
The Meanings of Live
Animating Museum Musical Collections through Performance
In 2014, the Horniman Museum embarked on Hear It Live!, an umbrella title covering many different types of activity. The highest-profile among them was the series of informal half-hour concerts in the Music Gallery conceived to help make the music associated with instruments on display, including a historical harpsichord, more accessible, and attractive to a broader audience. Historical keyboard instruments became the focus of the series in 2019 with an NLHF grant that had enabled the acquisition and restoration to playing order of three additional early keyboards. As a consequence of the Covid-19 pandemic, the series was reconfigured to present a similar programme online. In the context of Hear It Live!, the phrase 'inspiring new work' comprehends, not just new musical compositions, but also the creation of new performances, of new documentation and learning materials, the acquisition of new skills, the bringing of new performers and audiences to old music, and giving a new voice to historical instruments. It is accomplishing all of these aims using a variety of vehicles and these will be described and, where possible, demonstrated in this presentation.