We spoke to designer Sanne Visser about her work repurposing hair as material, and the stigma and reactions attached to it.
Hi Sanne, please can you tell us about yourself and your practice?
I am a Dutch material design researcher and maker based in North-London. I am a PhD researcher, Research Assistant and Associate Lecturer at the Centre for Circular Design at Chelsea College, University of the Arts London (UAL). I also run my own design practice, Studio Sanne Visser.
I graduated from Material Futures at Central Saint Martins in 2016. Over the past few years I have showcased my work at various exhibitions globally, and hosted and presented many workshops and talks. My main interest as a design researcher is material innovation, sustainability and future thinking.
The production process is highly important in my practice, where craft meets innovation and systems design. My work is mostly recognisable for my ongoing designs and research investigating the potential of human hair waste as a new resource.
Why do you work with hair? What is it about hair that draws you to work with it?
There are many resources being wasted, and hair is one of them.
It intrigues me very much as a material, not only because of the vast quantities that are available (more than 6.5 million kilograms each year in the UK alone), but from various perspectives. It has high qualities (flexible, compostable, high in tensile strength, oil adsorbent etc) but it is also available in many locations – for obvious reasons.
What I like about it in comparison to other fibres or materials is that it doesn't need any extra land, water or energy to 'grow'. It's already there, we just don't know how to use it. It is also a material that connects us together, as species, and that will always be.
When did your interest in hair as a material begin?
I started gaining interest in human hair during my Bachelor degree at the Willem de Kooning Academy in Rotterdam in 2012. For my final year project I worked with several natural fibres, including hemp, sheep wool, cotton, but also human hair fibre.
This was much more from a fine arts perspective and not necessarily with a design point of view. However because I had an interest in making materials more innovative and a strong fascination around future narratives, my MA in Material Futures moved me towards the focus that I have now.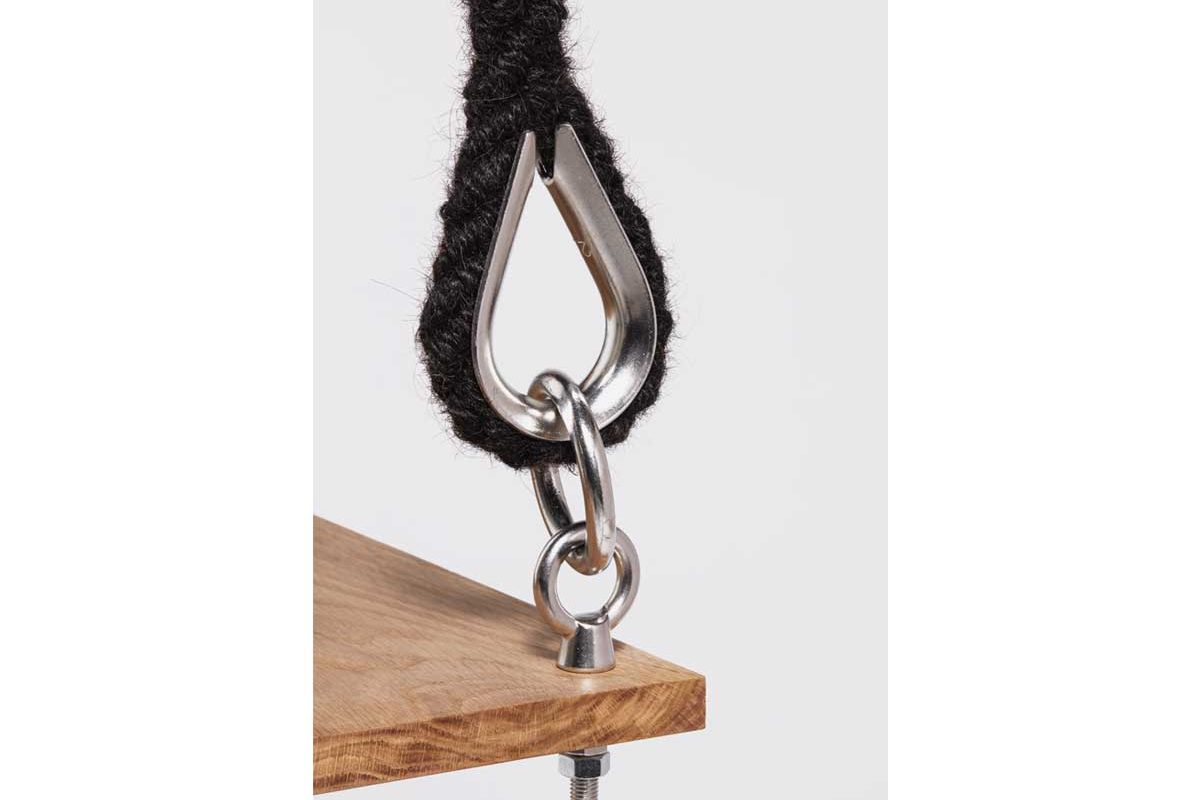 In The New Age of Trichology, hair is used in quite a practical way – as bags or as rope. Can you tell us a bit about why you decided to use hair in this way?
Early on in the research I found that the material has several interesting and valuable qualities – and one of them was the high tensile strength of hair, which became the main focus of The New Age of Trichology project.
Making rope came about when I was aiming to create a new material from hair without using any other additives, whilst highlighting its strength. Rope seemed to be the ultimate answer. Alongside this, hair as a material is seen as 'odd' to use and is still not accepted.
By applying it into practical, aesthetically pleasing and beautifully crafted objects, I am hoping to highlight the beauty and strength of the raw and pure materials we grow ourselves.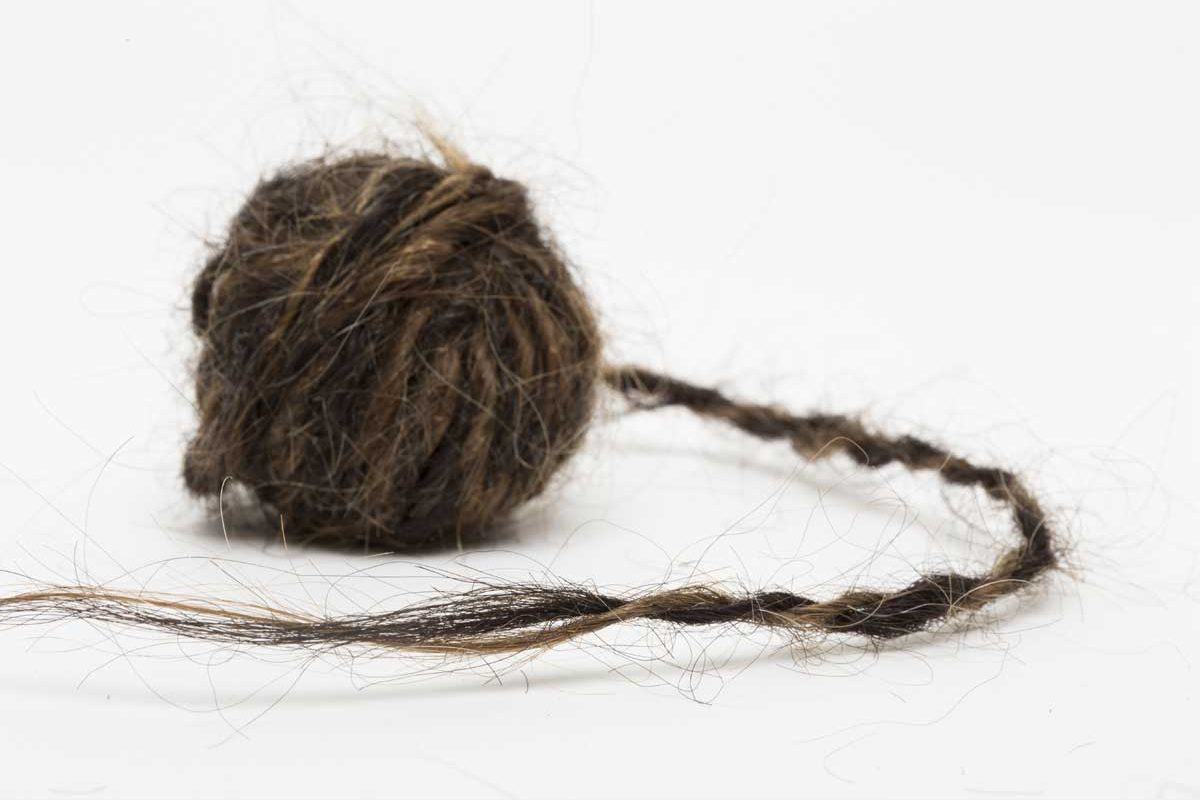 What are the obstacles to using hair as a material?
First is stigma. There is still an aversion to using our own bodily waste (or resources, depending on how you look at it) in most parts of the Northern hemisphere, and this stems from associations we create ourselves, from (lived) experiences or other (historical) references.
Like many other 'radical' materials that other designers are playing with (from cow dung, to animal organs), hair is something that, as soon as it is detached from the body, we associate it with disgust, or even death. I also believe that we haven't normalised the material in our society, in our 'materials palette' let's say. As soon as it's implemented within our way of living, people wouldn't look at it any other way.
The second main thing, is the system. There is currently no existing system or infrastructure in place for the recycling and regeneration of hair to be used for materials across industries. This needs further research in order to move forward – that's why this forms a major part of my current PhD research.
What would you like people to take away from your work?
I hope people understand that there is a beauty in 'waste', and specifically in the waste that is much closer to us than we think.
By first of all not seeing it as waste, but as a resource, and as a regenerative material, we will appreciate it more. To start thinking, where and how can it still add value?
As shown in Hair: Untold Stories, hair can still have second life after its 'lived' on your head, and maybe even a third, becoming compost and helping to start new life once again.
What do you have coming up?
I am currently a design researcher in residence at the Design Museum, and I am very excited to be sharing you the research and new findings at the exhibition towards the end of June.
As part of my practice I am also developing a new series of objects, which I can hopefully reveal in the late spring/summer of this year.
To keep a closer look of what I do, my own practice and my PhD research, please follow @studiosannevisser and @centreforcirculardesign on Instagram. Alternatively visit my website for more detailed information.