Lunar New Year marks the start of the year for people who base their calendar on moon cycles. So how do different people celebrate?
Many people across different countries celebrate Lunar New Year at the same time, which falls on the day of the first new moon marking the beginning of the lunar calendar year. In 2023, lots of the celebrations fall on 22 January, and will be celebrated widely by people in China (and is the start of the Spring Festival), Singapore, Korea (Seollal), Taiwan, Vietnam (Tết Nguyên Đán), as well as other Asian counties and diaspora communities.
What are some of the Lunar New Year traditions?
Rabbit or Cat?
In the Chinese zodiac, it is the year of the Rabbit. The Rabbit is a symbol of peace, prosperity and longevity in Chinese culture, and is considered one of the luckiest animals of the zodiac.
But in the Vietnamese and Gurung zodiacs, it is the year of the Cat. The Cat symbolises kindness and gentleness.
Preparations
Before Lunar New Year, people clean and tidy their houses to help sweep away any bad luck and to best welcome new beginnings for the New Year. In China, the house might be decorated with red lanterns or different papercuts, while in Vietnam, houses are decorated with flowers, including yellow apricot and peach blossoms.
This papercut of a quail would have been pasted to a window in China as a wish for a peaceful new year, as the word for quail is a homophone of peace.
Lunar New Year is a family-orientated holiday, and people will return home to their parents for a reunion meal, and pay respect to their ancestors around this time by clearing away any family shrines and leaving new offerings.
Some families may visit local temples the night before New Year, but many will have a party at home with family and close friends. Firecrackers are lit to ward off evil spirits, which comes from a legend of scaring off a mythical beast called a Nian (which means 'year' in Chinese).
Food
As Lunar New Year is a family-focused holiday, so traditions around food and celebrating together with loved ones are important.
Dumplings – jiaozi – are eaten the night before New Year, and symbolise wealth as their shape is similar to a sycee or yuánbǎo, old gold or silver currency, like this one from the collections.
In China, fish is traditional at New Year. The word for fish is a homophone for surplus or abundance – 鱼 or Yú – so it is considered lucky, with the potential to increase prosperity.
In Korea, traditional foods for New Year include tteokguk, a meat-broth soup with rice cakes sliced in it which is thought to grant good luck, and marks aging another year, as well as Jeon (a fritter) and Japchae (a noodle dish).
In Vietnam, bánh chưng and bánh tét – sticky rice parcels filled with meat or beans can take days to prepare. The square bánh chưng represents the Earth, and the round bánh tét represents the moon.
Nian Gao – sticky glutinous rice cakes – are eaten in lots of East and South East Asian countries. Their name is similar to "higher year" which is considered lucky for a prosperous year to come.
Gifts
Red symbolises good fortune, and gifts of money are given to children or elders in China and lots of diaspora communities. The gifts are given in red envelopes as part of New Year celebrations, known as hongbao (Mandarin), lai see (Cantonese), and angpow (Hokkien and Teochew). The envelopes are decorated with words and symbols to bring happiness and good health to the receiver. This tradition is called mừng tuổi (or happy age) in Vietnam.
envelope (containers)
Anthropology
Packet of 10 gift envelopes, hong bao ang pow, on red paper with a design showing a smiling child with a floral costume including a plum blossom design in black against the red, which dominates. Across the flap for sealing is the name of the issuing institution, DBS, and the slogan 'Treasures PRIORITY BANKING'.
See full collection record
In Korea, there is a similar tradition – Sebaet Don – where money is given in silk bags along with words of wisdom from the gift giver (dŏkdam).
Mandarin oranges are also given to symbolise wealth and good luck in Chinese communities, as the word for mandarin – kam – sounds similar to the word for gold. Other gifts may include other fruits, sweets and drinks given to close friends and family.
Celebrations
Along with some pretty impressive fireworks, the Lion Dance is a big part of Lunar New Year celebrations. The lion symbolised power and wisdom, and brings prosperity and good luck for the year.
Different types of lions and dances can be found from country to country, and sometimes from region to region.
This is a Snow Lion, which is part of festivities in Himalayan and Tibetan areas.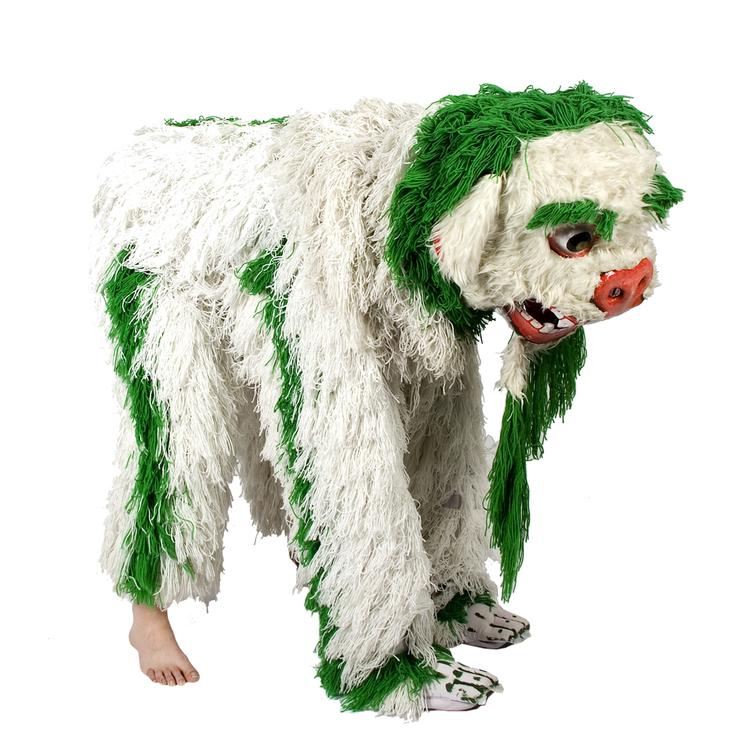 theatrical clothing
Anthropology
The mask and costume are worn by dancers in traditional Tibetan dance dramas, sometimes around Tibetan New Year.
See full collection record
The Snow Lion Dance is usually performed with four dancers in two lion costumes dancing in time with each other.
For Tibetan people the 'snow lion' represents undying cheerfulness and fearlessness and is danced both to show the elegant qualities of the enlightened mind of Buddhist belief and also for entertainment.
---
With thanks to Shuk Kwan Liu for edits.