Once hair has been cut from your head, do you ever think about what happens to it next? Normally it's brushed from your shoulders, falls to the salon floor and then is swept up into the bin. But your hair is a remarkable renewable, flexible and adsorbent fibre that could well have another life.
Organisations like Green Salon Collective (UK and Ireland), Matter of Trust (USA and UK) and Coiffeurs Justes (France) now recycle hair clippings from salons.
Green Salon Collective
Currently 99% of hair cuttings are sent to landfill, but Green Salon Collective, established in 2020, are working to reduce this number. Not only do they recycle hair but also other waste products from salons such as foils, chemicals and towels.
As oil clings to the many tiny scales on a follicle of hair, cut hair can play an important role in helping mop up oil spills.
But how do you put hair into water, so that it can adsorb the oil? Green Salon Collective use cut hair to create oil booms. These are cotton or nylon tubes packed with hair. They're able to float on the water and the hair within the tubes soaks up the oil. They also make hair mats, which slot inside drains and absorb oil that runs off the streets.
As well as being used to adsorb oil, cut hair is also given to farmers to use in compost. Hair contains protein and nitrogen and as a result enriches plants.
Green Salon Collective are also trying to stop salons washing hair bleach and dye down the sink. This leaks toxins into the soil and ground water and is hard for the waste facility workers to remove from the water. Instead, collecting these waste liquids and burning them can actually generate electricity for the National Grid.
The foils used in the bleaching and dyeing of hair are also being recycled. 2.2 tonnes of foil were sent for recycling within the first three months of the scheme set up by Green Salon Collective.
See a photo of a boom being used to clean up a diesel spillage in Hair: Untold Stories.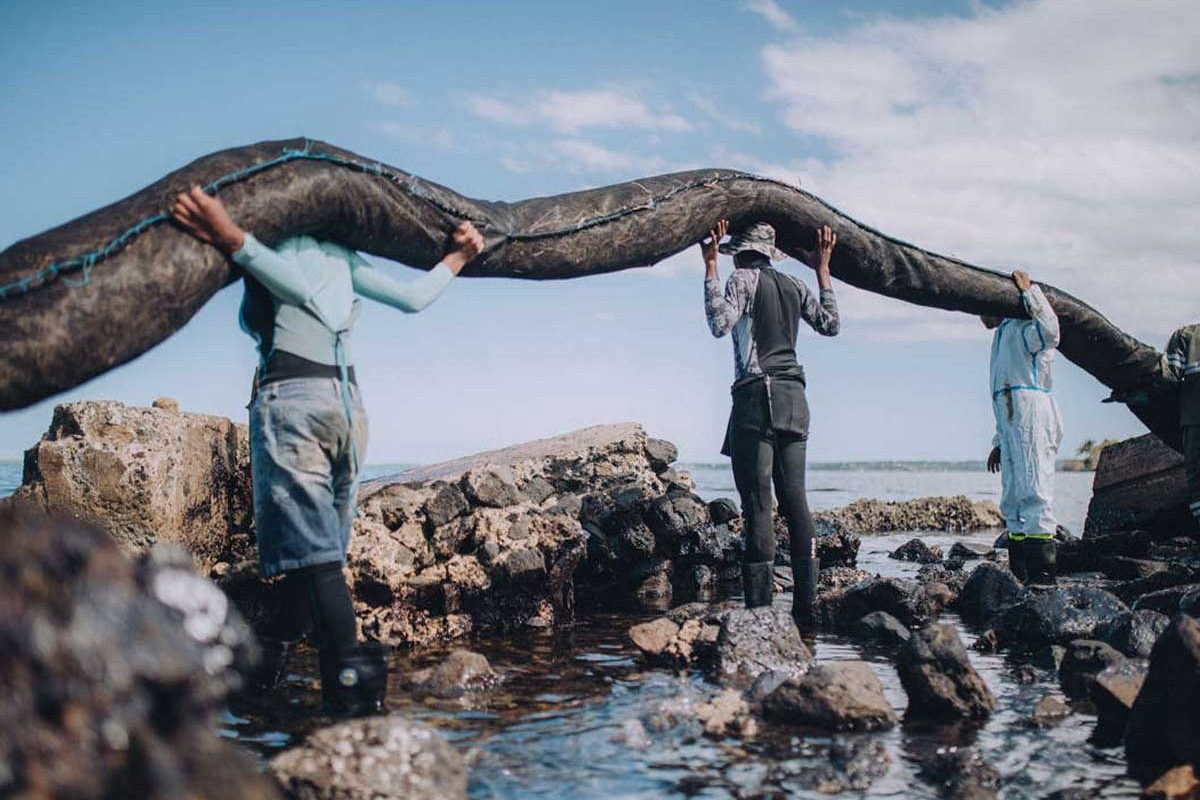 Matter of Trust
Matter of Trust is a charity based in San Francisco, established in 1998. The mission of this ecological organisation is to link surplus with needs. Where there is excess or abundance of a product, Matter of Trust works to find a use for it. This includes everything from solar power to food to fibres – fibres that include hair.
There are many strands to what Matter of Trust (pun intended) do. One of the first organisations to recycle cut hair from salons, Matter of Trust have a long established Clean Wave programme.
Hair's journey
But how does hair go from someone's head to cleaning up an oil spill?
The hair that Matter of Trust use comes from salons that they have partnerships with, and as long as it's over 3cm they'll take it. It doesn't even need to be human hair – pet hair from groomers goes into their hair mats too. Someone even claimed to have sent them some of swimmer Michael Phelps's hair!
Once the hair has rested in their warehouse for a month (to make sure there's no lice or fleas) it is laid out on a metal sheet and run through a needle punch felting machine. It's folded over, repeatedly, with the jagged needles creating flat hair knots. The jostling motion and the heat created help to form the hair into neat blocks. These are then ready to be purchased and used.
The mats can be floated in water which has been exposed to an oil spill, or anywhere where oil might contaminate water. 50% of the oil that gets into our oceans comes from everyday activities like cars dripping oil on a road, and being washed into sewers.
One way in which these hair mats are used is to slot them into storm drains, inside litter attachment cages made by Inlet Guard. The water flows through, but the oil is adsorbed by the hair and the rubbish is caught by the cages.
See a photo of a drainage mat being put in place in Hair: Untold Stories.
Hair can do so many things. On our heads and bodies it keeps us warm, and keeps dirt out of our eyes. It provides jobs, it can clean up oceans, and maybe, when it's disposed of, it can provide energy.
Perhaps, before too long, hair will no longer be cut from our heads and just discarded. Perhaps it will have a surprising and useful life well after us.
A big thanks to Lisa from Matter of Trust for speaking with me for this article.