Akinwale Fadoju takes a look at the Nancy Stanfield collections, and how the history and knowledge of collections are constantly developing.
I'm Akinwale Fadoju, and I'm currently in the middle of my M.A. Anthropology degree at the Institute of African Studies, Ibadan.
Working on these collections was both exciting and challenging for me. Many of the collections I worked on were the Nancy Stanfield collections at the Horniman Museum. I found her collections to be significant to the cultural life of contemporary Nigeria, in explaining especially our cultural trajectory from Independence till this period.
Working on her collection was tasking as many of these collections have now lost their cultural significance in everyday Nigerian life. And where they are still present, they seem to be marginal and seem to be rapidly disappearing from everyday life.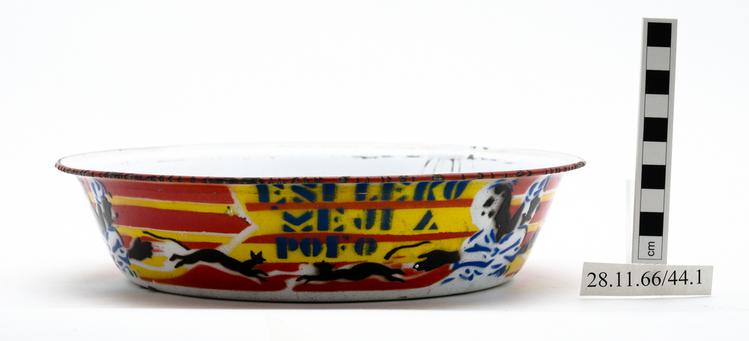 bowl (resist containers)
Anthropology
Metal enamelled bowl, from Nigeria, with a painted stenciled coloured pattern on the side and a phrase, possibly in Yoruba. Used during the dying process.
See full collection record
The cultural context of some of these collections has even gotten mixed up over time. Take for example the enamel basin collected by Stanfield that I studied; I'd thought it was Abọ́ Àjàṣẹ́, a kind of enamelware that came through the port of Porto-Novo in Benin republic – Beninese are popularly called Àjàṣẹ́ in Yoruba.
However, upon showing the picture to my mum, she provided a different insight and said the particular collection from the 1960s were not of the kind that came from Benin republic. They'd been around much before Abọ́ Àjàṣẹ́, and they were often known as Ìsúnsẹ̀. But in contemporary Nigeria among the Yoruba's all enamel wares of that sort are now known generally as Abọ́ Àjàṣẹ́. The name Ìsúnsẹ̀ seems no longer in use anymore.
Interesting also is the serendipitous findings in the course of research. I can recall the instance of working on a picture titled 'Banjo' taken by Nancy Stanfield during the State Service of Thanksgiving, for the Independence of Nigeria held at St. James Cathedral, Oke-Bola, Ibadan. While researching the particular occasion where the picture was taken I found another significant fact; the priest in the photograph – and which the collection was named after – was Rev S. A. Banjo who is the father of one of Nigeria's prominent scholars, Professor Ayo Banjo, an Emeritus Professor of English Language.
For the future, I think there should be an active, open feedback process where new information around these collections can be added. Many of the contexts to describe these collections cannot be immediately retrieved at this one instance, so I'd suggest a constant conversation around updating knowledge around these collections.