In this series we are talking to some of the people whose incredible work helped us to win Art Fund Museum of the Year 2022. First up is Roxanne Tataei.
Roxanne was one of the five 696 resident artists at the Horniman throughout 2020 and 2021.
The 696 project aimed to platform south London's music scene, championing the music genres that were affected by form 696 and bias in legislation.
Five resident artists were appointed. As part of their residency they each received behind the scenes access to our Musical Instrument Collection, coaching sessions, a £3,000 budget and the chance to perform at the Horniman.
We caught up with Roxanne two years after the residency began, to reflect on working with the Horniman, a residency during a pandemic, and what is next on the horizon for her. 
Hi Roxanne – first of all, can you tell us about yourself and your work?
Hello. My name is Roxanne Tataei. I'm a musician from South London and I enjoy turning seeds of ideas into reality. My work is centred around my voice. Sometimes I write stories and sometimes I create musical landscapes with layers of sounds.
How did you come to work with the Horniman?
Through the wonderful music curator, Adem Holness. He contacted me and mentioned that he was curating a new residency. When I saw it was created for black musicians and was a real opportunity to influence the trajectory of an institution, I had to apply. I always loved the museum but had never thought of it as a contemporary cultural institution before then.
Any highlights of the project? Any moments that you find yourself looking back on, whether they are moments of personal research and reflection, or during a live performance?
Yes, the highlight for me was having a dedicated and safe space, where I could create and play music. The residency was in the middle of a global pandemic, so there was a lot uncertainty surrounding everything. Having that space, provided me with grounding and was honestly essential for my mental health.
View this post on Instagram
You said that the keyboards, harpsichord and organ are interesting you the most at the moment – was this something that you discovered during your time working with the Horniman?
I've always loved keyboard instruments. I own a wurlitzer and it's one of my favourite things in the world. Keyboard instruments always seems to spark very self-reflective work from me. I always feel like I'm having a call and response type conversation with them. I chose to focus on the harpsichord in particular, as I was very into Baroque, (particularly Purcell) at the time, and it's one of the genres key components.
What did it mean to you to be a resident artist at the Horniman?
It meant taking up space and disrupting the traditional format of the museum. Having artists in residence, that not only reflect the community, but also the music and culture from south London, meant the museum suddenly felt like it was for everyone, in a way that it may not have felt before.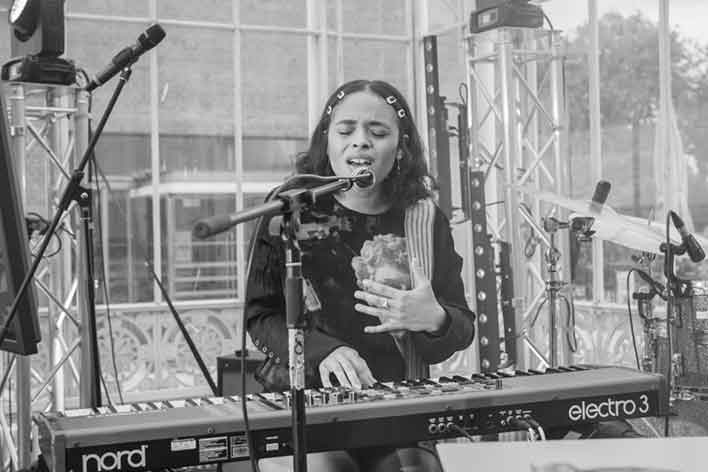 What has come out of your time on the project?
A lot of exploration and experimentation. Often musicians, especially black musicians, aren't given spaces just to create and experiment, without there having to be some sort of tangible outcome. I also sampled the harpsichord towards the end of my residency, which is now accessible to the public and will feature in my next body of work.
Hear samples of the Harpsichord made by Roxanne
What is next?
A lot more experimentation and exploration. I'm also helping others find and explore their voices, which is a very rewarding experience and is making me a better musician and human!