Afro Historyscapes is a ten-episode podcast series that gives a fresh perspective on African history.
We tell the story of African Histories through objects at the Horniman Museum and Gardens in South London.
The podcast has been developed alongside our Community Action Research project and shares the research of our curators, project team and Community Action Researchers.
The overarching theme of the series is movement with three episodes each featuring Trade, Religion and Technology.
We also feature a special episode hosted by Sherry Davis, a Community Researcher, musician and filmmaker.
We tell the sorts of stories about the objects in our collections that answer questions you didn't know who to ask. At 10-15 minutes each they are made to be enjoyed over a cup of your favourite hot drink.
The special episode shares insights from the East African Coast and so is around twice as long. In it, Sherry talks with Jimbi Katana a renowned Kenyan Heritage professional who shares his experiences of a lifetime of work in African Archaeology.
Listen below, or subscribe via your preferred podcast platform.
Produced by: JC Niala & Tom Fearon
Co-producer: Sian Brett
Music: Edmund Jolliffe
JC Niala gratefully acknowledges the support provided by the Joint BME Events and Activities scheme administered by the Social History Society in partnership with Economic History Society, History UK, History of Education Society (UK), History Workshop Journal, Royal Historical Society, Society for the Study of Labour History and Women's History Network.
Episode 1
Indian Ocean trade routes from the Swahili East African Coast
Welcome to Episode One of the Afro Historyscapes podcast.
We begin by exploring the theme of trade on the Swahili East African Coast. We will look at how cigarette cards from the 1920's show the diversity of people who visited, lived and thrived on the Swahili Coast over the centuries. ​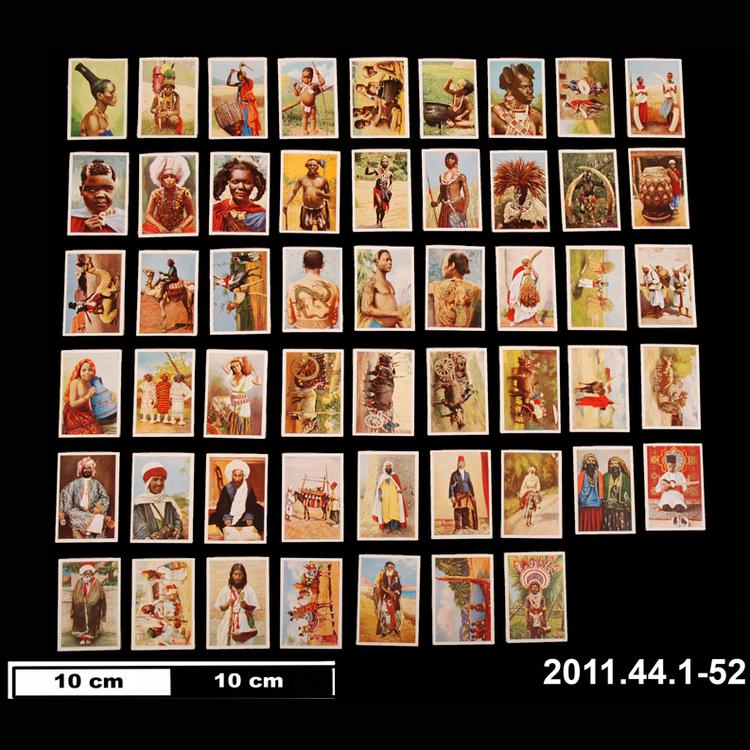 cigarette cards
Anthropology
Set of 52 cigarette cards in German (Cigaretten Melachrino cards) of 'Exotic Peoples' (Peuples Exotiques).
See full collection record
Episode 2
The Chair of Power on the Swahili Coast
Welcome to episode 2 of Afro Historyscapes Podcast. In this episode we remain on the Swahili East African Coast, particularly the island of Pate. We look at the relationship between Kiti cha Enzi – or the chair of power – and poet Mwana Kupona, to explore the history and traditions of this beautiful island.
Read Mwanan Kupona's 'Poem to Her Daughter' mentioned in the podcast.
Episode 3
Sounds of Mpingo – Musical Journeys from the Swahili Coast
In Episode 3 of Afro Historyscapes podcast we trace how wood from the Mpingo tree, which grows on the Swahili coast is used to make woodwind instruments in Europe.
We trace the ways that the sounds made by Mpingo wood have spiritual connections in Europe and among Congolese Kimbaguiste orchestras.
FAKI – Soldiers of God – David Garbin and Enrico Masi – 2013
Special episode
Community Action Researcher Sherry Davis
In an interview hosted by Sherry Davis, a musician, filmmaker and community researcher, we spotlight the incredible work of Phillip Jimbi Katana, an archaeologist and heritage conservationist who has led the excavation and restoration of several monuments along the Kenyan coast.
His prolific career has included spearheading a campaign to return the sacred Vigango artefacts back to the local Mijikenda community and converting the abandoned British East Africa Protectorate HQ into a museum.
Episode 4
African Islamic Worlds: Trade, Spirits, and Art with Sabrina Al Sayed
In this episode we are joined by Community Action Researcher Sabrina Al-Sayed, where we explore the influence of Islam on Saharan trade routes. We discuss how the Kel-Tamashek peoples keep themselves safe from spirits known in Islam as Jinn, and how Islamic spirituality has been embraced and shaped by African people throughout history in the form of art.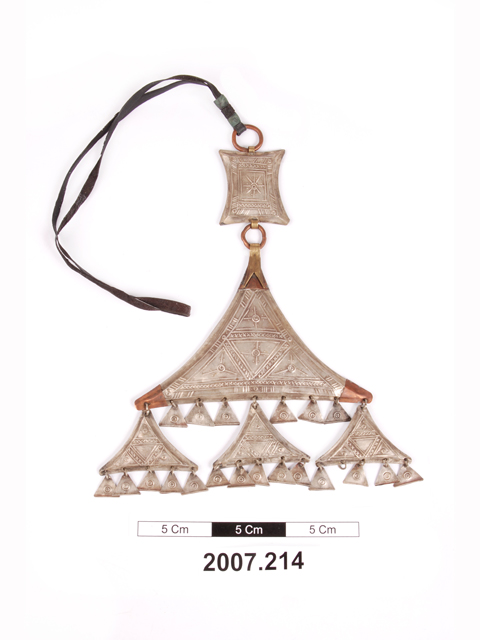 amulet
Anthropology
This decorative amulet consists of a silver square to which is attached by a copper ring a large silver triangle. Attached to this are three smaller triangles. All four have small shatshat triangles attached to their bottom sides. The two pointed horizontal edges of the large triangle are coated with copper, the third edge is coated first with copper, on top of which is another brass "cap". All five silver containers are decorated with geometrical patterns by the repoussé technique. The prevalent shape and decorative motif is the triangle, one of the most common motifs in the Tuareg "artistic canon". A leather band is attached to the silver square.
See full collection record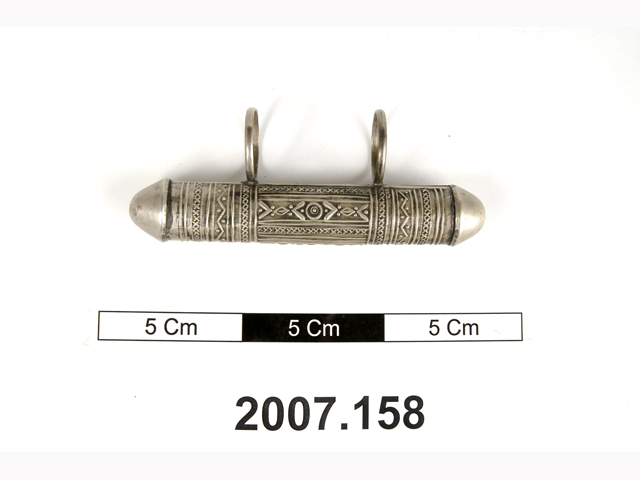 amulet
Anthropology
Cylindrical and silver container, decorated with geometical patterns made through the repoussé technique. There are vaulted sealing caps on either side (which cannot be removed). There are two rings attached to the bottom of the cylinder, through which the turban cloth is threaded. It is supposed to contain Koranic verses written on paper by a marabout, although some say that it is often empty. The Korkoro is a decorative amulet worn by Tuareg men (and some Peul / Wodaabe men) on the side of their turban.
See full collection record
mask (dance & live theatre)
Anthropology
Mask for a masquerade costume made with cowrie shells, string, beads, and hair. Dogon people, Mali. Fulani.
See full collection record
Episode 5
Another history of Christianity in Africa
The Horniman collections tell a very different story than is usually heard about Christianity in Africa.
Find out about how Christianity was practised in Africa several centuries before the arrival of European missionaries, how Africans themselves have embraced, interpreted, and transformed the faith, and when Stormzy took 100,000 people to church at Glastonbury festival.
Figures with swords
Anthropology
Painting on parchment depicting a single scene from the story of King Solomon and Queen Sheba. Menelik, the son of Solomon and Sheba, and his four retainers meet King Solomon at the entrance to his palace.
See full collection record
Episode 6
Ifá Divination – The Travelling Religion of the Yoruba peoples
In this episode we discuss the traditional Yoruba religion know as Ifá. This religious tradition forms the bedrock of Yoruba culture and spiritual life, where people, ancestors, and spirits interact through ritual and worship.
We discuss with Community Action Researcher, Abiola Balogun, some of the main features of this religious tradition, how its rich material culture can take on a life of its own, and how it has travelled the world, inspiring music in Cuba.
Episode 7
African Milk Technologies
In this episode we speak to Johanna Zetterstrom-Sharp, one of the Horniman's curators, about her recent interest in the colonial history of milk.
We discuss Horniman collections relating to an incredible technology developed by pastoralist communities in Kenya and elsewhere in East and North Eastern Africa, to process milk, making it safe to drink. We explore how this mobile technology contrasts with European industrial milk practices which have dominated the global expansion of dairy.
Milk offers a fascinating way into thinking about colonialism, technology and science, and who gets to decide what is useful and good for us, and what knowledge counts.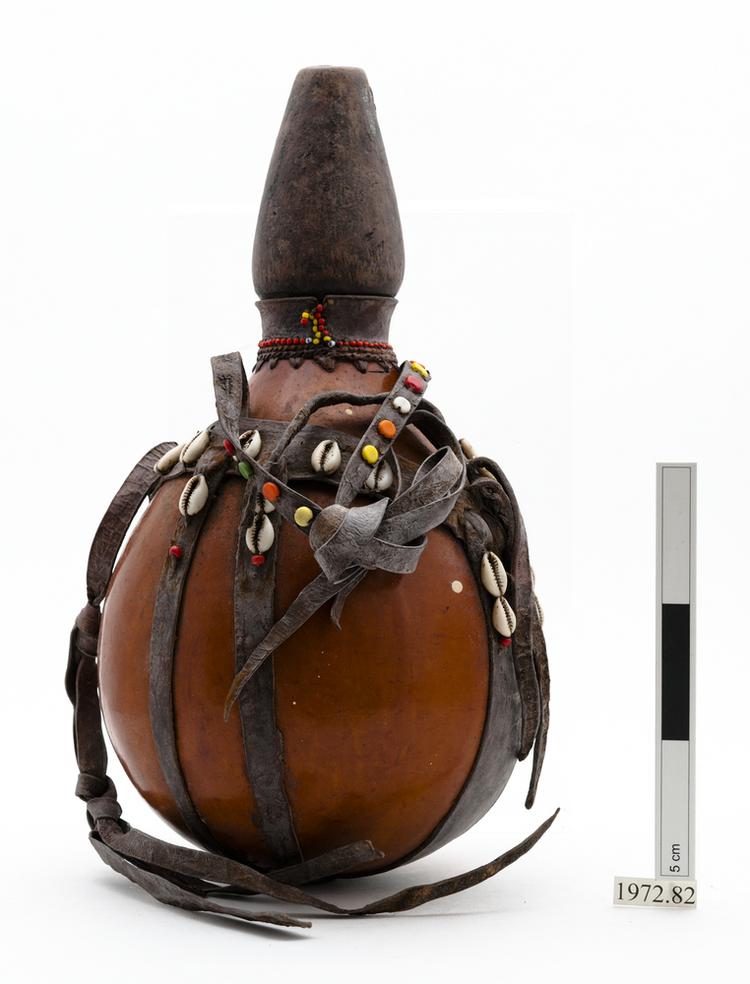 milk container; lid (containers)
Anthropology
Milk container (`nkirrau') made from a gourd, with leather straps decorated with beads and cowrie shells. The wooden lid is conical in shape and hollow.
See full collection record