Afro Historyscapes is a ten-episode podcast series that gives a fresh perspective on African history.
We tell the story of African Histories through objects at the Horniman Museum and Gardens in South London.
The podcast has been developed alongside our Community Action Research project and shares the research of our curators, project team and Community Action Researchers.
The overarching theme of the series is movement with three episodes each featuring Trade, Religion and Technology.
We also feature a special episode hosted by Sherry Davis, a Community Researcher, musician and filmmaker.
We tell the sorts of stories about the objects in our collections that answer questions you didn't know who to ask. At 10-15 minutes each they are made to be enjoyed over a cup of your favourite hot drink.
The special episode shares insights from the East African Coast and so is around twice as long. In it, Sherry talks with Jimbi Katana a renowned Kenyan Heritage professional who shares his experiences of a lifetime of work in African Archaeology.
Listen below, or subscribe via your preferred podcast platform.
Produced by: JC Niala & Tom Fearon
Co-producer: Sian Brett
Music: Edmund Jolliffe
JC Niala gratefully acknowledges the support provided by the Joint BME Events and Activities scheme administered by the Social History Society in partnership with Economic History Society, History UK, History of Education Society (UK), History Workshop Journal, Royal Historical Society, Society for the Study of Labour History and Women's History Network.
Episode 1
Indian Ocean trade routes from the Swahili East African Coast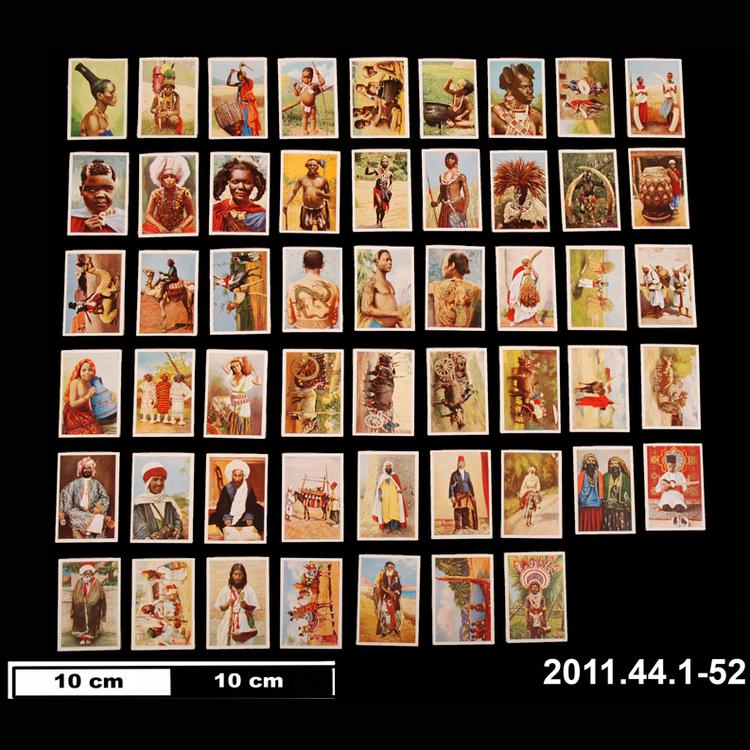 cigarette cards
Anthropology
Set of 52 cigarette cards in German (Cigaretten Melachrino cards) of 'Exotic Peoples' (Peuples Exotiques).
See full collection record
Episode 2
The Chair of Power on the Swahili Coast
Welcome to episode 2 of Afro Historyscapes Podcast. In this episode we remain on the Swahili East African Coast, particularly the island of Pate. We look at the relationship between Kiti cha Enzi- or the chair of power- and poet Mwana Kupona, to explore the history and traditions of this beautiful island.