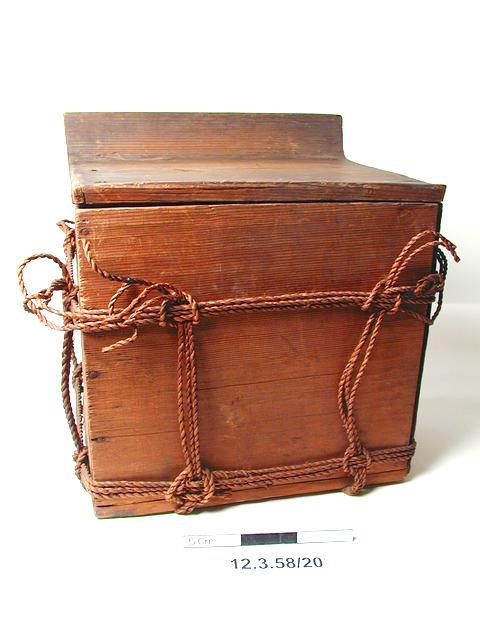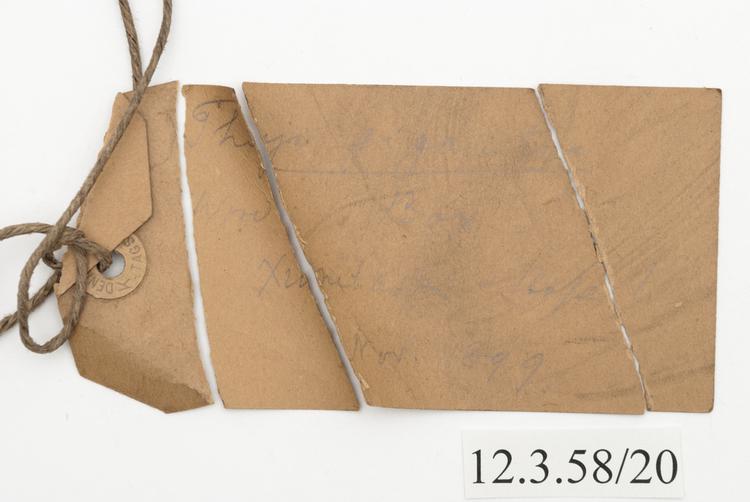 ^Describes: |{{tag> object-66345}} | ^About: |{{tag> subject-1163 subject-322}} |
12.3.58/20
This is known to carvers from the Northwest Coast as a bentwood box because its walls are made from a single plank of red cedar. Cut to the correct length, the cedar plank is sawn part-way though at three carefully measured points, a technique known as kerfing. The wood is then suspended over a pot of boiling water, often mixed with other substances, and heated. This steaming process makes the wood fibres more flexible, allowing the carver to bend the sawn grooves inwards. The bent plank forms the box shape, is bound together and allowed to dry. Once dry, it hardens into the shape of the box, and the open corner is bound together with cord, made from either nettle fibre or split cedar root.
A lid and base are made from separate pieces of wood and attached, creating a sealed box. Some examples of these boxes are elaborately painted and may have been used for storing regalia and other precious--often secret--items. This unpainted box, on the other hand, is more likely to have been used to store food supplies and trade goods on canoe voyages. Protected from wind, sea and rain in the box, the contents would stay dry and unspoiled in the base of the canoe whatever the weather.
This example was collected from Hope Island on the central coast of British Columbia and formed part of a collection of canoe equipment that was displayed at a World's Fair in London in the late nineteenth or early twentieth centuries, subsequently being deposited as a botanical specimen at Kew Gardens. In a mid-twentieth century rationalisation of the Kew collections, it was transferred to the Horniman Museum.