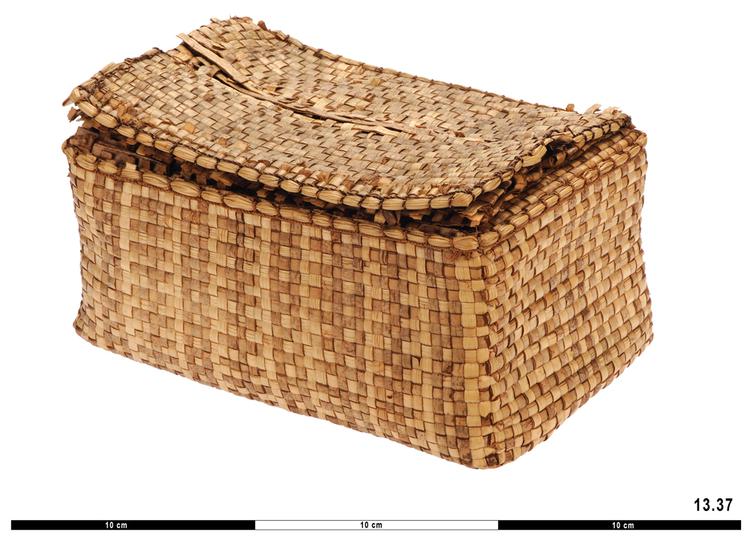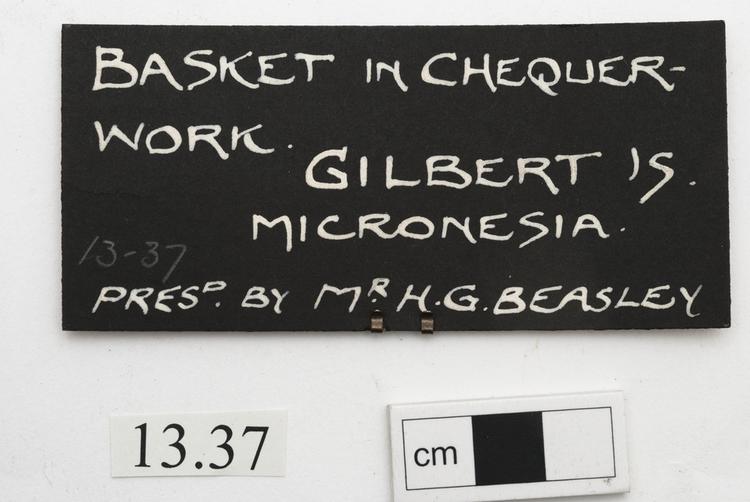 Finely made cuboidal basket constructed in two layers; the inner layer has no door over its rectangular aperture, and is constructed from a coarser basketry technique using more resilient coconut leaves. The outer layer is more finely woven, contains a decorative pattern, and is constructed from Pandanus. Baskets such as this were used to contain personal effects.

Label: An old black exhibition label was found with this object.
Rectangular Basket, Kiribati, Eastern Micronesia. Traditionally, baskets were far more than practical tools for the people of Kiribati; in the mythology of the islands, the gods might use domestic storage baskets as hiding places to eavesdrop on people's conversations. People often made a special basket to contain the skull or bones of a deceased spouse or child – and in this, we can see some cultural similarities between Kiribati and the peoples of Polynesia. This wonderful storage basket with its own integrated lid is woven in two layers, effectively a basket within a basket. The inner layer was constructed first from leaf strips of the coconut palm (Cocos nucifera), and provides a strengthening scaffold for the softer and more decorative outer layer of screw-pine leaves (Pandanus tectorius). Vegetable fibre. Late 19th Century. Formerly in the private collection of Mr. Harry G. Beasley, and purchased by him from its collector, Mr. Frank Burnett.