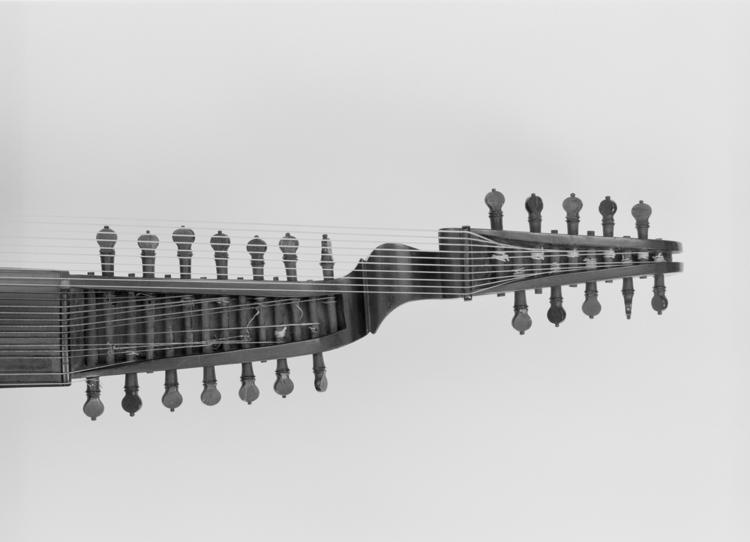 German baroque lute. 48.2283 x 12.7953 x 7.0866 in.
Lute with 13 courses, 24 strings: two single top strings, and 11 double courses.
The head is carved from one piece of slab-cut wood (possibly maple), stained to match the black ebony veneer on the neck. Spruce soundboard, ebony fingerboard, fruitwood bridge (possibly pear) faced with ebony. The nine-piece back is of bird's-eye maple with 0.7 mm ebony spacers.
The back of the neck is thin (16.5 mm) and flat at the nut end making it comfortable to play, and much thicker (28mm) where it meets the body, giving a strong butt joint secured with a nail (revealed in x-ray) about 90 mm long. The diameter of the rosette at 83mm is smaller than in an equivalent Renaissance lute. Its geometric carving produces only small openings, resulting in what is effectively a small soundhole. The centre of the rosette is 320 mm from the bottom of the body outline, and the outline is 322 mm at its widest point.

Handwritten label inside instrument reads: 'Joh: Christian Hoffman/Königl. Poln. Und Chüfl./Sächsl. Hoff Instrumenten und/Lauten macher in Leipzi' [sic].