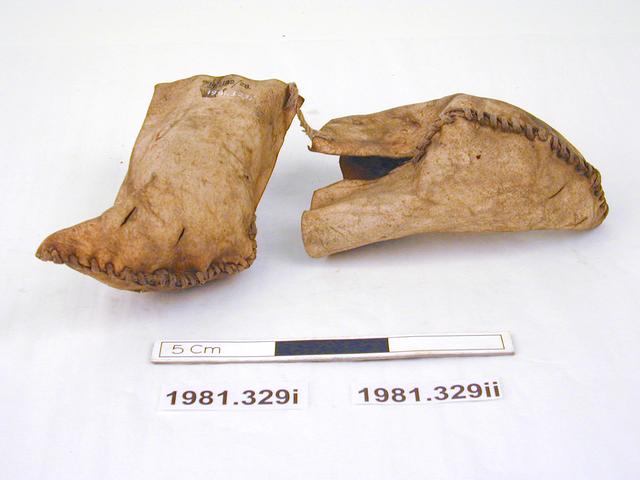 1981.329
This set of seal-skin boots was made for a sled dog. For thousands of years, the inhabitants of the Arctic have travelled across the ice on sleds made from bone and wood, pulled by teams of specially bred dogs. These dogs are hardy, fast and inured to the bitter cold of their home. Treasured by their owners, these dogs are fed and cared for as if members of the family; this is because the dogs' well-being is essential for long world_gallery:layered_info:publish:encounters:americas:arctic:arctic_hunting|hunting trips to be made and a healthy and enthusiastic dog-team is crucial for the survival of the whole family.
Dogs have a much faster metabolism than humans, with a higher body temperature, and dogs are not prone to frostbite, even in the deep cold of an Arctic winter. These boots are not, therefore, to keep the dogs warm, instead protecting their feet from the effects of long-distance travel over ice and frozen earth. The pads of a dog's feet are among the most sensitive parts of their body, and moving at speed over frozen tundra is hazardous, with shards of ice, sharp stones and other obstacles capable of severely injuring a sled-dog. An injured dog cannot run fast and will throw the whole team off balance, losing speed and time on the hunt, which could prove fatal not only to the chances of catching prey but also to the family back home if food is not hunted down.
Sled-dogs were historically so vital to Inuit survival that dogs would never be eaten themselves, even if their owners were starving; food could be located or rationed, but a good dog team was irreplaceable. A man who lost his dogs through illness or accident would not only facing severe difficulty obtaining food but would lose face among his friends and neighbours as no longer a man of consequence. Although Inuit people still keep dogs and some still maintain dog-teams, these are primarily pets and for commercial dog-racing competitions; the role of dogs in hunting has been replaced with the importation of foreign foods and the development of the ski-doo or snow-mobile.
The shoes were collected by Edward Lovett.