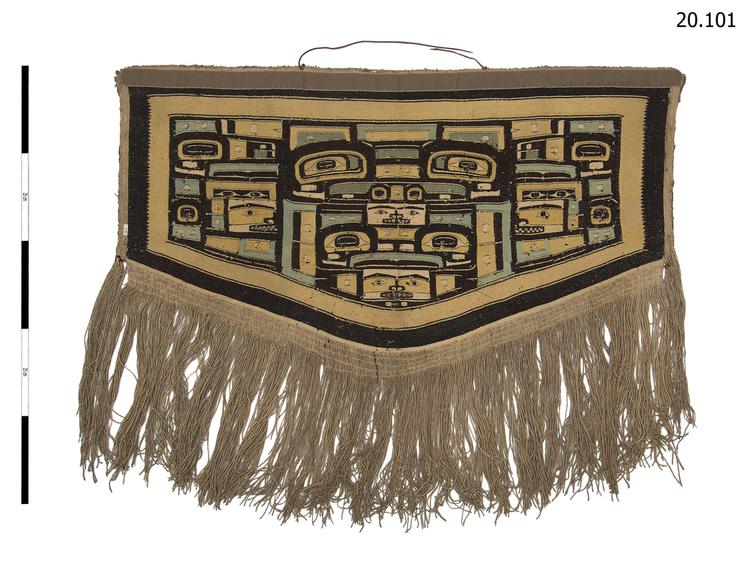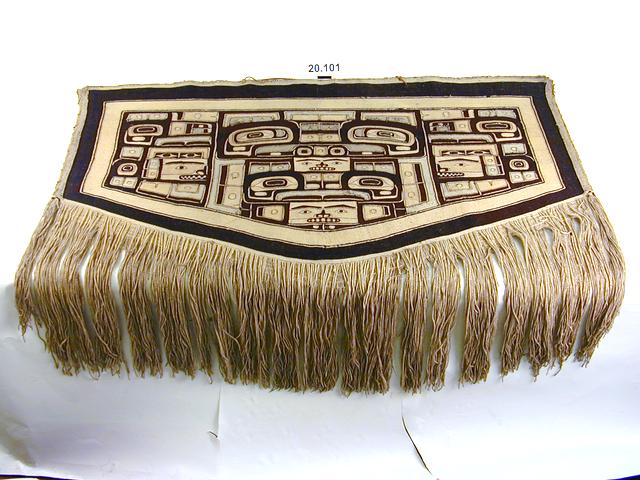 20.101
This garment is often called a Chilkat blanket, although it is more properly a robe, worn over the shoulders at important ceremonial events. The Chilkat are a group of the Tlingit people, living in Southern Alaska, and are credited with the first such robes. These are unusual items of clothing on the Northwest Coast, as they were made by combining cedar bark with mountain goat wool, dyed to produced vivid yellows, blacks and green/blue colours. They were hand woven on looms and depict, in a particularly stylised form of Northwest Coast formline, hereditary crests, often featuring killer whales.
All of these robes were tailored to their wearers, who would often be buried in them, and they represented a full years dedicated work by a skilled weaver. They were worn at potlaches or other important ceremonial events and used in dances where the tassels would fly out as the dance intensified. Like many other traditional practices, the making of Chilkat robes was almost lost in the early nineteenth century under government pressure, but enough weavers were able to pass on the traditions that many Northern Northwest Coast tribes are still producing these robes for chieftains and family members. They are rarely commercially available, but when sold, they can raise tens of thousands of dollars.
This example was collected in the early twentieth-century by Commander Bruce-Gardyne of the Royal Navy.