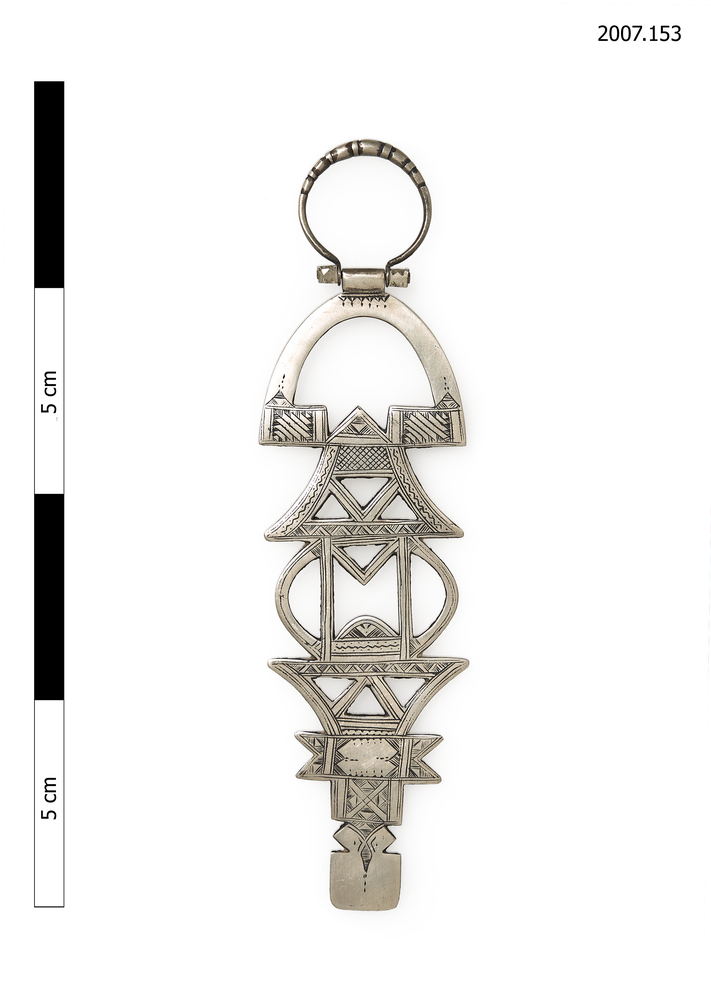 2007.153
These decorative keys--for which there are no locks--are called asaru or aswel in the language spoken by the Tuareg, Tamasheq. They are worn by Tuareg women, who attach them to the end bit of their head and shoulder cloth--afer and adalil--which then is thrown over one shoulder. The weight of the key prevents the cloth from falling forward while, at the same time, being a decorative feature with protective qualities.
The silver veil weight was collected by Ursel Widemann who was carrying out fieldwork in Agadez, Niger for her doctoral thesis on Tuareg clothing and identity. From December 2005 until January 2006, Widemann collected artefacts for the Horniman in Agadez, as the museum's agent. These artefacts formed the focus of the Horniman exhibition 'Tuareg: people of the veil' (March 2010-February 2011), for which she was project curator.
During Ursel Widemann's time in Agadez and her trips into the Aïr, she reported that she had never seen women wearing these keys. Although this does not necessarily mean that this practice has disappeared, it, nevertheless, indicates that it is not as common as it once was. She did, however, frequently see Peul (Wodaabe) women who use their eye makeup pouch, little mirror and comb in this way. According to Kristyne Loughran (Ph.D. thesis 1996), veil weights were originally made with iron then with bronze and copper, and silver examples are not very common.