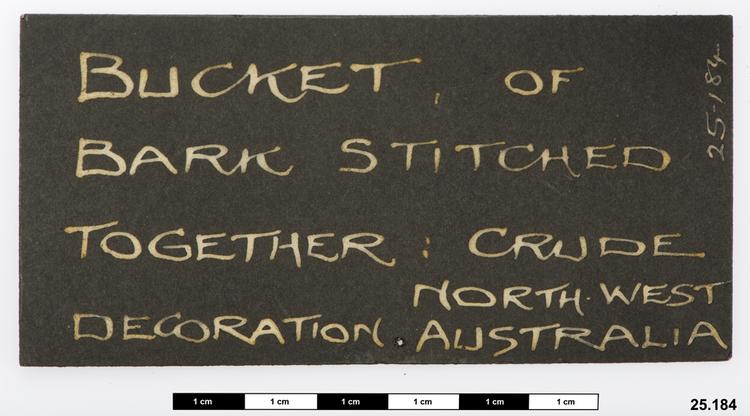 Painted bark bucket constructed from two plates of Eucalyptus bark punched along all edge and stitiched together with hairstring. The seams are all sealed watertight with Spinifex gum.
label: Old exhibition label that is black with white handwriting: "Bucket of bark stitched together: crude decoration. North West Australia"
Bark Water Bucket, Kimberley District, Western Australia While carved wooden water vessels were produced elsewhere in Australia, these bark buckets were manufactured only in the coastal area of the Kimberley district in the north of Western Australia. They were made by peeling two sheets of bark from a tree, coiling one and cutting the other into a disc shape to form the bucket's base. The two parts were then stitched together using cordage made by spinning human hair with vegetable fibres, and then the seams were sealed with Spinifex gum inside and out. Finally, the surface was painted decoratively with mineral pigments. Bark, human hair, vegetable fibre, resin, mineral pigment. Late 19th Century. Formerly in the private collection of Mr William Oldman.