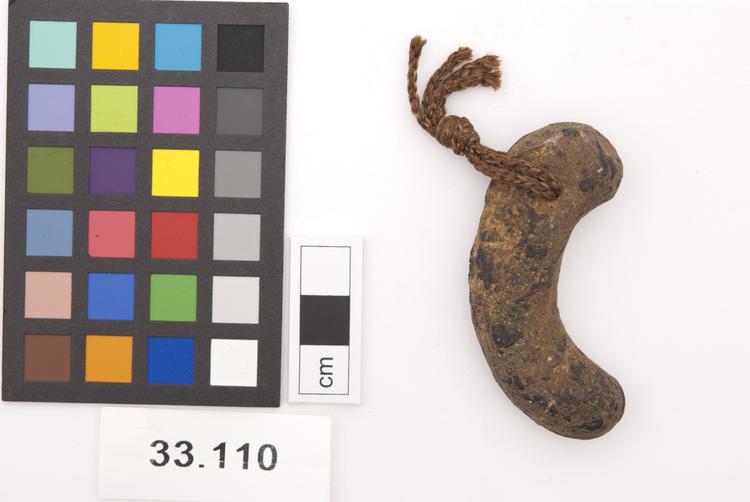 Magatama stone bead charm. Comma shaped charm of rough stone, pierced at rounded end and threaded through with short length of braided cotton fibre. From the tomb of a hero but now used as a charm.
Magatama are curved beads which first appeared in Japan during the Jōmon period. They are often found buried in mounded tumulus graves as offerings to deities. They continued to be popular with the ruling elites throughout the Kofun period, and are often romanticised as indicative of the Yamato dynasty. They are mainly made of jade, agate, quartz, talc, and jasper. Some consider them to be an imperial symbol, although in fact ownership was widespread throughout all the chieftainships of Kofun period Japan. It is believed that magatama were popularly worn as jewels for decoration, in addition to their religious meanings. In this latter regard they were later largely replaced by Buddhist prayer beads in the Nara period.
In modern Japan, the magatama's shape of a sphere with a flowing tail is still the usual visual representation of the human spirit (hitodama) Wearing one is considered a way of gaining protection. FKerlogue 2009.
label: pale blue with black typed writing.