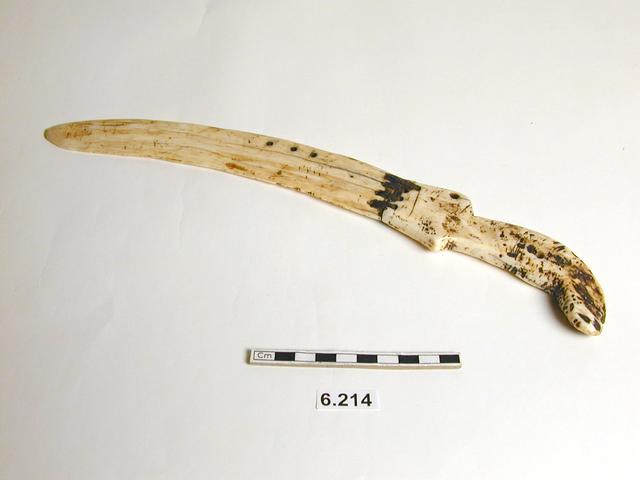 6.214
This snow knife is made of two pieces of walrus ivory, held together by hide straps. A snow knife is a particular piece of Arctic equipment, known as a pana to the Inuit of Canada, which is mainly used in building a snow house or igloo.
The knife is a blade use to cut or saw chunks of ice, shaping them so that they can be stacked together on top of one another, forming a temporary shelter to protect those inside from the effects of the weather. When the ice is built up enough it insulates those inside and creates a warm environment. The knives are relatively simple to make and replace but are a crucial tool for nomadic family groups moving between permanent settlements or for world_gallery:layered_info:publish:encounters:americas:arctic:arctic_hunting|hunters on extended journeys.
When Europeans first began to arrive they collected many snow knives, like this example as the Arctic peoples enthusiastically traded them for more efficient metal saws and knives, which they still use today.