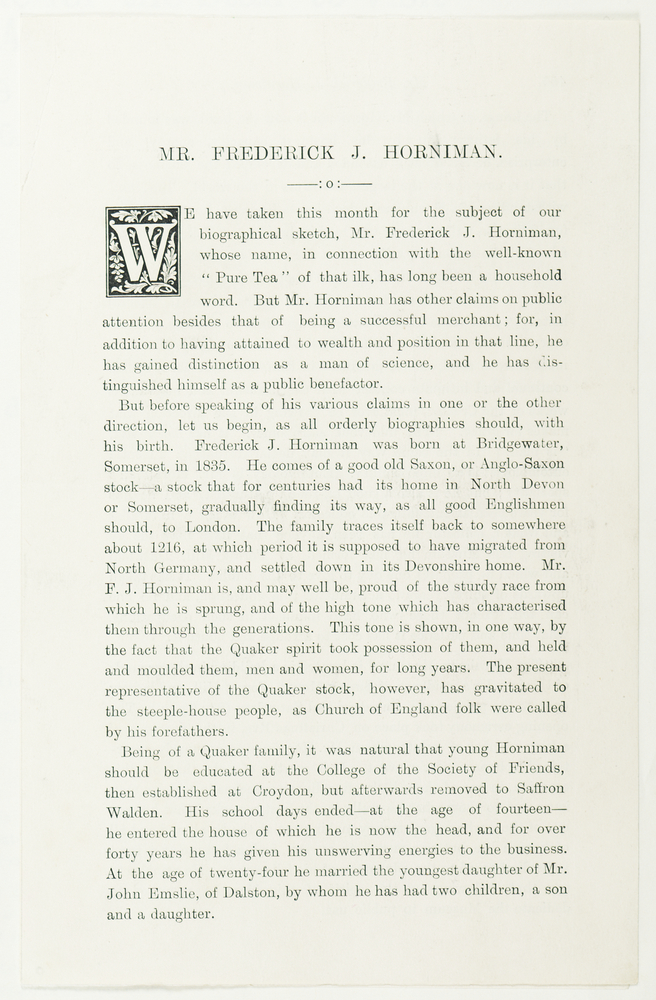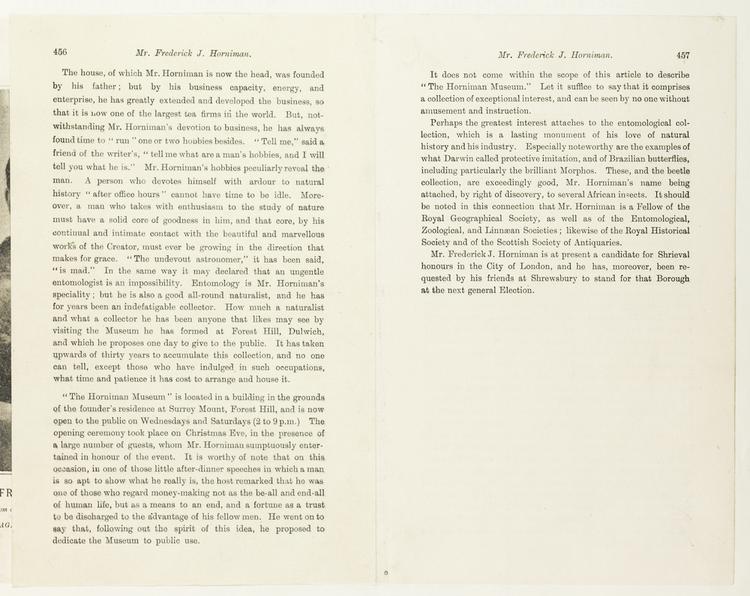 One printed extract detailing the biography of Frederick J. Horniman with numbered pages, running from page 455 to 457. Unknown author, unknown source and unknown exact date.
Frederick J. Horniman is a well-known name for the general public mainly as a successful merchant in connection to the "Pure Tea" household name. However, the purpose of this biographical sketch is to present other facets of Frederick Horniman's personality - through his passions and points of interest.
Frederick J. Horniman was born at Bridgewater [now Bridgwater], Somerset, in 1835, into a family of Anglo-Saxon descent and Quaker tradition. In line with that tradition, he was educated at the College of the Society of Friends in Croydon. At the age of fourteen, he entered the house founded by his father, and dedicated his energies to the business for over forty years. The business grew more and more successful, until it became one of the biggest tea firms in the world.
Apart from his business endeavours, Frederick J. Horniman is an erudite entomologist, a good all-round naturalist and a dedicated collector. The Museum he formed at Forrest Hill, Dulwich, with materials collected in over thirty years all over the world, stands testimony to his dedication and passion. The Museum is open to the public on Wednesdays and Saturdays, from 9 am to 2 pm. Frederick J. Horniman's speech to his guests at the Christmas Eve opening ceremony showed his motivations for undertaking such a task: he confessed to seeing fortune not as the end-all of human life, but as a means to an end; and his end would be to share the knowledge, art and culture he collected with his fellow men. Therefore, his intention would be to dedicate the Museum to public use.
Frederick J. Horniman is a Fellow of the Royal Geographical Society, the Royal Historical Society, as well as of the Entomological, Zoological and Linnaean Societies. He is also a candidate for Shrieval honours in London, and he has been asked by his friends in Shrewsbury to stand for the Borough in the next general Election.